The Brooklyn Children's Museum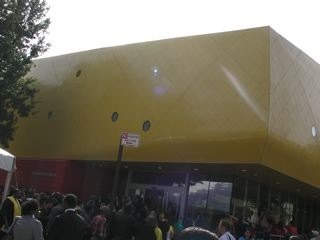 This weekend is the Grand Reopening of the Brooklyn Children's Museum after an $80 Million renovation and expansion. I got a sneak peek today and am excited to share lots of pictures and details about this amazing new space, plus grand opening events and special pricing information.
For the past year the Brooklyn Children's Museum has been closed while undergoing an $80 million renovation and expansion. The Museum officially opens to the public on September 20th with twice as much space and three times the programming. It is now also the first museum in NYC to go Green. The building is certified as a green building and the Museum will be offering programs to teach children about the building and it's systems as well.
I was incredibly impressed with the new museum's exhibits. They have turned the old, somewhat rag-tag museum into a new world class cultural institution, but one that stays true to and celebrates it's Brooklyn roots. Particularly the World Brooklyn exhibit, which is like a combination of old school Sesame Street and Disney's Epcot Center.
World Brooklyn
World Brooklyn puts NYC kids' lives into context, giving them a place that represents and reflects the world that they know and allows them to explore and understand that world. The exhibit is comprised of a street full of shops all based on real Brooklyn businesses where kids can explore and participate in cultural activities.
There is a Chinese Stationary Store based on the World Journal Bookstore in Sunset Park, a Mexican Bakery based on Don Paco Lopez Panaderia in Sunset Park, an International Grocery like Sahadi's and other local stores where kids can buy Indian ghee or Jamaican ackee or shop for a Shabbat dinner or Kwanzaa celebration from a real grocery list. The West African Import Store, inspired by Owa Afrikan market in Clinton Hill is ext to the Carribean Travel Agency representing Bedfors-Stuyvesant, Flatbush and Crown heights. The Italian Restaurant serves up fun just like it's real counterpart, L&B Spumoni Gardens in Bensonhurst.
In another area of World Brooklyn children can dress up and dance along with videos of dancers from several local ethnic dance troops representing Russian, Arab, Bangladeshi, Irish and more Brooklynites.
I think this exhibit will teach kids a lesson that will leave with them and follow them wherever they go because World Brooklyn elevates the corner shop to it's true place in the world, not just as a grocer or bakery or pizzeria, but as part of a larger cultural story. World Brooklyn will make New York City kids realize how special it is that they have that amazing little cultural hub right in their own neighborhood.
Totally Tots
I think one of the most popular areas of the new Brooklyn Children's Museum will be the Totally Tots area. Even though they doubled this toddler-friendly play are from the old one, I am guessing it will be so popular they may wish they had tripled it. Totally Tots has some really cool and fun stuff for children which continues on the theme of incorporating Brooklyn culture into the museum.
Highlights are the Water Wonders splash-friendly play area where toddlers and preschoolers can pour measure and redirect a flowing stream of water, plus PAINT ON THE WALLS!
Sound Around has a tunnel, slide and lots of musical instruments made from household items. I particularly liked this wall of pots, pans and colanders made for banging out beats, mimicking Caribbean metal pan drums.
The Sand Play are has colorful, glittery sand sure to mesmerize and child, plus there's a dramatic play are, a reading nook, an Art Studio an a Baby Hub that is soft and gated off to keep those under 18 months safe from the throngs of toddlers.
Neighborhood Nature
Another exhibit that is particularly near and dear to my heart is the Neighborhood Nature which teaches NYC kids about nature, not out in the country, but here in New York City. All of the habitats represent areas that can be found in NYC ad are based on real locations including, a freshwater pond, a saltwater stream, an urban woodland, and a community garden.
Highlights include crawling under the pond exhibit to look up through the "water " and see what it looks like inside of a pond. There are also some videos and interactive display that teach kids about bird-watching in NYC and volunteering to plant trees. The Science Inquiry Center and the Greenhouse let kids get their hands dirty and interact directly with real nature, studying botany, insects and eco-systems as well as meeting Fantasia, the 20 foot Burmese Python.
Families can also find field guides to explore nature in their own neighborhoods after they leave the museum. I'm so glad that this is a part of the new Brooklyn Children's Museum.
Popping in Space, Kids Cafe and More
Upstairs there is a temporary exhibit about life in space where kids can do things such as learn how to go potty in space. And the permanent Collection Central which continues to tie the many cultures of Brooklyn into the larger world with many artifacts from around the world, including an Asian elephant skeleton. The Museum also houses a children's library and a cafe, making this a wonderful full day destination.
Upcoming Events:
This weekend will be the grand opening from 10am to 6pm, Saturday September 20 and Sunday, the 21st,kicking off with special live music and workshops. But here are some tips and special information for planning your visit, which you will want to do soon!
In September and October the Brooklyn Children's Museum will be hosting Free Friday Night Performances. Admission is free on Fridays starting at 5pm to the museum with live performances starting at 6:30 until October 24th.
On October 16th come to the Brooklyn Children's Museum's Sukkot Festival, the Jewish Harvest celebration.
More family programs exploring more deeply into the museum exhibits are offered every weekend.
Admission and Membership
Membership to the Brooklyn Children's Museum has got to be one of the best deals for families in this city. Normally just $75 for a family pass, they are offering a Grand Opening special for just $60 for a full year membership for your whole family and gives you discounts and special invitations to many members only events. In addition, if you join right now you can go to the members only sneak peak of the new museum and enjoy it without the crowds on Thursday or Friday before the doors open to the public. That alone, might be worth the cost of membership.
Admission to the Brooklyn Children's Museum will be $9 per person over the age of 1, but is only $5 per person until November 30th, 2008.
Here's a tip: Admission is free before 11am on Saturday and Sunday!
How to get there:
The Brooklyn Children's Museum is located at 145 Brooklyn Avenue in Crown Heights. It's a fast ride from Manhattan on the A or 3 train and then a short walk. The local C also goes there.
For more information: www.brooklynkids.org
Find more great activities like this in our Indoor Activities Guide.
Find more must-see museums and hot spots in our Culture Guide.