Summer Streets 2014: Car-Free Fun for NYC Kids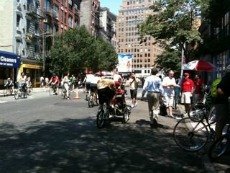 For the seventh year in a row, New York City is hosting Summer Streets on three consecutive Saturdays. On August 2, 9 and 16 from 7am to 1pm, the Department of Transportation closes Lafayette Street and Park Avenue to motor vehicles from the Manhattan side of the Brooklyn Bridge to 72nd Street so people can enjoy cycling, scootering, skateboarding or strolling. Plus, there's lots of entertainment and attractions along the way.
My family and I look forward to Summer Streets every year, and we always make sure to attend at least one of the Saturdays. We're big urban bike riders, so we really make the most of the long, safe, car-less route.
Every edition of Summer Streets is a little different. We've got the scoop on what's new this year, as well as tips for enjoying Summer Streets with kids in tow.
You can join Summer Streets anywhere along the route. The DOT has a detailed map that shows rest stops and open cross streets.
At 72nd Street, Summer Streets connects to Central Park, so cyclists can bike uptown and then over to the West Side Greenway (the one time you'll see cars), creating a giant loop. If you're so inclined, you can enjoy a lovely long ride from Harlem to Governors Island without having to deal with cars for almost the whole way.
The route is divided into two sections north and south of Union Square. The uptown section is best for kids, since Park Avenue is nice and wide, and has a median strip. In my experience, the downtown section tends to get overcrowded. I actually had a collision with another biker there a few years back.
There are always wonderful activities at every rest stop, and there's signage along the route to let you know what's coming up. This year, participants can look forward to a 165-foot-long zip line in Foley Square, the REI Adventure Zone featuring a 25-foot climbing wall in Soho, plus sports, exercise, dance and yoga classes, live performances and free helmet fittings. Risa Puno's The Course of Emotions, a public art/mini-golf course at the 52nd Street rest stop, is back for its second year. New for 2014: Norwegian artist Jana Winderen will create Dive, a seven-block long immersive sound installation in the Park Avenue Tunnel using noises recorded underwater. Plus there are three interactive musical performance pieces. On August 2, 91 trumpeters will line Park Avenue from 45th and 72nd Streets to play a composition by Craig Shepard; on August 9, Chris McIntrye's Tilt Brass at Foley Square will feature trombones, trumpets, drums and speaker noise; finally, on August 16 just south of Astor Place, grab one of the music boxes being handed out for Nick Tobier's My (Our) Way that all play the classic Frank Sinatra (or Sid Vicious, depending on your musical taste) song. There are always marketing booths, too, and it's worth hitting them for freebies like gift cards, snack samples and more. You can find a comprehensive list of attractions and activities on the Department of Transportation website.
If you plan to enjoy Summer Streets on wheels, here are some things to keep in mind:
Bring your water bottle. There are water fountains at all the rest stops so refilling is easy.
Remind your kids that they'll need to stop at some cross streets for crosstown traffic. Crossing guards with stop signs will be on hand to signal bikers and pedestrians.
Summer Streets ends at 1pm, so make sure you don't find yourself mid-ride as cars and trucks take back the roads. Definitely bring your MetroCard in case you need to make a quick getaway.
 
The only "hill" you'll encounter is by the MetLife Building, which is pretty cool to ride through. Make sure young bikers know how to stop and are comfortable going downhill.
As always in New York City there's lots of fun stuff to see along the way.
 
Tandem bikes are a common sight during Summer Streets.
Kids taking a crafting break at one of the rest stops.
I've been coveting this cargo bike ever since I saw it at Summer Streets.
The water fountains are plentiful.
No kid is too young to enjoy Summer Streets.
For additional seasonal fun, check out our Summer Fun Guide.
This post was originally published in August 2010.