Stir Crazy? Here Are 15+ Kid-Friendly Spots That Are Open on Wednesday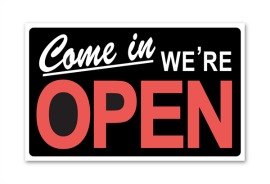 New York City schools are closed on Wednesday, which means you've got to find ways to amuse the kids... again. At this point, you've probably burned through our list of things to do at home during the hurricane and you're itching to get outside. While the subway remains shut down and power is still out in parts of the city, limited bus service has resumed (and it's free on Wednesday!) and the severe weather warning has been lifted, so you can actually go somewhere—you just need to know what's open.
Although it's going to be a long time before it's business as usual in New York City again, we did find a number of kid-friendly places that are open and welcoming families on Wednesday, October 31. Be sure to call ahead before you go to confirm prices, hours and availability (details seem to be changing minute by minute due to the post-hurricane chaos).
Most go-to family fun spots are closed this Wednesday, including all New York City parks and library systems, plus the Children's Museum of the Arts, the Brooklyn Children's Museum, the Children's Museum of Manhattan, the American Natural History Museum, most "adult" museums, all NYC zoos, the New York Botanical Garden and the Brooklyn Botanic Garden, and the New York Aquarium, which sustained heavy damage during the storm. But the following spots have confirmed they're open and welcoming families.
The DiMenna Children's History Museum at the New York Historical Society on the Upper West Side is open 10am to 6pm on Wednesday, with special children's story hours at 11am, 2pm and 3pm. Best of all, admission is pay-what-you-wish and all proceeds will benefit Hurricane Sandy relief efforts.
Robofun on the Upper West Side is hosting FREE drop-in activities from 10am to 3pm on Wednesday. Kids are encouraged to come in costume to build a LEGO haunted house or a LEGO vehicle, work on scratch video games, hear spooky stories and more. Parents can even drop off their kids! At 3pm, there will be trick-or-treating (no sweets, just pencils and stickers).
Brooklyn Boulders in Gowanus is offering rock climbing from 8pm Tuesday to 8pm Wednesday, yes 24 hours in a row! On Wednesday, there will be Halloween candy for kids from 4 to 6pm, a costume contest from 6 to 7pm and a deejay all evening.
Washington Heights play space Wiggles & Giggles Play House is offering all day drop-in play until 5:30pm for $7 an hour per kid. Best for children under 6.
Usually The Little Gym of the Upper West Side is members only but on Wednesday it's hosting "Practice Time" (a.k.a. open play) from 10am to noon and 1 to 3pm for non-members for $30 per session.
The JCC in Manhattan on the Upper West Side is hosting FREE drop-in programming for non-members, including open play in the gym for children ages 3 and up, a dance party for 2 and up, gymnastics, art and a movie screening.
Queens nature spot Alley Pond Environmental Center is hosting its Teeny Tiny Trick-or-treaters party on Wednesday for children under age 4, which costs $16. Older kids might want to drop by in the morning to assist with the post-hurricane cleanup: Starting at 10am APEC is asking volunteers to help clear downed trees and branches, debris and garbage that is strewn over the grounds.
Cobble Hill restaurant and play space The Moxie Spot is open on Wednesday for food and fun. Kids can play with toys up on the second floor for $2.50 per kid, $5 max per family. And the diner grub's good, too.
Queens play space Kids Fun House says on its Facebook page that it will be open tomorrow for drop-in play for $8 per kid.
Klub4Kidz in Williamsburg is hosting open play from 9am to 5pm ($15 for first kid, $10 for siblings) and a Halloween party from 5 to 8pm for 10 bucks per child.
More indoor play: The Gym Park in Greenpoint is hosting "haunted open play" from 10:30am to 4:30pm, price to be determined.
Upper East Side yoga studio Yogi Beans is offering drop-in kids' classes from 11am to 5pm for $40 per child. No it's not cheap but yoga is an excellent way to get centered, especially after the events of the last few days. The schedule of offerings is on the website.
Book Culture on Broadway in Morningside Heights is open for reading and browsing. In addition to a wide variety of books and educational toys, the shop's children's section features a kid-size table and chairs, a wooden tea set, a dollhouse and other communal playthings. On Wednesday, there's also a FREE storytime in French.
A few blocks away Bank Street Bookstore is also open for reading and a morning preschool costume party.
You can see a movie. While we suspect many mega movie theaters will be open, our pick is a 10:30am screening of the '70s classic Free to be You and Me starring Marlo Thomas and her famous friends (I wore out that album!) at Maysles Cinema in Harlem for $8 per adult-child pair.
A number of drop-in craft spots will be open on Wednesday, including both Little Shop of Crafts locations in Manhattan, Scribble Press on the Upper East Side, both Make Meaning locations in Manhattan and Baked in Brooklyn in Williamsburg. And all three Brooklyn locations of The Painted Pot are offering a special on Wednesday: A $6 studio fee, which is waived completely if you come in costume.
In addition, there are also a handful of special Halloween events that are still on, including trick-or-treating at the Plaza on the Upper East Side, BAMboo! in Fort Greene and Williamsburg's Witches Walk.
Tags: