Spot Seals and Exotic Birds on a NYC Audubon Winter EcoCruise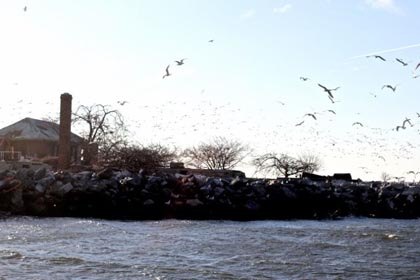 In NYC, it's easy to forget that there is wildlife living amongst us. And I'm not talking about rats, alligators in the sewers, escaped tigers or even backyard chickens. There are eagles and Red-tailed Hawks, raccoons and even the occasional coyote.
Jamaica Bay Wildlife Refuge is great for bird-watching and the Alley Pond Environmental Center will introduce you to creatures living in our wetlands. And now there's a fun new way to discover even more hidden wildlife on a NYC Audubon Winter EcoCruise.
Whether you are an avid bird-watcher or want to try to spot some adorable, furry seals, NYC Audubon EcoCruises are a great way to get out on New York Harbor to learn more about the migratory creatures that are only here during the winter. While there are plenty of seal watching cruises that leave from Long Island, I was excited to hear about the NYC Audubon tours since they're the only ones that depart from the city.
The weekly EcoCruises leave from South Street Seaport's Pier 17 and take you to the Erie Basin off Red Hook, Brooklyn, past Governors Island, through Buttermilk Channel, along Staten Island and under the Verrazano Bridge, out to two islands I had never heard of: Hoffman and Swinburne.
Along the way, a NYC Audubon guide helps you spot and identify various species of loons, herons, ducks, geese and sandpipers, many of which are only here during the winter. Our guide taught us about the different birds and their migrations to NYC, and shared the history of New York Harbor. I won't spoil it for you, but the story of Hoffman and Swinburne Islands, our ultimate destination, is pretty interesting. Even more thrilling: Hundreds of harbor seals call these islands home during the winter.
Before your family goes on an EcoCruise, you should explain to your children that it's not like going to the zoo. The seals will be fairly far off and may be hard to spot, particularly if they are frolicking in the water rather than sunbathing on the rocks. Your guide will remind you that seeing seals is not guaranteed, but there are plenty of binoculars to borrow so you can try to spot them. When you do spy one, it's pretty exciting. During our tour, the seals were in the water, which definitely made them difficult to find, but we did spot them eventually and it was fun to watch them play and fish.
Any child that enjoys bird-watching will love the NYC Audubon EcoCruises. If your kids aren't into birds, their enjoyment will depend more on their interests and temperament than age. But I think, in general, older children will get more out of it. My nine-year-old wasn't able to spot a seal in the water and didn't really listen to the guide. He still had a nice time though because it's cool just being out on the water, especially with a pair of binoculars.
If it's warm enough, you can sit up on the roof (I still recommend bundling up because it's always windy and cooler out on the water). The cabin is nice and cozy, though, and free hot chocolate is provided.
The NYC Audubon Winter EcoCruises depart from Pier 17 at the South Street Seaport on Sundays at 2pm and return at 4pm. Due to popular demand, the EcoCruises have been extended through Sunday, March 3. I recommend buying tickets in advance because they often sell out. The cost is $35 for adults and $25 for children ages 3 to 12.