Spa Castle: Family Friendly Oasis in New York City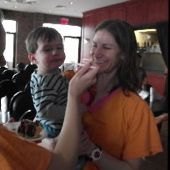 Recently I had the opportunity to check out Queen's hot oasis, Spa Castle. Though this may not be the first thing that you think of when you are searching for places to bring the kids, this is exactly what your family needs on these cold and dreary days. In fact, it is so great, that my introduction was a result of my my friends' decision to gather their friends and family there for their son's first birthday. Read on to find out more about the fabulous, and even kid friendly, Spa Castle.
We began our journey on the lobby floor in the locker areas which are clean and brightly lit with separate entrances for male and female.  Modesty and cleanliness  are maintained throughout this spa experience. However, once inside the separate locker rooms there are spa rooms complete with jacuzzi, sauna, and treatment areas where one must go nude.  But no worries, there are also many other facilities on the upper floors if one prefers being in shorts and a t-shirt while "spa-ing."  The shorts and t-shirts are provided by the spa and required on all upper levels.  This brings me to my only warning, that there are certain rules to Spa Castle, and they are strictly enforced as to what attire to wear when.  This is what keeps it so clean and family-appropriate.
We exit the locker area up exquisitely designed stairs which already placed us in the spa mood.  Back lit bamboo sticks cascading from the walls beckoned us to the floors above.  The first floor houses a varied food court complete with smoothies, salad bar, Starbucks and hot entrees.  There is also a more exclusive area if one wants to indulge in a spa treatment. Around the perimeter of the food court are electric massage chairs which can be enjoyed for 10 minutes and are quite effective.
The first floor also has seven uniquely designed saunas.  The heat is not appropriate for young children but the outside area is designed like a Zen Garden complete with a babbling brook.  My toddler could have played there for hours.  We did a lot of tag-teaming as one of us watched the kids while the other indulged in the facilities.
The second floor is the water floor with a huge jacuzzi that is not too hot and seems more like a heated swimming pool with bubbles.  We felt safe (as did many others) with their kids there supervised.  This was a nice place to relax as a family. This is also where the heated, outdoor swimming pools are. This provides for hours of entertainment for pre-teen and teenagers as well as adults.  For those with small children, there is a toddler pool available as well.
The third floor is where the Birthday Party was held.  This floor (as well as the others) had ample room to lounge or romp about.  A full bar is available for adult beverages, with a nice view of the Whitestone Bridge.
All in all Spa Castle is a great trip for the whole family right here in Queens.  Find the admission prices on the website. Group rates are also available.  This is a special place as it has the ability to de-stress the whole family without the hassles and expenses of traveling to a far off destination.  With that in mind the price of admission is well worth it!
Spa Castle
131-10 11th Ave.
College Point, NY 11356