Queens Party Places: 10 More Great Kids' Birthday Party Ideas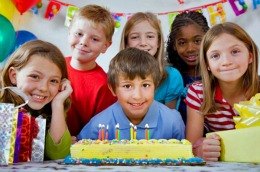 Back in 2010, we posted our first roundup of cool Queens party places, including favorites like Astoria Sports Complex and the Queens Zoo. But there are so many other awesome birthday spots in the borough—including a few that recently opened like Astoria's Kids Playhouse and Oliloli Studio in Forest Hills—that we decided to do a second post with 10 more options.
These Queens birthday party places cater to all kinds of kids, from active to artsy to animal lovers. And as a Queens mom with two children myself, I've been to many of these spots personally. You can find additional birthday inspiration in our Party Guide.
BounceU – College Point
132-25 14th Avenue between 132nd Street and 133rd Place
Whenever we write about this chain of indoor bounce gyms we rave. And why not? BounceU offers tons of fun for kids and grown-ups, with two rooms filled with inflatable toys and games. Three different party packages are available and the prices are less expensive than the Brooklyn location. Food, cake and goodie bags are available, depending on which package you choose. Bonus: Since it's located in the Whitepoint Center, parking is easy.
Kids Playhouse – Astoria
34-17 Steinway Street near 34th Avenue
We reviewed this awesome play space when it opened and just loved it. There's a gated toddler area with slides and toys, a huge maze with a double slide for children ages 2 and up, and a mini-arcade. Party packages include two hours of romping, a pair of hosts, decorations, paper products, pizza and juice for the kids, coffee for adults, and a few tokens for the video games. The kids are so busy running around having a blast that organized activities aren't necessary, though you can request something like musical chairs if you want to try to squeeze it in. Plan ahead: The place is so popular, the owners suggest booking at least eight weeks in advance.
LIC Kids – Long Island City
5-02 50th Avenue at 5th Street
A neighborhood favorite, this gym facility is great and has a long trampoline that kids go crazy for. There is a separate room with a table for food and cake. There are three party packages, including a straight space rental in case you want to save some money in exchange for doing more of the work. Themes are also available. My daughter just went to a party here and it was fabulous! She can't stop talking about it.
Architots – Middle Village
64-64 Dry Harbor Road between 64th Road and Furmanville Avenue
This truly unique studio gives kids a chance to explore architecture and design. Activity options include tracing and drawing, creating miniature models, urban planning projects, and interior or fashion design. There are a variety of themed party packages, most of which involve a related art project (kids build a rocket for the Space Party, a treasure chest for the Pirate Party, etc.). All packages include invitations, hand and face painting, tattoos, pizza, beverages and cupcakes. Tons of add-ons are available.
Oliloli Studio – Forest Hills
103-23 Metropolitan Avenue near 71st Drive
My daughter loves this beautiful new art studio, which offers drop-in sessions and party packages for children ages 4 and up. Choose from a variety of artist-led projects, from simple activities like collage, drawing and painting, to more specialized workshops. All packages include a special gift for the birthday child, personalized decorations, paper goods and beverages for the kids. Parents provide the food and cake. Fired pottery and glass projects are available for pick up a week after the party. For additional info, email sandra@olilolistudio.com.
Plaster Party Place – Forest Hills
96-09 Metropolitan Avenue between 69th Avenue and Selfridge Street
Kids can choose from a wide selection of ready-to-paint plaster crafts, from figurines to toys to tableware. All party packages include one craft per kid, paper goods, pizza and juice, disco ball/laser effects, games with prizes and a gift for the birthday child. There are plenty of add-ons like character appearances and piñatas. Book your party on a weekday after school to save money.
Alley Pond Environmental Center – Glen Oaks
228-06 Northern Boulevard near the Cross Island Parkway
At this awesome nature center, kids can go on an educator-led walk around Alley Pond Park, enjoy a live animal encounter, and themed games or crafts. Parents provide decorations, paper goods, food, drinks and cake.
New York Hall of Science – Corona
47-01 111th Street near 47th Avenue
NYC's premiere science spot offers lots of party themes for different age groups, like bubble making for the preschool set, magic and space for young elementary schoolers, and chemistry and anatomy for tweens. All packages include museum admission, science activity, and an age-appropriate toy and free pass for another visit, paper products, personalized cake, food and beverages, and complimentary parking.
Queens County Farm Museum – Glen Oaks
73-50 Little Neck Parkway
NYC's only working historic farm is the perfect party spot for kids who want to learn about animals and the farm-to-table movement. From April through October, children ages 1 to 12 can enjoy a private tour, help to feed the animals and go on a tractor-drawn hayride. Everything you need is included: invitations, paper goods, pizza and beverages, a personalized cake, goodie bags and a special gift for the birthday child.
Bounce 'N Play – Astoria
20-21 Steinway Street between 20th Avenue and 20th Road
Opened by a local mom in spring 2014, this play space has bouncy houses and giant inflatable slides in addition to the standard play space attractions—play sets, a jungle gym with tubes, a rock climbing wall, toys and arcade games, etc. A variety of private birthday party packages are available, including some super deals on weekdays.
 
Find more great birthday party ideas in our Birthday Party Guide.