Pumpkin Picking Farms & Corn Mazes On Long Island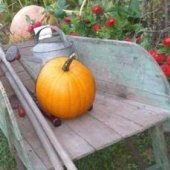 Plenty of pumpkins, nestled alongside mysterious corn mazes and the occasional haunted house, await Long Island residents this fall. Some pumpkins are pre-picked and neatly arranged in a pumpkin patch, while others are available for picking right off the vine. All of the farms listed here provide either carts or wheelbarrows to transport the pumpkins. Read on for our pumpkin picking tips, as well as a list of farms throughout Long Island. For more pumpkin picking destinations in the tri-state area check out Pick Your Own Guide: Where to Pick Your Own Fruits and Vegetables in New York, New Jersey, Long Island, and Connecticut.
And for more seasonal fun, check out our Long Island Halloween Guide, as well as sign up for our weekly newsletter.
Wear sneakers or boots, as furrows in fields and corn mazes create very uneven footing, and if there is any rain things quickly become muddy and quite slippery. Consider bringing a pair of gloves when picking directly from the vine. Remember to leave dogs at home since working farms don't allow pets on the properties. Always bring cash or call ahead to see if the farm accepts credit cards. It's also a good idea to call ahead to confirm farm hours before heading out.
The Dees' Nursery
69 Atlantic Avenue
Oceanside, NY 11572
516-678-3535
The nursery runs a fall festival, which features a petting zoo, pony rides, face painting, story time, and a pumpkin patch. The nursery also offers a haunted walk, which is best suited for teenagers and adults.
F&W Schmitt's Family Farm

26 Pinelawn Road

Melville
, NY 11747
631-271-3276
The farm has a huge pre-picked pumpkin patch, with pumpkins arranged by size. It also offers hay rides, slides, a giant straw pyramid, a big playground, pony rides, and farm animals to visit. There's a corn maze to explore and a child friendly haunted mansion. After dark, the haunted house and corn maze are spooky and are not appropriate for young children.
Albert H. Schmitt Family Farms
6 Bagatelle Road
Dix Hills, NY 11746
631-549-3276
The fall festival at this family friendly farm offers activities including pumpkin picking, hay rides, pumpkin bouncy house, fire truck slide, and a John Deere Trike play area. There are plenty of treats to enjoy too, including roasted corn, homemade candy apples, and local apple cider.
White Post Farms

250 Old Country Road

Melville
, NY 11747
631-351-9373
Head to this fifth generation farm during fall festival weekends. Admission includes entry to the animal farm and aviary, sing-along hay rides, bouncer park, and stage shows that include a magic show, dog show, and a barnyard game show. For an additional fee, check out the huge patch of pre-picked pumpkins.
Elwood Pumpkin Farm
1500 East Jericho Turnpike
Huntington, NY 11743
631-368-8626
This working farm is Long Island's most western pumpkin farm, making it the closest picking spot to NYC. This farm offers pumpkins for picking off the vine, a hay ride around the fields, and a small corn maze for children.
Brightwaters Farms
1624 Manatuck Boulevard
Bay Shore, NY 11706
631-665-5411
This 12-acre farm offers a farmers' market, pumpkin picking, hay and pony rides, and a chance to feed the farm animals. Weekend admission includes unlimited hay rides, the farm playground, face painting, and animal viewing. Visit the country store to purchase a variety of food including homemade pies, cider donuts, and cotton candy.
Organics Today Farm
169 Washington Street

East Islip, NY 11730
631-650-4424
Search for the perfect organic pumpkin in this 3-acre field, then relax with a hay ride or a delicious homemade treat. Choose from goodies such as roasted corn, apple cider donuts, and baked apples. The farm also has an organic market, which sells raw honey, freshly baked pies, and produce.
Borellas Farm Stand
485 Edgewood Avenue
Saint James, NY 11780
631-862-7330
This 53-acre family farm offers pumpkin picking, a corn maze, bouncers, hay rides, face painting, and music during fall harvest festival weekends. Visit the farm stand to load up on fresh fruits and veggies, as well as 100% natural, vegan-friendly, homemade bath products and soaps.
Benner's Farm

56 Gnarled Hollow Road

East Setauket, NY 11733
631-689-8172
Benner's is a small farm that features pumpkin picking, haunted hay rides, and a menagerie of ponies, sheep, goats, chickens, pigs, and rabbits to pet and feed. The farm also has a huge oak tree with a great swing. Workshops for kids are offered on select weekends.
Woodside Nursery & Garden Center

134 East Woodside Avenue

North Patchogue, NY 11772
631-758-1491
Activities include the haunted tunnel, balloon bounce, mining for gold, and scarecrow making. There are separate prices for each activity. The haunted tunnel is not too scary, but not too timid, although it has some scary props that are too intense for younger children. Pumpkin picking is also available.
Fink's Country Farm
6242 Middle Country Road
Wading River, NY 11792
631-886-2272
Visit Fink's during fall festival weekends. Admission price includes unlimited hay rides, the corn maze, pig races, animal farm, barnyard bouncer, and one turn at the pumpkin slingshot. For additional fees, there are pony rides, a corn cannon, face painting, and pumpkin picking. Access to the pumpkin patch is only available on weekends with fall festival admission. For pumpkin picking only, visitors must come on weekdays.
May's Farm
6361 Route 25A
Wading River, NY 11792
631-929-6654
Pumpkin picking, a corn maze, hay rides, and pony rides are offered on select weekends at this working farm. Stop by the greenhouse to check out the Halloween decorations and visit the farm stand for fresh fruit, vegetables, and cider.
Lewin Farms

812 Sound Avenue

Wading River, NY 11792
631-929-4327
This 1,100-acre family farm does not have a lot of bells and whistles. It has great produce though, with fields of pick your own pumpkins and a variety of seasonal vegetables. The farm has a corn maze and delicious roasted corn for sale on weekends.
The Milk Pail

1346 Montauk Highway
Water Mill, NY 11976
631-537-2565
This 13th generation family farm and apple orchard offers a huge variety of pumpkins for sale at the farm stand, including bumpy green ones and ghostly white ones. Pumpkins range in size from 1/2 pound to 150 pounds. Apple and pumpkin picking are available. Check out the website for a list of varieties. Please note, there are no restroom facilities onsite.
Hank's Pumpkintown

240 Montauk Highway

Water Mill, NY 11976
631-726-4667
Pumpkintown offers wagon rides, corn mazes, pumpkin picking, wooden play structures, and curly slides. There are several different mazes available for varying ages and skill levels. Admission includes access to all activities. Don't miss the fall decorations on display, including pumpkins, mums, and Montauk daisies.
Fairview Farm
69 Horsemill Lane
Bridgehampton, NY 11932
631-537-6154
In addition to a pumpkin patch, farm animals, a country store, and a large corn maze, this farm features a corn cannon for shooting corn cobs far away. There's also corn boxes where kids dig and roll in corn kernels, and hay bale mini mazes for younger kids.
Stakey's Pumpkin Farm
270 West Lane

Aquebogue, NY 11931
631-722-3467
Stakey's has over 18 different varieties of pumpkins available for picking directly off the vine. The farm also offers a 3-acre corn maze, hay rides, pony rides, face painting, and a small bouncy house. There are fall flowers and decorations for sale in the country store and a snack shack offering roasted corn, hot dogs, and chicken nuggets.
Harbes Family Farm
715 Sound Avenue

Mattituck, NY 11952
631-298-0800
All three Harbes Farm locations offer pumpkins, hay rides, and mazes. The biggest location is on Sound Avenue in Mattituck. Pumpkin picking is available, along with a picnic area, sand box, beanbag toss games, and live music. Pumpkins are priced by the pound and there is no fee to enter the fields. For an additional fee, check out the Barnyard Adventure and enjoy pig races, pedal carts, a hedge maze, and farm animals.
Harbes Farm & Orchard
5698 Sound Avenue
Riverhead, NY 11901
631-298-0800
Just down the road in Riverhead, Harbes has a pumpkin patch, pick your own apple orchard, and a huge corn maze. Visit the Honey Crisp Cafe for refreshments, and bring the kids to enjoy pony rides and pedal carts.
Harbes Western Farm
1223 Main Road
Jamesport, NY 11901
631-722-2022
The third Harbes location features a pumpkin patch, along with a western-themed corn maze, where a sheriff and outlaws wander around waylaying visitors. There's also hay rides, a pumpkin bounce house, farm animals, and gemstone mining. There are fees for these attractions.
Gabrielsen's Country Plant Farm
1299 Main Road
Jamesport, NY 11947
631-722-3259
Gabrielsen's has a huge greenhouse and pumpkin patch to visit for free. For a nominal fee, enter the large play area, which has a complex corn maze, hay rides, slides, swings, a play house filled with corn kernels, and farm animals to visit. There are nice cedar swings for adults to sit on while watching the kids. The farm also sells snacks such as lemonade and sweet roasted corn.
Originally published on 9/24/12. Updated on 9/2/2015.