News: Pre-K Applications Start, School Bus Strike Ends, a New Brooklyn Museum for Kids and a Hot Air Balloon in Central Park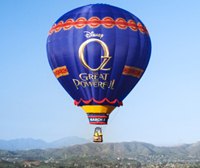 There's big school-related news over this school break, namely the end of the month-long school bus strike—even if you already heard about it we think it's worth repeating. Plus, it's almost time to start applying to public school pre-K, a cool new museum grows in Brooklyn, a popular drop-in play space drastically raises its prices and a hot air balloon lands in Central Park.
Ready, set, apply! If you have a child who turns four this year, you can apply to public pre-K beginning Monday, March 4. Applications can be done online or in person, and families can rank up to 12 schools in order of preference. The list of programs isn't yet available but once it is you'll find it on the Department of Education's website. The application period ends on Friday, April 5 and families find out if they've won a slot sometime in June. Note: Unlike kindergarten, pre-K is not guaranteed so keep that in mind. Plus, new this year: Students enrolled in a school's pre-k will have preference for kindergarten over other out of zone children. You can find out more at a series of info sessions held throughout the five boroughs. Good luck!
Looking for an early learning childcare program in the Bronx? There are still slots available at Cardinal McCloskey Community Services in Melrose. If interested, contact Cynthia at 718-402-0081 ext. 229
One of our favorite drop-in NYC play spaces, the Heimbold Family Children's Playing and Learning Center at Scandinavia House, quietly raised its prices last month—almost by 100%! Saturday admission went from $8 to $15 per kid. Memberships went up, too: Now you need to buy an annual pass in addition to membership for unlimited access on weekdays. Such is inflation.
We don't usually go in for big-budget movie marketing but this promotional ploy is pretty awesome—literally. To celebrate the opening of Oz The Great and Powerful, which hits theaters on Friday, March 8, Disney is sponsoring the Journey to Oz Balloon Tour. A hot air balloon is currently making its way across the country and it alights in Central Park on March 5 and 6. Sadly, it doesn't look like rides are in store but you can certainly gawk at specific times. You can also try to unlock local advance screenings of the film on its official Facebook page.
Have you heard of the Brooklyn Museum of Science & Art? No? Well that's because it hasn't opened yet. But if a group of dedicated North Brooklynites get their way, the hands-on educational facility and play space will become a reality on the Williamsburg waterfront at some point. Keep up on their progress or get involved by Liking the museum's official Facebook page.
More museum news: The Queens Museum of Art in Flushing Meadows Corona Park is getting more space and a new name! Soon to be known as simply the Queens Museum, the institution is doubling in size and adding new galleries, studios, classrooms and an eatery. Projected opening date for the overhaul is October, 2013.
Books of Wonder feeds your imagination and now your tummy, too: The Birdbath, a pop-up cafe by City Bakery, recently opened inside the bookshop and offers healthy snacks so you can eat while you read.
Finally, we realize it's old news at this point but we're so excited about it, we just need to shout, "THE SCHOOL BUS STRIKE IS OVER!" Beginning Wednesday, the wheels on the yellow buses will again go round and round.
Tags: