Philadelphia Day Trip: 13 Fun Things to Do With Kids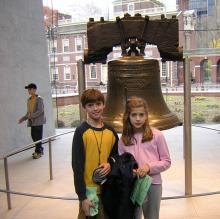 Just 100 miles from New York City, Philadelphia makes for an entertaining and educational day trip, especially with Memorial Day weekend and summer vacation coming up. The City of Brotherly Love has a spirit all its own and is loaded with history, and there are a variety of activities that will appeal to kids of all ages, from tots to teens.
You can drive to Philly in approximately two hours, or lighten your carbon footprint by taking the bargain-priced Megabus or BoltBus. Amtrak is a pricier option, but every child ages 2 to 15 accompanied by a full-paying adult snags half-price tickets, and babies under 2 ride for free.
If you decide to stay the night, my family has enjoyed the Hotel Palomar Philadelphia, which has an artsy vibe, and the Loews Philadelphia Hotel, with its small indoor pool.
Whether you visit for a day, a weekend or longer, here are 13 fun activities for your family.
Museums
Please Touch Museum
Memorial Hall in Fairmount Park
4231 Avenue of the Republic
This whimsical institution offers tons of hands-on play, making it a popular spot with the eight-and-under crowd. There are six interactive zones designed to encourage learning through open-ended, imaginative play, and art activities are offered throughout the day. Stop by the Playhouse Theater, which mounts 25-minute educational shows, perfect for the preschool set. All activities (excluding riding on the fully refurbished 1908 carousel, which costs a few dollars extra) are included with admission.
Practical Information: Open daily. Admission is $16 for adults, free for babies under 1.
National Museum of American Jewish History
101 South Independence Mall East
People of all religions are welcome at this museum, which moved into its brand-new, 100,000-square-foot, high-tech digs this past November. The interactive exhibits have unexpected kid appeal. In the 19th-century area, visitors can reenact the experience of immigrant pioneer children by checking out a covered wagon and dressing up in period clothes. In the 20th-century section, families can get a sense of the hardships garment workers endured by trying to work a sweatshop sewing machine. There are many other historically accurate exhibits that encourage kids to learn through role-playing. Our favorite multimedia exhibit is It's Your Story, where you go inside a video recording booth to record your family's history. The footage becomes part of the museum's permanent collection.
Practical Information: Closed on Mondays. Admission is $12 for adults, $11 for ages 13-21, children under 13 free. Warning: In observance of Shabbat, tickets are not sold at the museum on Saturdays. So Saturday tickets must be purchased in advance online.
University of Pennsylvania Museum of Archeology and Anthropology
3260 South Street
This is the place to bring your budding Indiana Jones. The museum's lauded collection includes a monumental granite sphinx, human and animal mummies, three-dimensional Egyptian sculptures and excavated parts of an Egyptian royal palace. Greek, Roman, Etruscan, Islamic and Native American cultures are also well represented. You could spend several weeks here and still not see all of its treasures. Leave time to explore the neighborhood, home to the University of Pennsylvania campus. There are lots of inexpensive eateries. Our favorite is the Greek Lady (222 South 40th Street), which serves a filling and delicious gyro, freshly carved from a revolving spit.
Practical Information: Closed Mondays except during winter. Admission is $12 for adults, $8 for children ages 6-17, free for kids under 6. Pay-what-you wish the last hour of every day. There's a monthly 40 Winks with the Sphinx Sleepover for children ages 6-12 and their parents, which is quite popular.
National Constitution Center
525 Arch Street
If you're skeptical that a 230-plus-year-old document can engage kids, spend some time here. This museum tracks the Constitution's development and its far-reaching influence, and the exhibits are highly interactive. Our favorite lets you play the role of a Supreme Court Justice being sworn in.
Practical Information: Open daily, admission is $14.50 for adults, $13 for children ages 13-18, $8 for ages 4-12, free for kids under 4.
Insectarium
8046 Frankford Avenue
This is the largest insect museum in the nation, so if your child is fascinated by bugs, come on down. There are three floors of creepy-crawlies, both dead and alive. This is a hands-on place, so children can touch a variety of live species, and learn how they play an integral role in our ecosystems. There is a clever crawl-on spider web, a working beehive and Cockroach Kitchen: a display overrun with roaches (no sweat for NYC kids!). Warning: The museum is located in Northeastern Philadelphia, which is a bit of a trek if you don't have car.
Practical Information: Closed Sundays. $7, free for children under 2.
Historical Attractions
The following attractions are open daily and located in the city's Historic District.
Liberty Bell
6th and Chestnut Streets
You don't have to pay a penny to see this symbol of American freedom. Its famous crack is obvious, making it wonderfully imperfect.
Practical Information: Free day-of tickets are issued at the Independence Visitor Center, located at 6th and Market Streets.
Independence Hall
500 Chestnut Street
With its clock tower and steeple, this iconic building is where the Declaration of Independence was signed.
Practical Information: Free day-of tickets are issued at the Independence Visitor Center, located at 6th and Market Streets.
Betsy Ross House
239 Arch Street
The woman who is credited as the maker of our nation's first flag lived in this modest 18th-century house. It's a typical example of a Mid-Atlantic Colonial home, and is full of artifacts that belonged to Ross and her large family (she was married three times). There's an engaging scavenger hunt designed especially for kids. It's a popular place, so be prepared to wait on line.
Practical Information: Admission is $5 for adults, $4 for children under 12.
Liberty 360
Historic Philadelphia Center
600 Chestnut Street
This 15-minute 3D adventure film is projected on a 50-foot screen in a state-of-the-art theater. Narrated by a Benjamin Franklin impersonator, this movie takes viewers on a journey to discover the nation's iconic symbols of freedom.
Practical Information: Runs every 20 minutes. Tickets are $6 for adults, $5 for children 12 and under.
Franklin Square
6th and Race Streets
Located in the center of the Historic District, the square's playground is open year-round. In the spring and summer, families can hit the 18-hole miniature-golf course ($8 for adults, $6 for children ages 3-12), featuring models of important Philly structures such as the Benjamin Franklin Bridge and Independence Hall. There's a cute carousel, too, and a nearby food stand that sells good burgers and shakes.
Practical Information: Free admission. Attractions like the carousel and mini-golf cost extra.
Philadelphia Zoo
West Fairmount Park
34th and Girard Avenue
America's first zoo features exhibits that allow you to get very close to the animals. My family always heads straight to Big Cat Falls, where you can see a score of white lions and a striking black jaguar. There's a petting zoo, and the Zooballoon—a 30-passenger giant helium balloon—provides a scenic view of West Fairmount Park from 400 feet above the ground.
Practical Information: Open daily through October 31. Admission is $18 for adults, $15 for children ages 2-11, free for kids under 2. The Zooballoon costs an additional $15 per person, or pay $50 for a family four-pack.
Other Cool Activities
Reading Terminal Market
12th and Arch Streets
Nirvana for hungry kids and their foodie parents, this bustling market has an amazing selection of goodies, including some Pennsylvania Dutch specialties sold by Lancaster County Amish and Mennonites. It's very casual and there's so much variety, even the pickiest kid will find something to nosh on. Local delicacies include scrapple, shoofly pie and pretzels that you can watch being twisted. If you're traveling with a hot dog lover, head to Smucker's Quality Meats, where the owner and his bonnet-clad daughters sell home-cured frankfurters served on soft potato rolls. For dessert, bite into a tantalizing cupcake at Flying Monkey. The only downside? The market's such a busy place, it's tough to find a table.
Philadelphia's Magic Gardens
1020 South Street
This 3,000-foot plot is covered in a labyrinth of found objects like mirrors and tiles. It's a funky folk art piece by local mosaic maker Isaiah Zagar.
Practical Information: Open daily. Admission is $5 for adults, $2 for children ages 6-12, free for kids under 6. On the second Sunday of every month, there are hands-on mosaic workshops for kids at noon.
Check out other great day and weekend trips here.