Two Can't Miss Classical Concerts: Patti Smith Narrating Tubby the Tuba and Disney's Fantasia Live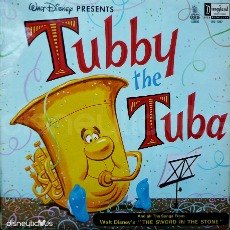 It's a rare thing when a true punk icon and kiddie culture intertwine. The last time we remember it happening was when Iggy Pop starred on that Nickelodeon show. And now legendary singer-songwriter Patti Smith is going to narrate Tubby the Tuba for Little Orchestra Society.
We've written about Little Orchestra Society's interactive classical concerts in the past. The musicians, costumed performers and conductor always do a great job of turning kids on to the works of Prokofiev, Tchaikovsky, Britten and Gershwin, to name a few. But the next two Happy Concerts for school-age kids—Tubby and a rendition of Disney's famed Fantasia—sound like particularly memorable experiences for both kids and parents.
On Saturday, March 16 at 11am and 1pm, Patti Smith will narrate Paul Tripp and George Kleinsinger's Tubby the Tuba, the musical tale of a big instrument who yearns to play his own little tune. Apparently the piece was a childhood favorite of Smith's, and I know many people who grew up listening to the recording of the old Disney cartoon short. (Apparently there was also a 1975 animated feature. Who knew?) Smith's affinity for the piece is sure to come through, plus there will be tap dancing and a demonstration of how melodies can come from lots of unexpected places.
Then on Saturday April 27 at 11am and 1:15pm, families can experience Disney's Fantasia in a whole new way: live in concert. A full orchestra will play the movie's well-known classical pieces by Beethoven, Bach and others while sequences from both the 1940 original and the 2000 reboot are shown on a giant screen. We're not sure which concert sounds cooler! We just know we want to see them both and we didn't want to wait to tell you about them in our monthly Go List since we hear tickets are going fast.
Both Little Orchestra Society Happy Concerts take place at Lincoln Center's Avery Fisher Hall and are aimed at children ages 6 to 12. Tickets are $15-$55 and can be purchased online.