Free & Fun Things to Do this Weekend for NYC Kids: Thomas the Tank Engine, Dinosaur Day, KamiKaze FireFlies January 12-13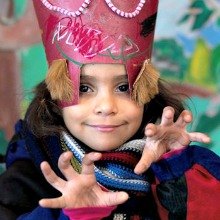 We're all settling back into the usual post-break routine and getting used to writing 2013 instead of 2012. NYC is getting back into the swing of things, too, with a wide variety of activities for families throughout the weekend. Although the holidays already feel like a distant memory, you can catch the final days of the New York Botanical Garden's Holiday Train Show featuring a special appearance by Thomas the Tank Engine, and it's time to recycle your Christmas trees at the Parks Department's annual MulchFest.
Other fun on tap includes the wacky antics of comedic circus duo KamiKaze FireFlies at Symphony Space, Wave Hill's annual winter fest Hibernator's Pajama Pop-In, a few rocking kids' concerts and special art workshops, and a live trivia competition for families. Plus the Parks Department is holding its online lottery for free winter swimming lessons for all ages.
Those are just a few of the great things going on this weekend. Read on for all of our picks. You can find additional options in our Event Calendar. And if you're looking to plan out your month, not just your weekend, be sure to check out our first-ever NYC Go List, which highlights the absolute best things to do with kids throughout January.
All Weekend
MulchFest – Citywide
If your Christmas tree is still standing, it's time to recycle it. Bring it to one of the Parks Department's designated sites throughout the city and watch it get chopped up into mulch that will help nourish NYC green spaces. FREE
Hibernators' Pajama Pop-In – the Bronx
Wave Hill celebrates winter at this weekend-long fest. Families are encouraged to come in their PJs (and coats, of course) to make animal masks, listen to songs by kid-rocker Jon Samson and other seasonal activities. FREE
Thomas at the New York Botanical Garden Holiday Train Show – the Bronx
This is the last weekend to see this amazing display featuring more than 140 NYC landmarks created out of natural materials with model trains running through the landscape. Plus Thomas the Tank Engine and Driver Sam are doing live mini-performances and greeting their young fans after each show. $25 for adults, $15 for children ages 2-12, free for kids under 2.
 
Saturday, January 12
KamiKaze FireFlies – Upper West Side
This LA-based vaudeville duo consists of Rob Williams (formerly of New Vic regulars The Flaming Idiots) and acrobat Casey Martin. The show promises wacky and daring acts like giant cube juggling, fire breathing and wild contortions. $25 for adults, $15 for children but there's currently a deal for $12 tickets.
Stone Age Stilton – Soho
If your kids love the Geronimo Stilton books as much as my son does, head to the Scholastic Store to celebrate Cavemice, the latest title in the series. Not only can kids meet Stilton in person, they can make their own caveman ancestor from a rock. FREE
Olympic Fencing Demo – Union Square
2008 Olympic silver medalist and NYC native Tim Morehouse will give a fencing demo with some of his fellow Olympic Team members and sign copies of his memoir American Fencer at the Union Square Barnes & Noble. If your kids are inspired to take up the spot, check out our roundup of fencing classes for kids. FREE
BXBXKids! Mime Show – Midtown West
When's the last time you heard 45 minutes of absolute silence? Well you'll get that (save for laughter) and so much more at Broken Box Mime Theater's show, featuring comedy and action adventures presented via pantomime. FREE but donations encouraged.
How Much Do I Owe You? Family Art Workshop – Long Island City
No Longer Empty—the artistic folks who take over vacant NYC spaces and transform them into temporary art installations—have worked their magic on Long Island City's Bank of Manhattan building with the money-themed How Much Do I Owe You?. While it's a great exhibit to check out with kids on any day, today there's the added bonus of a Sumi-e lesson, the East Asian art of ink wash-painting. FREE
Black Comic Book Festival – Harlem
This mini-con at the Schomburg Center celebrates African-American superheroes and their creators, and features panels, illustration and writing workshops, and vendors selling books by top black artists and writers. Other activities include a screening of the doc White Scripts and Black Supermen: Black Masculinities in Comic Books and the exhibit Black Kirby, a tribute to legendary comic book artist Jack Kirby. While the fest is for all ages, the film is for fifth graders and up. Registration required. FREE
The World of Peter Rabbit and Friends Family Program – Murray Hill
In conjunction with the Morgan's soon-to-close exhibit Beatrix Potter: The Picture Letters, the museum will screen clips from the BBC animated series The World of Peter Rabbit and Friends, followed by a lively discussion with a Beatrix Potter Society member. $6 for adults, $2 for children.
Roulette Kids: Steve Swell – Freeing the Improviser Within – Cobble Hill
Trombonist and music educator Steve Swell leads this fun workshop. After a quick performance, he'll share ways to improvise via call and response and other games. A limited number of percussion instruments will be on hand, so bring your own noisemaker if possible. $5
Sunday, January 13
The Big Family Quiz Thing – Tribeca
Up until now, quiz master Noah Tarnow's hilarious live trivia competitions have been strictly for the over-21 set. But for the first time ever he's hosting a show just for families at 92YTribeca. The game will feature five rounds of multimedia trivia aimed at children ages eight and up and their adults. Queries run the gamut from pop culture to sports to history and beyond, and the winning team snags a prize package. In advance: $15 per person, family four-pack $50; day of: $20 for adults, $15 for children, family four-pack $60, but there's currently a deal for $40 family four-packs.
Unfortunately, this event was cancelled at the last minute.The NYC Twinkie Festival – Dumbo
Far be it from us to promote junk food but this first annual fest sounds pretty sweet. Attendees can learn how Twinkies are (were?) made, and also see pickle and beer brewing demos. Families are welcome and there will be a crafts table for the kids, as well as live music and eats like deep-fried Twinkies. In advance: $10 for adults, free for children under 7; at the door: $12 for adults, free for children under 7
92nd Street Y Open House Family Day – Upper East Side
The veteran cultural institution hosts an open house today. Check out everything the Y has to offer kids and families in art, music and fitness and try out no-cost swimming, jewelry making, tap-dancing, music lessons and more. RSVP suggested. FREE
Dino Day – Crown Heights
To celebrate the New Vic's upcoming show Erth's Dinosaur Zoo, budding paleontologists can head to the Brooklyn Children's Museum to dig for real fossils in sandy stone, work on a life-size dino model, catch an episode of Nickelodeons' Dino Dan and make a cool dinosaur puppet. Free with admission: $9
The Circus and Sebastian – Greenwich Village
After suffering extensive damage to its Westbeth home during Hurricane Sandy, the Penny Jones & Co. Puppets troupe is back with a festive show about a boy named Sebastian who dreams about a life under the big top. $5
Kidrockers: DIIV and Widowspeak – Williamsburg
Catch grown-up bands DIIV and Widowspeak in a family-friendly environment at Brooklyn Bowl with hosts Seth Herzog from Late Night with Jimmy Fallon and Craig Baldo. $8, $20 for family four-pack.
Hip Tot Music Fest: The Okee Dokee Brothers & Rolie Polie Guacamole – Gowanus
Rock out with the Grammy nominated Okee Dokee Brothers and Brooklyn's own Rolie Polie Guacamole. Other activities include face painting, glitter tattoos and a cardboard castle to romp in. In advance: $10 for adults, $8 for children; at the door: $12 and $10 respectively.
Met Life Second Sundays for Families – Corona
Last winter, my son and I visited the Queens Museum of Art for the first time and were blown away by the Panorama of the City of New York. Today, families can explore the famous installation at no cost and participate in art workshops with Free Style Arts. FREE
Outside NYC
With temperatures supposed to reach the upper 50s this weekend, there's no reason to huddle inside. Instead, take a day trip to Jersey City's Liberty State Park in honor of Nature Discovery Day, with lots of educational hands-on activities.
Or pack the bathing suits and head north to the indoor CoCo Key Water Resort in Waterbury, CT, where you can pretend it's summer all winter long.
Don't forget: We have additional activity options in our Event Calendar.
Tags: