Free & Fun Things to Do this Weekend for NYC Kids: Three Kings Day, Seal & Eagle Watching, Sandy Hook Benefit January 5-6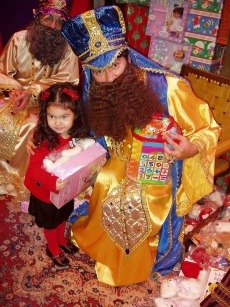 Welcome to the inaugural weekend of 2013! The first days of January are always a little bittersweet as we watch all of the holiday sights come down, recycle our Christmas trees, and return to our busy school and work routines. But there's never a dull day in NYC. Sunday marks Three Kings Day (a.k.a. the twelfth day of Christmas), plus the New Year brings lots of cool new cultural experiences like family art workshops at the Whitney and The New Museum, and Film Forum's classics for kids movie series, which kicks off on Sunday. There's also Stories for Sandy Hook, a wonderful all-ages benefit for the families in Newtown, Connecticut and a ton of nature fun, including seal and bald eagle watching.
These are just a few of the great things going on this weekend. All of our picks are below. You can find additional options in our Event Calendar. Happy New Year!
All Weekend
Flight of the Butterflies IMAX Movie – Upper West Side
If your family loves the American Museum of Natural History's Butterfly Conservatory, you should get a kick out of this new documentary, which follows Monarch butterflies on their 3,000-mile migration from Canada to Mexico. If you can't catch it opening weekend, the film is playing through July. Free with general admission plus one: $25 for adults, $14.50 for children ages 2-12.
Family Film Screening: Steamboat Bill Jr. – Upper West Side
Introduce your kids to the hilarious antics of silent movie great Buster Keaton at a screening of his 1928 masterpiece at Lincoln Center. $6.
Circus in a Trunk – Soho
After suffering extensive damage during Hurricane Sandy, the Canal Park Playhouse finally reopens with the Piccolini Trio's wacky show, featuring old-world circus acts performed by clowns who pull props out of an antique trunk. $20
 
Saturday, January 5
Birding: Eagles – Inwood
We wrote an entire post about bald eagle watching in and near NYC. Now is the time to catch them as they fly south for the winter over the Hudson and Delaware Rivers. Today, the Urban Park Rangers help you spot the iconic birds in Inwood Hill Park. FREE
Seal Exploration – the Bronx
More animal fun in NYC: Urban Park Rangers from the Orchard Beach Nature Center will help you spot the seals that pass through NYC waters while migrating. Bring your own binoculars. FREE
First Saturdays for Families: The Imaginary Museum – Lower East Side
Explore Rosemarie Trockel's outlandish exhibit A Cosmos at the New Museum and then create your own "cabinet of wonders" inspired by her work and your own life. Space is limited and tickets are given out first come, first serve. FREE
Pop-Up Card Workshop – Harlem
Learn "three-dimensional pop-up engineering" from cartoonist Felipe Galindo and then make your own cool pop-up cards at the Morris-Jumel Mansion. Preregistration required and all materials included. $10 for adults, $5 for children.
Stories for Sandy Hook: A Benefit Reading – Upper East Side
Enjoy an afternoon of children's book readings, live music, crafts (including making Snowflakes for Sandy Hook), juggling and treats at the 92nd Street Y. with proceeds going to the United Way's fund to help offset funeral and counseling costs for those directly affected by the shooting. Donations of school supplies and children's books will also be accepted. The organizers promise it will be a celebration of childhood, with no mention of what happened that day or the raging gun control debate. $5.
Family Country Dance – Upper East Side
If you go to the Sandy Hook benefit at the 92nd Street Y, stick around for this country-themed celebration, where parents and kids can try square dancing, circle dances and more. The Hell's Kitchen Cookers provide traditional American tunes and all attendees are encouraged to bring vegetarian pot-luck dishes to share. $15 for adults, free for children under 18.
Camels and Kings: A Gift Giving Workshop – Morningside Heights
Celebrate Three Kings Day a day early at the Cathedral Church of St. John the Divine. Kids will listen to the story of the Three Wise Men, and then craft gift boxes, costumes and glittering crowns. Advance reservations recommended. $8 per adult-child pair.
Whitney Museum Open Studio: Sinister Pop – Upper East Side
Tour the Whitney's current exhibit, Sinister Pop, featuring dark works from Pop Art greats like Andy Warhol and Jasper Johns, and then create your own masterpieces inspired by the art on display. Free with admission: $18 for adults, free for children under 19.
Wild Wild World: Wolves – Upper West Side
The American Museum of Natural History hosts three sessions of live wolf encounters today. Families can get up close and personal with Atka, an Arctic gray wolf from the Wolf Conservation Center in South Salem, New York, and learn all about the endangered species. $12.
Alastair Moock and the Rowdy Roots – Upper West Side
Groove to the Boston-based kiddie rocker's folksy tunes at Symphony Space. $20 for adults, $13 for children.
Family Fun at the Schomburg: Quilt Making – Harlem
Create a simple quilt that pays homage to your family and community with help from Harlem-based artist Laura R. Gadson. Advance registration required. FREE
Meet the Performers: Saung Budaya – Upper West Side
Catch an interactive performance by Indonesian dance troupe Saung Budaya at Lincoln Center's David Rubenstein Atrium and learn more about the country's culture in a pre-show arts workshop led by the Children's Museum of Manhattan. FREE

Sunday, January 6
Brooklyn Three Kings Day Parade – Williamsburg
Although NYC's best known Three Kings Day parade takes place in East Harlem on Friday, Kings County boasts its own colorful procession, complete with live camels, floats, music and the Three Wise Men. FREE
Three Kings Day Celebration – Lower East Side
More Three Kings Day fun: NYC's only Latino children's theater company, Teatro SEA, hosts its annual Día de los Tres Reyes Magos fete with crafts, live musical performances and a free gift for every kid. FREE
Film Forum Jr. – Greenwich Village
We are super-excited about this brand-new Sunday morning classic film series for families at Film Forum. Today's kickoff screening features three classic shorts: The Red Balloon (one of my son's favorites), Gerald McBoing Boing and Le Poulet. $7
Kira Willey and Friends – Tribeca
Head to 92YTribeca for an interactive kiddie pop concert with fun musical yoga breaks. $15, free for children under 2.

Outside NYC
Learn all about owls and then go looking for the nocturnal birds during Tenafly Nature Center's Owl Prowl on Sunday evening.
Watch camels march through the streets of Hartford, Connecticut during the city's Three Kings Day Parade on Sunday morning.
Don't forget: We have additional activity options in our Event Calendar.
Tags: