Play Pac-Man and Other Retro Video Games at NYC Museums and Family Arcades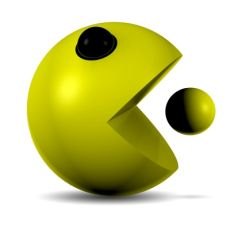 Your kids are intimately familiar with all of the different Angry Birds and their powers, and know exactly where to Cut the Rope to feed the little monster. But can they name all four of the ghosts in Pac-Man? Doubtful... but we bet you can! (Say it with me: Blinky, Pinky, Inky and Clyde). Since today's kids are used to touch screen games (or games that require no touching at all), getting the chance to jerk around joystick on a vintage video game console is a real novelty. Trouble is, where do you find those these days? Why, in a museum of course.
The Museum of the Moving Image and the Museum of Modern Art have both amassed old-school arcade video game collections, and you can actually play many of them in two new exhibits. And if you worry that a museum isn't the optimal setting for game playing (which often involves a lot of whooping and cheering), we've also found a handful of old-fashioned family-friendly arcades (and no, not one is a Chuck E. Cheese's or Dave & Buster's).
Museum of the Moving Image – Astoria
36-01 35 Avenue between 36th and 37th Streets
MoMI's current exhibit, Spacewar! Video Games Blast Off, celebrates the 50th anniversary of the world's first digital video game. In addition to learning about the history of video games, kids can play 20 vintage titles on a variety of platforms (arcade, console, handheld and PC), including arcade classics Space Invaders, Asteroids, Tempest and the old Star Wars game. Visitors get four complimentary game tokens with admission (though there is a limit of 10 per party), and additional tokens are available for purchase. A 45-minute educator-led tour is also available for families. Although this exhibit closes on Sunday, March 3, MoMI has a handful of video games in its permanent collection, though they're not always in display.
Museum of Modern Art – Midtown West
11 West 53rd Street between Fifth and Sixth Avenues
Right around the time MoMI's Spacewar! closes, MoMA will be installing 14 playable video games in one of its galleries, including Pac-Man, Another World, The Sims, Passage and others. Short games (i.e. Pac-Man) you can play in their entirety. For games that require more of a time commitment (i.e. The Sims) visitors will get an interactive demo. Down the line, the museum hopes to acquire up to 40 classics like Spacewar!, Mario Bros., The Legend of Zelda and Pong for its Architecture and Design collection.
Chinatown Fair Family Fun Center – Chinatown
8 Mott Street near Chatham Square
Totally overhauled in June 2012, this legendary arcade is no longer home to shady characters or a tic–tac–toe playing chicken (she usually won—even in tic–tac–toe, odds favor the house). But this new incarnation is certainly much more family-friendly and boasts video games wall-to-wall. There's Super Puzzle Fighter II, Marvel vs. Capcom 3, Street Fighter III, Galaga, Ms. Pac-Man and Centipede, as well as more modern options like Dance Dance Revolution and Guitar Hero.
Kids Fun House – Ridgewood
6273 Fresh Pond Road between 70th and 71st Avenues
Although this Queens fun spot is primarily known as an indoor children's gym, it also has a small selection of video games to keep tweens busy while their younger siblings romp around.
Funtopia USA – Ridgewood
6626 Metropolitan Avenue near Rentar Plaza
About a mile away, this one-stop fun spot offers laser tag, bumper cars, a three-story playground and a video game arcade that's located on the top floor. There's no elevator so leave the stroller at home or let the tweens go up on their own.
Kids Playhouse – Astoria
34-17 Steinway Street between 34th and 35th Avenues
Apparently Queens is the borough to hit if you love old-fashioned video games. This indoor romping spot—which we reviewed just after it opened—also has a small arcade area with Ms. Pac-Man, Galaga and other titles.
Of course, if you just want a nostalgia-filled adults night out, there are many bars that offer classic video games, like Barcade in Williamsburg and Two Bit's Retro Arcade on the Lower East Side.
Know of any other kid-friendly retro arcades? Share their info in the comments.
Image by Digital Free Photo