NYC Restaurants with Kids' Entertainment and Activities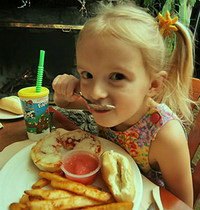 There are a slew of family-friendly restaurants in New York City, including eateries where kids can play. But how about restaurants where kids can eat and be entertained at the same time?
Yup, NYC has spots like that on the menu, too. We're not talking about places with jazz bands, foreign films or Gospel choirs. These restaurants in Manhattan and Brooklyn regularly offer performances or activities just for kids, from art workshops to animated movies to sing-alongs to magic shows.
Isa – Williamsburg
348 Wythe Avenue near South 2nd Street
This funky Brooklyn eatery is best known for its cozy date night atmosphere and well-liked Italian fare. But during Saturday brunch from 11:30am to 3:30pm, Isa becomes a haven for families with BrunchCraft, a lineup of free or inexpensive art workshops and performances just for kids. Upcoming events include a collage party and a Christmas classic films event. Check the website for an up-to-date schedule and to RSVP.
The Brooklyn Farmacy & Soda Fountain – Carroll Gardens
513 Henry Street at Sackett Street
We raved about this new but old-fashioned-style soda fountain a few summers ago. While my son doesn't require any more incentive beyond the double-baby scoop to come here, Brooklyn Farmacy also offers lots of one-off events like tastings, family films and children's book signings, plus regularly scheduled entertainment such as Musical Morning Jams with Jitterbugs on Thursdays ($10 drop-in fee) and the free bimonthly Old Time Musical Jam Session.
The Moxie Spot – Brooklyn Heights
Unfortunately, Moxie Spot closed in December 2014.
In addition to this kid-friendly diner's play area, arts and crafts supplies, toys, Foosball table and books, the restaurant hosts regular sing-alongs, bingo nights, dance parties and family movies. Be sure to check the schedule before you go because the second floor where most of the action is often closes for private parties. There's a fee of $2.50 per child to go upstairs on weekdays until 5:30pm, and kids eat free every night with the purchase of a full-price adult meal (other restrictions apply. The website has all the fine print).
Roll-n-Roaster – Sheepshead Bay
2901 Emmons Avenue at Nostrand Avenue
Famous for its roast beef sandwiches, this old-school waterfront spot serves kid-friendly dishes like sweet corn fritters, pizza and sweet potato fries. On Funday Sundays from noon to 6pm, a balloon artist entertains the kids and the restaurant hands out complimentary tattoos and stickers.
Cercle Rouge – Tribeca
241 West Broadway at North Moore Street
There's a basic kids' menu at this French bistro but perhaps you can trick the brood into trying something more exotic at the magic brunch every Saturday and Sunday from 11am to 1pm. In addition to being mesmerized by the feats of the Great Ragidy Supreme, all kids receive complimentary balloons.
New York Burger Co. – Chelsea
470 West 23rd Street at Tenth Avenue
More tricks: On Sundays at noon at this local chain's Chelsea outpost, the Great Lerdini wows young diners with an intimate magic show. One of our readers tipped us off about this one.
Benihana – Midtown West
47 West 56th Street between Fifth and Sixth Avenues
Yes, it's a chain but these pioneers of American hibachi know a thing or two about cooking as live entertainment. My five-year-old was thrilled to pieces by the flaming onion volcano and when our chef flipped a piece of zucchini at him, we thought his laughter might never stop. With a substantial kids' menu, Benihana is worth a visit if you're in the area.
Ellen's Stardust Diner – Midtown West
1650 Broadway at 51st Street
If big, fun and noisy is your thing, you'll love Ellen's singing wait staff. The servers, all clad in retro duds like poodle skirts and bowling shirts, leap onto the tables to belt out Broadway show tunes new and old. As you can imagine, this theater district diner gets pretty crowded with tourists starting around 5pm so make it an early bird dinner. There's even a kids' menu with the usual fare like meatloaf, burgers, fries and shakes.
Ninja New York – Tribeca
25 Hudson Street between Duane and Reade Streets
If my family's restaurant choices were left up to my kid, this would be our go-to spot (thank you, Ninjago). As we said when we reviewed the theme restaurant a few years back, it's more about the experience than the eating with lots of live ninja action and magic tricks. There is a $25 kids' menu, but dinner for four can easily run you more than $200 here.
Tribeca Grand – Tribeca
2 Sixth Avenue at White Street
Enjoy brunch and entertainment in grand style at this swanky downtown hotel. On select Sundays from 11am to 4pm, families can dine at the buffet, which includes specialty items like Doughnut Plant doughnuts and Barney Greengrass lox along with the usual eggs, bacon and waffles, listen to live '20s-style jazz by the Baby Soda band and catch kids' flicks in the hotel's private cinema. Check the website for lineup.
Brunch Baby, Brunch at Brother Jimmy's BBQ – Union Square
116 East 16th Street between Park Avenue South and Irving Place
Local chain Brother Jimmy's BBQ is already one of our top kid-friendly restaurants since they've got cool games and kids eat free with full-paying adults. Now the Union Square location has a dedicated weekly family brunch on Sundays at 11am, featuring a deejay spinning kindie rock and retro classics, giveaways and raffles, stroller parking and unlimited specialty cocktails for adults. And yes, kids still eat free.
Also of note: There are lots of Park Slope cafes that host regular sing-alongs, and many restaurants in family-friendly neighborhoods welcome playgroups for parents with young children. If your area has a local listserv, it's worth emailing and asking if there's anything like that in the vicinity.
Did we miss your favorite NYC restaurant with kids' entertainment? Let us know in the comments.
Read about other kid-friendly eateries in our family-friendly restaurant guide.