NYC School Holiday Camps: Fun All-Day Kids' Programs for Election Day, Veterans Day and Beyond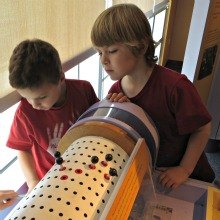 Every fall we get emails from readers asking us to recommend school holiday camps for Election Day (Tuesday, November 6), Veterans Day (Monday, November 12) and all those other days when public schools are closed but many parents still need to work. (Columbus Day, Rosh Hashanah, Black Friday, we're looking at you.) While there are many wonderful mini-camps to choose from during the big school vacations like holiday, midwinter and spring breaks, it seems harder to find coverage on those one-off holidays that pop up throughout the academic year.
But we did the research and found that there actually are quality programs offering fun-filled one-day camps on many of these holidays, where kids can enjoy soccer, cooking, theater, robotics and chess. So don't take the day off from work: Send your kids to one of these cool-sounding holiday camps instead.
Kids Helping on Veterans Day – Boerum Hill
Beam Center, 51 Bergen Street between Smith Street and Boerum Place
Veterans Day 8am-3pm
FREE
Nonprofit learning and youth development organization Beam Center is inviting children ages 10 and up to help with Hurricane Sandy relief in Brooklyn. Parents can drop off their children at the center, and the staff will escort two groups via subway to two OccupySandy distribution hubs, St. Jacobi Church on Fourth Avenue and Church of St. Luke and St. Matthew on Clinton Avenue, where they'll help sort and organize donated goods. The program is free but parents must sign a waiver.
NYC is My Backyard Does Compassion – Battery Park City
Winter Garden at the World Financial Center, 220 Vesey Street at West Street
Veterans Day 10am-3pm
$150 – 100% of the proceeds will be donated to the American Red Cross
Another Hurricane Sandy inspired camp from the two teachers behind NYC is my Backyard. Kids start the day at the Winter Garden with a morning meeting, and a storytime about the importance of giving and compassion, and are then organized into small group service projects like crafting cards for veterans, making bags of supplies for residents of a homeless shelter, and packing up blankets, sheets and treats for an animal rescue group. The day ends with a visit to a local senior center where the kids will sing songs, meet veterans and drop off their thank-you notes. Every penny of the day's tuition will go to the American Red Cross. In fact, parents write their checks directly to the organization.
ACT Holiday Camp – Morningside Heights
Cathedral Church of St. John the Divine, 1047 Amsterdam Avenue at 112th Street
Election Day and Veterans Day 9:30am-4pm
$40 per day, extended hours available for an additional fee
Ages 5-12
If you're looking for an economical option, it's tough to beat this popular neighborhood program, which is open on most public school holidays throughout the academic year. It's actually where Mommy Poppins contributor Raven sends her daughter when school's out! Kids enjoy arts and crafts, cooking, reading and playing right underneath the iconic Cathedral (or on the grounds, weather permitting). ACT also has great general interest summer and week-long school break camps.
NYChess Kids Camp – Murray Hill
PS 116, 210 East 33rd Street between Second and Third Avenues
Veterans Day 9am-5pm
$85 for full day, $55 for half day
Ages 4 and up
Chess players of all levels, even beginners, are welcome at this camp where kids will hone their skills, attend lectures and, of course, play lots of games. (Unfortunately there's no camp on Election Day since PS 116 is a voting spot.) If you enroll before October 29, you'll save $10. The organization also offers specialty summer and school break camps at various locations.
TADA! Musical Theater Camps – Chelsea
15 West 28th Street between Fifth Avenue and Broadway
Election Day and Veterans Day 9am-5:30pm
Ages 6-13
$100
Broadway babies can explore acting, singing and dancing in TADA's one-day musical theater camps, which are offered on most public school holidays. Each day has a different theme—Election Day is Rock the Vote! while Veterans Day is Heroes in Harmony—that kids will explore through theater games, improv and dramatic play. Families can even come see what their little stars learned at a mini-performance at the end of the day.
Brooklyn Robot Foundry – Gowanus
303 Third Avenue near Carroll Street
Veterans Day 9am-3pm
Ages 5-10
$125, extended hours available for an additional fee
Ever since we discovered this fabulous robot-building center at Maker Faire last year, we've been big fans! In fact, my seven-year-old son took a one-off class here and just loved it. For Veterans Day, the Foundry is hosting Robot City All Day where kids will learn basic engineering principles by building their own bot and collaborating on a giant city, complete with lights and motors. I want to go!
RoboFun Studio – Upper West Side
2672 Broadway near 102nd Street
Election Day and Veterans Day 9am-4pm
$160, extended hours available for an additional fee
Ages 5-12
More robot fun! RoboFun is a favorite of Mommy Poppins founder Anna's son, and offers full-day programs on most public school holidays (you can even book the Martin Luther King Day camp right now!). Kids work on LEGO Robotics while learning math, science and engineering concepts.
New York Chess & Games – Prospect Heights
192 Flatbush Avenue at Dean Street
Election Day and Veterans Day 8am-6pm
$90
Ages 5-12
Another educational program that offers coverage on most public school holidays (even Black Friday and Martin Luther King Day), this Brooklyn chess shop hosts day-long camps for kids of all skill levels. In addition to chess, participants will go on local field trips, play board games and enjoy outdoor activities, weather permitting.
Backpacks + Binoculars – Downtown Brooklyn
NY City Explorers, 110 Schermerhorn Street at Boerum Place
Election Day and Veterans Day 8am-3:30pm
$125, extended hours to 6pm offered at no additional cost
Ages 5-10
The brainchild of NY City Explorers, these one-day camps have kids trekking all over the city. Best of all, there are field trips for almost every public school holiday and even though the kids are ready for pickup at 3:30pm, they can stay and romp in the play space until 6pm for no additional fee. On Election Day participants head to the DiMenna Children's History Museum and on Veterans Day they're off to Grant's Tomb. There are upcoming camps for Black Friday and Martin Luther King Day, too, as well as school break camps.
Taste Buds – Chelsea
109 West 27th Street between Sixth and Seventh Avenues
Election Day and Veterans Day noon-3pm
Ages 4-10
$80
Kids love to cook? Then consider enrolling them in Taste Buds, which offers half-day vacation camps for almost every public and private school holiday. On Election Day, junior chefs can create patriotic treats from red, white and blue ingredients. On Veterans Day, students celebrate the harvest by making quiche and pumpkin scones.
Super Soccer Stars – Manhattan and Brooklyn
Whether your young Pele is just starting out or wants to bend it like Beckham, you can count on Super Soccer Stars to school 'em on their days off, including Election Day and Veterans Day.
Mini Camp
Election Day and Veterans Day 9:30am-noon
$70-$80 per day depending on location
Ages 2 1/2-5
Young athletes learn basic soccer techniques and also enjoy arts and crafts, and free play.
Kick It! Clinics
Election Day and Veterans Day 9am-1pm
$85-$95 per day depending on location
Ages 6-12
Older kids can develop their soccer skills and play friendly games.