NYC Pool Party for Kids: Indoor Swimming Pools for Children's Birthday Parties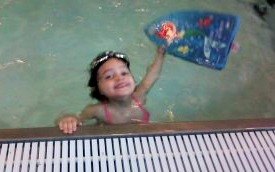 In the past, we've written about ways to host a summer urban pool party and shared our favorite outdoor NYC public pools. But this winter, a few of our readers wrote in asking where they could book an indoor pool party off-season. Swimming parties are certainly a decadent way to celebrate a birthday. The kids rip off their coats, jump in their bathing suits, hit in the water and get an instant taste of summer fun, regardless of what season it actually is.
Luckily, there are a bunch of indoor pools in NYC, and while most of them are only open to members or currently enrolled students, many offer party packages to the general public. These indoor swimming parties are also a great option in the summer since the New York City Department of Parks & Recreation pools don't offer birthday packages and have a long list of strictly enforced rules.
Asphalt Green – Upper East Side
555 East 90th Street between York and East End Avenues)
My daughter takes swimming lessons in Asphalt Green's Olympic-size pool, so I can attest to how stunning it is. Children ages 5 and up can splash around in the shallow end under the watchful gaze of a lifeguard, who will also lead water games. Afterward, hit a private decorated party room. Add-ons include pizza, additional hosts and goody bags. Parents supply the cake.
92nd Street Y – Upper East Side
1395 Lexington Avenue at 92nd Street
Just a few blocks away, the Y offers parties for children ages 6 and up in a private section of its 25-yard pool. A lifeguard supervises free swim or, if you prefer, leads water games and activities. Finish up in the party room with food, cake or whatever refreshments you provide.
New York Sports Club – Manhattan and the Bronx
Select NYSC locations offer swim parties for children ages 4 and up. Guests can enjoy free swim or organized water games. Noodles, kickboards, pool toys, invitations, a private room and host are included. The real trick here is figuring our which NYSC outposts host these parties. Right now the clubs on the Upper East Side and in Morris Park, Bronx seem to be the only ones. Call 888-412-2231 for more info.
Astoria Sports Complex – Astoria
34-38 38th Street between 34th and 35th Avenues
At the popular Queens athletics center, kids can choose two party activities, including soccer, basketball, batting cages, inflatables or swimming in the heated pool. The basic 90-minute package includes a host, invitations, music, paper goods, pizza and beverages for the kids, goodie bags and a special gift for the birthday child. A longer party costs an additional fee.
Bronx House – Bronxdale
990 Pelham Parkway South at Hone Avenue
Our Bronx writer, Sonia, has been to a couple of pool parties here and just raved about them. Packages are for children ages 5 to 10 and include an hour in the water with a lifeguard followed by an hour in a private party room. Parents supply everything else, i.e. cake, food, paper goods and decorations.
Imagine Swimming – Tribeca
40 Harrison Street between Greenwich and West Streets
We've recommended Imagine Swimming lessons in the past. But the NYC-based program also hosts birthday parties at its flagship Tribeca location for children ages 3 and up. The package includes an experienced swimming instructor, paper and party goods, and playroom time. Parents supply the decorations, food and cake.
14th Street Y – East Village
344 East 14th Street between First and Second Avenues
Although the 14th Street Y doesn't have an official kids' party package, families can rent the heated pool and enjoy food and cake in a private room.
Take Me to the Water – Forest Hills
Forest Hills-75th Rd, 111-20 Queens Boulevard
This learn-to-swim program offers pool party packages at this Queens location. An all-inclusive package comes with a private party room, pizza, beverages, paper goods, etc., you just supply the cake.
YMCA – Citywide
While every location has different kinds of facility rentals, it's worth calling your local Y to see if a pool party is an option. You can also just browse the pool schedule and if you see times blocked out for parties, well, there's your answer. Even if your Y offers pool rental, chances are you'll be doing everything else yourself, including providing food, decorations and cake.
Brooklyn Sports Club – East New York
1540 Van Siclen Avenue between Schroeders and Seaview Avenues
This recently renovated pool offers a basic Splash Party, 45 minutes in the the training pool and a half hour in the club room for pizza and cake. A lifeguard will lead a variety of water games like hoops, ring toss and an obstacle course, and two hosts, decorations, paper goods and food are included. Want more time in the pool? A 2 ½-hour party is also offered.
Not near any of the pools listed above? If you know of a private pool in your area, at a gym or a hotel, it's worth inquiring whether you can rent it for a few hours. You never know!
And if you're willing to travel, most indoor water parks near NYC offer amazing birthday party packages.
For more birthday ideas, check out our NYC Party Guide.