Free & Fun Things to Do this Weekend for NYC Kids: Chinese New Year, BAMkids Film Festival, Groundhog Day February 2-3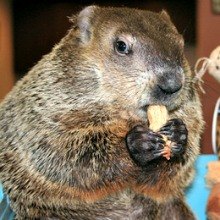 Saturday is Groundhog Day and while we grown-ups may hope that Staten Island Chuck predicts an early spring, the kids don't want winter to go until we've gotten enough snow to go sledding in the city. While it doesn't look like that will happen this weekend, there are plenty of other things to do. Head downtown to celebrate Chinese New Year a little early at the Children's Museum of Arts and the Museum of Chinese in America, or hit Fort Greene for the Brooklyn Academy of Music's annual BAMkids Film Festival.
The annual Canstruction exhibit, which was delayed last fall due to Hurricane Sandy, debuts at the Winter Garden this weekend, and Knuffle Bunny author/illustrator Mo Willems is leading a puppet workshop at Soho's MoMA Design Store. If your child is more of a Harriet the Spy fan, don't miss Symphony Space's tribute to the sassy sleuth starring a number of big names in little kid lit.
Those are just a few of the great things going on this weekend. Read on for all of our picks and remember, you can find additional ideas in our Winter Fun Guide and our Event Calendar. If you're looking to plan ahead, be sure to check out our February Go NYC List, which highlights the absolute best things to do with kids throughout the month.
All Weekend
BAMkids Film Festival – Fort Greene
The Brooklyn Academy of Music's two-day family film fest features more than 75 titles from around the world, including shorts and features, all grouped by age. Plus, two awesome NYC-based acts will be performing live in BAMcafe upstairs: Brooklyn history rockers the Deedle Deedle Dees and local mom crooner Suzi Shelton. Buying advance tickets is highly recommended. $12 for adults, $9 for children under 13 per screening or performance
Lunar New Year Festival – Hudson Square
The Children's Museum of the Arts' annual bash is always super-popular, especially for families with little kids. Get a huge dose of Asian culture by learning about traditional and modern Chinese art, watching Mongolian bowl and Chinese ribbon, handkerchief and sword dances, and cheering on the young Chinese Lion Dancers from P.S. 124. There will also be a slew of holiday-themed art projects and a giant dragon parade throughout the museum. Free with admission: $11.
Groundhog Day – Staten Island
Who cares what Pennsylvania's Punxsutawney Phil thinks? The Staten Island Zoo's resident rodent weatherman, Chuck, is who we want to hear from. While the official Groundhog Day ceremony starring Mayor Bloomberg and his frenemy (Chuck bit him once) takes place at 7am on Saturday, on Sunday afternoon there will be a repeat performance (sans Mike) along with themed crafts. Saturday: Free for the ceremony, breakfast is $10, $5 for children under 5; Sunday free with admission: $8 for adults, $5 for children ages 3-14.
Canstruction – Battery Park City
Head to the Winter Garden to see this annual exhibit of sculptures constructed from full cans of food. Twenty-five teams of architects, engineers, contractors and students designed the structures and they're always amazing to behold. Visitors are encouraged to bring cans of food, and once the exhibition is dismantled, everything will be donated to City Harvest. FREE
Opening Weekend of Tony Hawk | Rad Science – Corona
The New York Hall of Science unveils its new interactive exhibit this weekend and it sounds like a blast. Developed in part by skateboard legend Tony Hawk, the display features 25 interactive stations where children can balance on a stationary skateboard, go into a simulated free fall, play with a mini-tabletop skatepark and try other activities that explore concepts like gravity, force, velocity and balance. Free with admission: $11 for adults, $8 for children ages 2-17
Thunderbird American Indian Dancers Annual Dance Concert and Pow-Wow – East Village
It's the last weekend to catch the Thunderbird American Indian Dancers at Theater for the New City. Mommy Poppins' contributor Kelly and her family saw the multicultural performance last week and had a great time. They took a lot of cool pics, too. The kids particularly liked the part when a dancer transformed hula hoops into different animals and shapes, and they even got a chance to get up on stage and participate. $10 for adults, $1 for children under 12 for matinees
Illuminated – Prospect Heights
It's also your last chance to enjoy the Brooklyn Botanic Garden's winter fete. On Saturday, visitors can play Swedish schoolyard games, get awesome animal face painting courtesy of Agostino Arts and relax in the Lite Brite lounge with classic toys. Sunday brings winter bird walks, pine needle pillow workshops and storytelling. Stockholm hot cocoa, pepparkakor cookies and other Swedish specialties will be on sale throughout the weekend. Free with admission: $10 for adults, free for children under 12
20at20, Broadway Week and Off Broadway Week – Manhattan
Now's a great time to take your kids to the theater. There are currently three great deals: two-for-one tickets to Broadway and Off Broadway shows, plus $20 tickets to some Off Broadway shows including family faves like Bunnicula and Fancy Nancy the Musical. If you want to see Mary Poppins or Spider-Man, now's the time to buy!
 
Saturday, February 2
Mo Willems presents Don't Let the Pigeon Finish the Activity Book – Soho
Head to the downtown MoMA Design Store for a puppet workshop with the beloved children's author/illustrator in celebration of his new activity book. We expect crowds so arrive early! FREE
Artopia – Upper West Side
Wingspan Arts, a nonprofit that runs camps and after-school classes, hosts its annual arts fest (basically a preview of its programs) at the Anderson School. Catch performances by current students and take workshops like chromatography flowers, cartooning, jewelry making, watercolors and step dancing. There will even be a mini-film fest of kid-made shorts. FREE
Express Your Inner Snake: Lunar New York Festival Family Day – Chinatown
Ring in the Year of the Snake at the Museum of Chinese in America's annual family fest. Enjoy Mandarin lessons, holiday arts and crafts, traditional performances, lion and red silk dance workshops, and kid-friendly gallery tours. $10, free for children under 6
Family Day: Korean New Year – Midtown East
Or celebrate Korean-style with traditional folk tales, games, kite making and ethnic eats.$15 per person, $30 per family
Meet the Performers: Harlem Gospel Choir – Upper West Side
Head to Lincoln Center's David Rubenstein Atrium for an interactive performance by the world-renown gospel chorus in honor of Black History Month. FREE
Soul Step – Prospect Heights
More Black History Month fun: Catch the percussive dance styling of this troupe at the main branch of the Brooklyn Public Library. FREE
Buckyball Family Art Workshop – Flatiron
Hit Madison Square Park for an art workshop where kids can make geometric sculptures inspired by Leo Villareal's cool illuminated Buckyball. FREE
The Art of Flamenco: a Dance and History Workshop for the Entire Family – Forest Hills
Learn all about Spain's traditional dance at this fun family workshop that covers its origins and basic steps. FREE
Lucky Diaz and the Family Jam Band – Upper West Side
Groove to the rockin' tunes of this Los Angeles-based trio at Symphony Space. $20 for adults, $13 for children.
The Elves and the Shoemaker & Other Tales from the Brothers Grimm – Midtown East
Storyteller LuAnn Adams brings classic fairy tales to life at the NYPL's Children's Center at 42nd Street. FREE
Sunday, February 3
Thalia Kids' Book Club: I LOVE Harriet the Spy – Upper West Side
Fans of Louise Fitzhugh's classic book will get a kick out of this tribute at Symphony Space featuring lots of popular YA authors including Michael Buckley (The Sisters Grimm, N.E.R.D.S.) and Rebecca Stead (Liar & Spy). The writers will share their love for the little NYC sleuth and actress Sarah Steele will read excerpts. $15.
The Pop Ups – Upper East Side
These newly minted Grammy nominees put on concerts that are really more like kids' shows, with a plot, costumes and puppets. Today they hit the Jewish Museum to perform Radio Jungle!, which is set in a magical world of treasure maps, mermaids, glowing stars and huge crayons. The synth-pop and reggae soul songs are so satisfying, some parents listen to the Pop Ups when their kids aren't even around. $18 for adults, $13 for children under 12.
Meet the Nature Center Animals – Marine Park
Head to the Salt Marsh Nature Center to learn about local animals with the Urban Park Rangers. Several species of salt water creatures call the marsh home, and there are plenty of birds, too. FREE
Nature Crafts – Harlem
The Urban Park Rangers host an afternoon of craft making with natural materials at Central Park's Dana Discovery Center. FREE
Outside of NYC
Across the Hudson, New Jersey celebrates the Year of the Snake with a ribbon dance workshop with choreographer Nai-Ni Chen at Newark's NJPAC.
Or take a day trip to go snow tubing or downhill skiing all over the tri-state area.
Don't forget: There's a lot more fun in our Event Calendar.
Tags: