Free & Fun Things to this Weekend for NYC Kids: NYBG Holiday Train Show, Icky Fest!, Gustafer Yellowgold November 17-18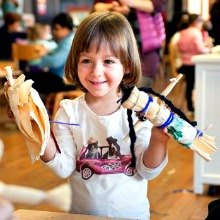 Even though Thanksgiving isn't until next week, there's still plenty of holiday season fun this weekend. The New York Botanical Garden is launching its annual Holiday Train Show; Central Park's Swedish Cottage Marionette Theatre is reviving The Three Bears Holiday Bash; many holiday markets are open for business, including the ones at Bryant Park, Union Square and Grand Central Terminal; and big-name stores like Macy's, Lord & Taylor and Bloomingdale's are unveiling their magical holiday windows.
Of course there's plenty of non-holiday fun too, like the Brooklyn Children's Museum's Icky Fest!, the Brooklyn Museum's annual Children's Book Festival, and concerts by family favorites Astrograss and Gustafer Yellowgold.
These are just a few of the great things going on this weekend. All of our best bets are below. You can find additional options in our Event Calendar and Holiday Fun Guide.
All Weekend
New York Botanical Garden Holiday Train Show – the Bronx
The garden's beloved annual display opens on Saturday. Marvel at amazing replicas of famous NYC buildings, all made from natural materials like twigs and flowers, and cool model choo-choos. There are also gingerbread-themed kids' activities in the Everett Children's Adventure Garden. If you go on Saturday, you can also watch the illumination of NYBG's Christmas tree at 4pm. Free with all-garden pass: $25 for adults, $15 for children ages 2-12, free for kids under 2.
The Three Bears Holiday Bash – Upper West Side
The Swedish Cottage Marionette Theatre revives its holiday variety show featuring the three bears and all of their fairy-tale friends. This spirited puppet performance celebrates all of the holidays: Christmas, Kwanzaa and Hanukkah. $8 for adults, $5 for children under 12.
Icky Fest! – Crown Heights
Ready to get yucky? Then head to the Brooklyn Children's Museum for a weekend full of icky activities. Kids can examine bugs, make slime, learn about moldy cheese, create gooey art and enjoy a lot of other delightfully disgusting fun. Free with admission: $9.
Corn Husk Doll Making – Harlem and the Bronx
In honor of Thanksgiving, kids can craft these traditional Native American dolls at Harlem's Morris-Jumel Mansion on Saturday for FREE, and at the Bronx's Wave Hill all weekend long with garden admission: $8 for adults, $2 for children ages 6 and up, free to all Saturday 9am-noon.
Black Violin – Midtown West
Head to the New Victory Theater to catch this interactive concert by a classically trained string duo who play a mash up of rock, hip-hop, pop and Mozart. Mommy Poppins contributor Nataki went with her son last week and reports that it wasn't just kids grooving to the funky beats—she spotted a bunch of parents and even a few grannies fist-pumping along. Since the volume is constantly turned up to 11, the show is best suited for children ages 6 and up. $14-$38.
 
Saturday, November 17
Children's Book Fair and The Composer Is Dead Concert – Prospect Heights
Head to the Brooklyn Museum for this annual kid-lit fest. Scott Menchin, Miriam Weiner, Shannon Whitt, Artie Bennett and other local authors and illustrators will share their latest titles and greet their young fans. At 4pm, the Brooklyn Conservatory Community Orchestra will perform an interactive concert, The Composer is Dead, featuring text by Lemony Snicket. Book Fair is free with suggested admission: $12 for adults, free for children under 12. Concert is $15, $10 for children under 12 and includes Book Fair admission.
Trevor Day School Fall Festival – Upper East Side
The independent school throws its annual fundraiser featuring carnival rides, games, gifts, arts and crafts, gingerbread house projects, tasty eats and more. Free admission but there are fees for activities.
Cathedral Pilgrims: A Thanksgiving Workshop – Morningside Heights
Celebrate the spirit of Thanksgiving at the Cathedral Church of St. John the Divine by creating corn husk dolls, pinched pots, turkey hats and other holiday accessories. $8 per child-adult pair.
Super Sabado! Gran Caribe – East Harlem
Explore the vibrant art and culture of the Caribbean at this edition of El Museo del Barrio's monthly family fest. Take kid-friendly tours of the current exhibit Caribbean: Crossroads, make ethnic art, hear Haitian folk tales, learn Caribbean and Brazilian dances, and catch an Afro-Cuban jazz concert by the Yosvany Terry Quintet. FREE
Trash Factory – Battery Park City
After being closed due to the power outage caused by Hurricane Sandy, the Skyscraper Museum is back in business! Today, families can learn how architects transform old warehouses into new multi-use buildings, and then create "trash factory" out of recycled materials. For ages 5 and up. Advance registration required. $5 per family.
Hands on History: All Aboard – Jamaica
Chug on over to the King Manor Museum to learn the history of our city's railroad and how it helped transform Queens' farmland into a bustling borough. Train-themed crafts and stories are also on tap. FREE
The Gustafer Yellowgold Show – Upper West Side
We've been raving about this one-of-a-kind concert/show for years. Today, head to Symphony Space to catch singer/songwriter Morgan Taylor's Beatles-esque tunes and the animated adventures of his alter ego, Gustafer, a little yellow creature from the sun. $25 for adults, $15 for children but you can snag $10 tickets by mentioning Mommy Poppins. See our special deal for details.
Saturday Family Program: Animal Adventures Medley – Park Slope
The Wildlife Conservation Society's Wildlife Theater presents a lively animal-themed puppet show for the preschool set with singing, guessing games and storytelling at the central branch of the Brooklyn Public Library. FREE
Kids Club Thirteen Presents Martha Speaks – Staten Island
Are you a member of Kids Club Thirteen? It certainly has its privileges, including free admission to 13 family events throughout the year, like today's offering at the Staten Island Children's Museum, where kids can listen to stories and make crafts with the stars of Martha Speaks. Read our post about Kids Club Thirteen for details on member benefits and how to join. Free for Kids Club Thirteen members.
Sunday, November 18
International Hands-On Mitzvah Day — Upper East Side
Join other caring New Yorkers at the 92nd Street Y for a day of hands-on projects to benefit those in need. Projects include crafting holiday cards for soldiers; decorating flower pots for the elderly; preparing activity kits for sick children; and collecting and sorting new and gently used books for children in underserved schools, toiletries for women in need and pet supplies for shelter animals. The Y is also collecting unopened toiletries, new and gently used children's and young adult books, pet supplies and food in the lobby for those affected by Hurricane Sandy. All ages welcome. FREE but there is a suggested donation of $20 per family to support the organization's good works.
Suzi Shelton – Tribeca
The rocking Brooklyn mom and her band play 92YTribeca. Young fans can groove to tunes from her albums Tomboy in A Princess Dress and No Ordinary Day. $15, free for children under age 2.
Kids 'N Comedy: Thanks, I Guess – Chelsea
You can take the whole family to this G-rated stand-up comedy show starring really young comics, a.k.a. teenagers joking about what there is to be thankful for—and what not to be! $15 plus a one-item minimum.
Astrograss Thanksgiving Hoedown – Lower East Side
The bluegrass kids' band plays a special Thanksgiving concert at the Living Room featuring a dance contest, sing-alongs and hands-on instrument demos. $10
236th Anniversary of the Battle of Fort Washington – Washington Heights
Experience living history as reenactors from the Brigade of the American Revolution set up camp in Fort Tryon Park and demonstrate how the Continental Army functioned. There will also be other retro attractions, like a blacksmith, historic photographs and maps, a bagpiper, old-school arts and crafts, and period characters. FREE
A Very Special Storytime with Barney Saltzberg – Upper East Side
The Metropolitan Museum of Art welcomes author/illustrator Barney Saltzberg, who'll read from his books Beautiful Oops!, Andrew Drew and Drew and Arlo Needs Glasses. Free with suggested admission: $25 for adults, free for children under age 12.
Baby Loves Disco – Greenwich Village
Shake your booty with the kids at this all-ages dance party featuring a live DJ, unlimited juice boxes for kids and a cash bar for grown-ups, arts and crafts, and other activities. $20 per person, $60 for a family of four.
Outside of NYC
While parts of the tri-state area (and some neighborhoods in the outer boroughs) are still in Hurricane Sandy recovery mode, things are, slowly but surely, returning to normal in many communities. Head to the Jersey Shore for Cape May Holiday Preview Weekend where Santa and his elves have decked out the historic Physick Estate with thousands of lights and holiday trimmings.
Meanwhile, you can enjoy a historical Thanksgiving celebration in Hartford County, Connecticut at the Welles Shipman Ward House in Glastonbury.
Don't forget: We have additional activity options in our Event Calendar.
Tags: