Top 10 NYC Kids' Concerts for Spring 2013: The Deedle Deedle Dees, Shine & the Moonbeams and More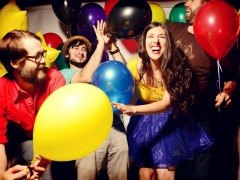 Earlier this week in our April NYC Go List, we told you about the biggest family concert happening in New York City this spring: the annual Kindiefest at BAM, which sold out super quickly. But don't worry: Kindiefest isn't the only cool gig in town this season.
Spring is a particularly great time of year to catch kids' bands in NYC. Local acts are emerging from hibernation with new tunes in preparation for the summer concert circuit, including popular groups like the Deedle Deedle Dees, Elizabeth Mitchell and Brady Rymer. We've rounded up 10 awesome concerts to put in your calendar this spring, but the best part is these big names don't cost big bucks. In fact, seven of these shows are 100% FREE.
The Itty Biddies – Prospect Heights
Saturday, April 13 at 1pm
Dweck Center at the main branch of the Brooklyn Public Library, 10 Grand Army Plaza near the intersection of Eastern Parkway and Flatbush Avenue
FREE
This playful Americana-pop trio is the G-rated side project of the lounge-y Lascivious Biddies. These ladies sing sweet, harmony-filled originals and also do some awesome covers, like The Smiths' "Ask." If you can't make the show on April 13, don't worry: The Itty Biddies are playing three additional FREE concerts in May as part of the McGraw-Hill Carnegie Kids series: two sets at Long Island City's LaGuardia Performing Arts Center on Thursday, May 9, and Sunday, May 19 at the Abrons Arts Center on the Lower East Side.
Joanie Leeds and the Nightlights – Tribeca
Sunday, April 14 at 11am
92YTribeca, 200 Hudson Street near Canal Street
$15, free for children under 2
Since 92YTribeca is closing this summer, this is one of your last chances to catch a concert in this intimate venue. And what better way to say goodbye to the spot than with a show by local kindie fave Joanie Leeds? One of the most glamorous pop stars in NYC's family music scene, this bubbly singer/songwriter successfully Kickstarted her upcoming album and will perform some of those perky new tunes at this show.
Rolie Polie Guacamole – Gowanus
Sunday, April 14 at noon
Littlefield, 622 Degraw Street between Third and Fourth Avenues
In advance: $10 for adults, $8 for children, $35 for a family four-pack; at the door: $12 for adults, $10 for children
This popular Brooklyn band manages to maintain a funky alt-rock edge while still being toddler friendly. Even parents ends up dancing and singing along to RPG's memorable, hyper-catchy songs. And since this is a Hip Tot Music Fest concert, the show comes with fun free extras, like face painting, children's book readings and crafts.
Aaron Nigel Smith – Upper West Side
Saturday, April 20 at 11am
Symphony Space, 2537 Broadway at 95th Street
$20 for adults, $13 for children
If this singer/songwriter sounds familiar that's probably because you've seen him on PBS Kids' Between the Lions. Smith's cheery disposition really comes through in concert as he plays multicultural rock-reggae originals as well as covers by two famous Bobs: Dylan and Marley. At this show, he'll be joined by special guests, including public school students from East New York, Brooklyn.
Shine & the Moonbeams – Staten Island
Sunday, April 21 at 2pm
Snug Harbor Cultural Center, Veterans Memorial Hall, 1000 Richmond Terrace at Hamilton Avenue
FREE
I raved about Shawana Kemp and her band a few years back after their big Kindiefest debut. The group continues to be the soul of the kindie music scene with uplifting, all-ages R&B songs about friends standing up to bullies and turning dark days bright. Catch Shine and the Moonbeams at no cost at this Staten Island's culture hub and then stay and explore all that Snug Harbor has to offer families. The band is also playing FREE concerts at the Bronx Library Center on Sunday, April 14 and Queens' Jamaica Performing Arts Center on Saturday, May 11.
Sugar Free Allstars – Prospect Heights
Saturday, May 4 at 1pm
Dweck Center at the main branch of the Brooklyn Public Library, 10 Grand Army Plaza near the intersection of Eastern Parkway and Flatbush Avenue
FREE
This offbeat organ/drum duo from Oklahoma City is hitting NYC for a no-cost concert. The Allstars' songs are hard to label and run the gamut from funk, soul and gospel, to rock and pop, and their shows are always super-interactive, so kids can get in on the music, too.
Brady Rymer – Battery Park City
Saturday, May 11 at 12:30pm
Robert F. Wagner Jr. Park, north of Historic Battery Park off Battery Place
FREE
This Grammy nominated group kicks off the park's seasonal Go Fish! Festival with classic American rock-n-roll. Learn how to fish from 10am to noon, and then groove to live tunes. Frontman Rymer may be the happiest guy on the planet, and his family music will get your brood jumping, singing and playing air guitar. While the band is playing a number of shows in the tri-state area this spring, the BPC gig is the only one that's FREE.
Spring Kids Fest – Flatiron
Madison Square Park, 23rd Street and Fifth Avenue
Saturday. May 18 10:30am-1:30pm
FREE
Every spring the green space teams up with Time Out Kids magazine to throw one of the best family festivals of the season. There are always awesome art activities, tasty snacks, storytelling and a stage with live music from hot kids' bands. While this year's lineup has yet to be finalized, we haven't been disappointed yet. So though we can't tell you who will be playing, we suspect they'll be worth watching. Update: The musical lineup this year includes Brooklyn's own Rolie Polie Guacamole and apple seeds' Songs for Seeds. There will also be lots of non-music fun like appearances by the prehistoric stars of NJ's Field Station: Dinosaurs, crafts with MoMath and Taro's Origami, a session with Karma Kids Yoga and more.
Elizabeth Mitchell and You Are My Flower – Prospect Heights
Thursday, June 6 at 10:30am
Dweck Center at the main branch of the Brooklyn Public Library, 10 Grand Army Plaza near the intersection of Eastern Parkway and Flatbush Avenue
FREE
Another no-cost concert courtesy of the McGraw-Hill Carnegie Kids series: Grammy-nominated Mitchell and her family carry Woody Guthrie's torch of traditional American all-ages music proudly into the 21st century with simple, lovely songs. If you can't make this weekday show, you can catch the talented kin for a fee at the Jewish Museum on Sunday, April 21.
The Deedle Deedle Dees – Flatiron
Madison Square Park, 23rd Street and Fifth Avenue
Tuesday, June 18 at 10:30am
FREE
The smartest family band in town is kicking off Madison Square Park's no-cost summer concert series at the very end of spring. The Dees croon songs about science and historic icons like author Zora Neale Hurston, aviatrix Amelia Earhart and Revolutionary War great Aaron Burr, so even the grown-ups in the audience learn a thing or two.
Find out about other great things to do with kids in NYC this season in our Spring Fun Guide.