NYC Grandparents: Meaningful Activities for Grandparents and Grandkids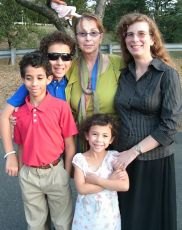 A visit with the grandparents can be a special treat for everyone. Parents get a break and kids get to spend time with family members who aren't their mom or dad. That may mean slightly different ground rules, like snagging treats they aren't allowed at home, but it's also an opportunity to hear stories about what mom and pop were like as children. Grandparents can also share first-hand impressions about what the world was like years ago and, specifically, tales about their own family history.
Living in NYC, grandparents have the opportunity to go beyond storytelling. They can actually explore history with their grandchildren by visiting historic sites, museums and other enriching destinations that highlight a variety of cultural and immigrant experiences. My kids are Russian Jews on one side and African-American on the other, so NYC has us well covered.
Whether your kids' grandparents drop by all the time or are only able to visit once in a while, the next time they ask where to take the kids, skip the usual children's museums and play spaces, and suggest one of these meaningful outings, which help the generations find common ground while having fun.
Search for immigrant relations
Regardless of whether your family came to this country through Ellis Island, grandparents and their grandkids should enjoy exploring the Ellis Island Immigration Museum together by watching a variety of documentary shorts, going on a special children's "Marty the Muskrat" audio tour and brushing up on their genealogy. It's exciting to search for names of ancestors on the museum's computers and a great opportunity for grandparents to share family immigration stories.
Imagine what life was like years ago
At The Tenement Museum, visitors can learn what life was like for early 20th-century immigrants on the Lower East Side via interactive tours. Grandparents can use the experience as a springboard to talk about their own childhoods. Whether your heritage is Italian, Jewish, Irish or any of the other ethnic groups that lived in the area's overcrowded buildings (or not), the tours are fascinating and fun for all ages.
Uptown, the DiMenna Children's History Museum at the New-York Historical Society offers interactive displays that encompass a broader range of NYC experiences. The 4,500-square-foot permanent exhibit invites visitors to explore American history through the eyes of iconic NYC children. Grandma and grandpa may be able to enhance the information with their own recollections.
Explore your culture
Of course, NYC is also home to many other museums devoted to the art and culture of specific ethnic groups—The Jewish Museum, Asia Society, The Ukrainian Museum, El Museo del Barrio, to name but a few. So visiting a museum devoted to your family's heritage also makes for a meaningful outing.
See the city from a new angle on the water
Although the South Street Seaport's fabulous historic boats aren't currently sailing (wrong season plus the residual effects of Hurricane Sandy), even touristy boat rides provide a great opportunity for families to sit back, relax and appreciate iconic NYC sights from a different (and less exhausting) vantage point. The Classic Harbor Line operates high-end cruises on old-school-style boats, including large schooners and a yacht. And we're big fans of the East River Ferry. Or you could even hop a free ride on the Staten Island or Ikea Ferry.
Enjoy a DIY neighborhood walking tour
If the grandparents grew up in NYC too, a visit to the old neighborhood makes for an interesting trip down memory lane. Sharing stories about how things were back in the day, what has changed (probably a lot) and perhaps even finding a few things that haven't can be exciting for both the kids and the grandparents.
Travel back in time... through food
It's getting harder and harder to find remnants of old New York life nowadays, but one experience that always makes you feel like you're stepping back in time is enjoying afternoon tea. While there are many spots with tea service, Lady Mendl's Tea Salon and The Russian Tea Room are the most classic, and both offer Children's Tea. Another food experience that's akin to taking a time machine? Vintage soda fountains where the taste of authentic egg creams, malteds and root beer floats are sure to kick up memories for grandparents and introduce kids to new treats.