See Free Animated Movies at the National Museum of the American Indian this Winter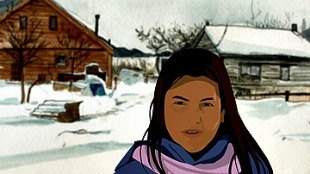 The National Museum of the American Indian, which is located in the stunning Alexander Hamilton U.S. Custom House, is a great destination on any day, literally. It's one of only a few NYC museums that are open every day throughout the year (save Christmas) and admission is always free.
But this winter, there's a new reason to visit: The institution's first-ever Animation Celebration! Looking North. Instead of bundling up and listening to traditional tales around a fire, families are invited to experience the vibrant stories and culture of Native Americans from Canada's Arctic and Subarctic regions in the museum's toasty second floor screening room.
NMAI's 2013 Animation Celebration! Looking North takes place every day through Sunday, March 17. The shorts are made in a variety of animation styles, like digital, stop-motion and hand-drawn, and since each one is only 3 to 16 minutes long, they're perfect for tots with short attention spans.
Screenings take place at 10:30am, 11:45am, 1pm and 3pm and are totally free. The lineup includes:
Walk-in-the-Forest – a look at the secret world of the forest as viewed by the Aboriginal Peoples Television Network
The Bear Facts – a reimagining of how Inuits met Europeans, in which one is a savvy hunter and the other an ill-equipped explorer (guess who's who)
How People Got Fire – a mixture of Yukon storytelling and rotoscope animation that won the World Indigenous Film Award for best animation
The Owl and the Raven – an Inuit legend about how ravens became black told via puppets
I Am But a Little Woman – images of moose and geese jump into a woman's embroidery
Visit the website for the complete schedule. And remember, the museum has lots of other things to explore including the animal illustrations of Julie Buffalohead and the permanent exhibition Infinity of Nations: Art and History in the Collections of the National Museum of the American Indian, which gives families a great introduction to Native American cultures.
Looking for more offbeat non-Hollywood movies? Check out our post about film festivals for kids in NYC.