Winter Break Day Trips for NYC Families: 6 Great Presidents' Day Break Getaways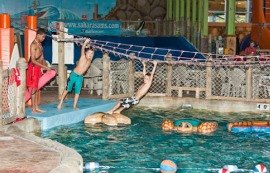 Normally around now we would be sharing lots of things to do in New York City during February break. But due to school days missed during Hurricane Sandy, the usual week-long midwinter recess is now just four days, so there's not as much going on as in years past.
While we will certainly be updating our NYC Presidents' Day weekend events post next week, we think those four days will be the perfect time to take a day trip. So we've rounded up six really cool, kid-friendly destinations that are all less than two hours away from NYC. No need to book a hotel! Whether you opt to jump around, get all wet or commune with nature, here are six great getaways for New York City families during February break.
Bounce! Trampoline Sports – Valley Cottage, NY
612 Corporate Way
Approximately 50 minutes by car from midtown Manhattan
$12 for the first hour, $10 for each additional hour
Let your kids bounce off the walls, literally. This 25,000-square-foot bouncy gym in Rockland County has giant trampolines everywhere—even on the walls! There are five huge jumping courts, three separate trampolines for playing dodge ball, basketball and other springy sports, a soft foam pit and a mini-bounce area for children ages 2 to 6.
Liberty Science Center – Jersey City, NJ
Liberty State Park, 222 Jersey City Boulevard
$16.75 for adults, $12.50 for children ages 2-12, some attractions cost extra
Approximately 20 minutes by car from midtown Manhattan
My son and I love this massive, interactive science museum—it definitely offers enough fun for an entire day. In addition to its permanent hands-on attractions, the exploratorium is debuting a brand-new interactive exhibit about the science behind the blockbuster Avatar over Presidents' Day weekend. Another great thing about LSC? You don't need a car to get there. My family and I usually just take the PATH train from Manhattan and connect to Hudson-Bergen Light Rail. Yes it's longer than driving but in my son's eyes it just adds to the fun.
Lakota Wolf Preserve – Columbia, NJ
89 Mount Pleasant Road
$16.05 for adults, $7.49 for children ages 2-11
Approximately 1 hour and 20 minutes by car from midtown Manhattan
Little animal lovers can get up close and personal with Tundra, Timber and Arctic wolves as well as bobcats and foxes. While Lakota is open year-round Tuesday through Sunday, make sure you call ahead for reservations and to confirm that bad weather won't force it to close for the day.
Sahara Sam's Oasis – West Berlin, NJ
535 North Route 73
$32.95 although there are ticket discounts available online
Approximately 1 hour and 45 minutes by car from midtown Manhattan
We've raved about this indoor water park in the past and we're still big fans. It's a fantastic day trip, especially in winter, since the kids get a chance to splash around (something they probably haven't done in a while) in 80-degree temps. My family is hoping to make it down there, especially since we want to try out the Nile Mile, a 350-foot body slide which was added since our last visit. Of course Sahara Sam's is just one of several indoor water parks near NYC.
Vanderbilt Museum – Centerport, NY
180 Little Neck Road
$7 for adults, $3 for children under 12
Approximately 1 hour by car from midtown Manhattan
When I was growing up on Long Island, this museum was one of my favorite places to go. The early 20th-century, 24-room, waterfront Spanish Revival mansion was built for William K. Vanderbilt II, a direct descendant of Cornelius Vanderbilt, and it's amazing—but the kids probably won't give a hoot about it. But they should enjoy the complex's Marine Museum and Natural History Galleries, where they can gaze at Vanderbilt's massive collections of firearms and swords; model ships; preserved butterflies, birds, shells, mammals and fish; and a 3,000-year-old Egyptian mummy. Bonus: The museum is hosting special programing for families over Presidents' Day weekend.
The Maritime Aquarium at Norwalk – Norwalk, CT
10 North Water Street
$19.95 for adults, $12.95 for children ages 3-12, some attractions cost extra
Approximately 1 hour by car from midtown Manhattan
Families can see 100 species of marine life indigenous to the Long Island Sound, including sharks, seals, river otters, sea turtles, jellyfish and tons more. There's even a touch tank where the kids can pet sharks and a special play area for tots. During Presidents' Day weekend, the aquarium will reopen its popular African Penguins exhibit and also offer special shark programing and a seal watching cruise.
Find more day trip destination inspiration in our NYC Family Travel Guide.