Christmas Weekend in NYC: Free & Fun Things to Do with Kids: Christmas Caroling, East Meets West Christmas Parade December 22-23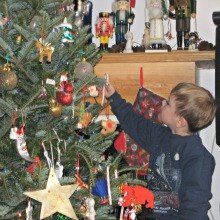 It's the final weekend before Christmas and while these days are bound to be full of last-minute shopping sprees and festive activities, our hearts are heavy due to the tragedy at Sandy Hook Elementary School. If your family is looking to do something to try to help the grieving community, our Connecticut site has some ideas, including a request from the Sandy Hook PTA for cut paper snowflakes that will be used to decorate the new temporary school. While we haven't heard about any vigils in NYC this weekend, families may find Judson Memorial Church's Greenwich Village Caroling Walk or the Church of the Intercession's annual reading of 'Twas the Night Before Christmas comforting and low-key ways to mark the season.
Two family favorites reopen this weekend after being closed since Hurricane Sandy: The Intrepid Sea, Air and Space Museum and the Tribeca Performing Arts Center, which is hosting a free kid-friendly performance of A Christmas Carol. Other weekend highlights include the annual East Meets West Christmas Parade, a no-cost screening of last year's big holiday hit Arthur Christmas at the Sony Wonder Technology Lab and seeing Santa before he says goodbye and hops in his sleigh.
All of our weekend picks are below. You can find additional options in our Event Calendar and our Holiday Fun Guide, which has info on the best things to do on Christmas Eve, Christmas Day and throughout holiday break.
All Weekend
Holiday Circus – Brighton Beach
This second annual extravaganza kicks off its ten-day run at Brooklyn's Millennium Theatre this weekend, mixing circus skills with seasonal spirit. Santa himself hosts the show, which features acrobats, jugglers, animal acts and a trio of kooky clowns. Arrive an hour early to enjoy the pre-show dance party. $35-$55 but a discount code is available at BroadwayBox.
The Reopening of the Intrepid – Midtown West
Closed since Hurricane Sandy dealt it a mighty blow, the Intrepid Sea, Air and Space Museum has been repaired (save for the Space Shuttle Pavilion, which remains closed). While admission is usually $24 for adults, $19 for children ages 7-17 and $12 for ages 3- 6, to celebrate the reopening, you can download a coupon for buy-one-get-one-free admission.
Seven In One Blow or the Brave Little Kid – West Village
This offbeat stage adaptation of the Brothers Grimm fairy tale wraps up its annual holiday run this weekend. The show stars Kid, a young boy who kills seven flies in one shot and gets caught in a tangle of lies surrounding his feat. In the end, he learns about love and caring, with help from the kids in the audience. $12 for adults, $6 for children.
Family Films: Lassie Come Home – Upper West Side
The Film Society Lincoln Center is hosting screenings of the beloved 1943 flick starring that stunning collie. $6 on Saturday; $10 for adults, $8 for children ages 4-12 on Sunday.
Cardboard Creations: Caine's Arcade – Corona
Drop in to the New York Hall of Science's Maker Space to create arcade-style video games from cardboard and tape. Free with admission: $11 for adults, $8 for children ages 2-17.
 
Saturday, December 22
East Meets West Christmas Parade – Chinatown and Little Italy
Head downtown for this annual favorite when adjacent communities Chinatown and Little Italy come together to celebrate the holidays. Watch marching bands, Chinese Lion and Dragon Dance troupes, pop singers, floats and more parade down the street, all full of seasonal and cultural spirit. FREE
A Christmas Carol – Tribeca
Celebrate the season and the post-Hurricane Sandy reopening of the Tribeca Performing Arts Center with a no-cost production of Dickens' classic Christmas tale. This just-for-kids version is mounted by the talented folks from TheatreWorksUSA. FREE
Greenwich Village Caroling Walk – Greenwich Village
Judson Memorial Church organizes this annual musical procession when revelers of all ages stroll through the historic neighborhood crooning carols and seasonal songs. Song books and light refreshments are provided. FREE
Jackson Heights Winter Holiday Sing-Along – Jackson Heights
More Christmas caroling! For the fourth year in a row, locals will gather to sing holiday classics by candlelight (or flashlight) throughout Jackson Heights. In addition to Christmas tunes, participants will croon holiday songs that represent various faiths, languages and cultures, a lovely reflection of the area's diversity. Acoustic instruments and Santa hats are encouraged. FREE
Arthur Christmas – Midtown East
Catch a screening of last year's big holiday hit at no cost at the Sony Wonder Technology Lab. Afterward, stick around and explore everything the museum has to offer. Advance reservations suggested. FREE
The Nutcracker: A Christmas Celebration – Flushing
Travel to the Enchanted Forest and the Kingdom of Sweets at this narrated performance of The Nutcracker by Ballet for Young People at Flushing Town Hall. Perfect for little dance fans. $16 for adults, $12 for children
Colonial Games – Fort Greene
Hit Fort Greene Park's Visitors Center to play some seriously old-school games and learn how kids had fun in the Colonial era.. FREE
Sunday, December 23
Annual Reading of 'Twas the Night Before Christmas – Washington Heights
Get into the holiday spirit at this 102nd (!) annual reading of Clement Clarke Moore's ode to the holiday. This year, the poem will be read by NBC 4 reporter Pat Battle, followed by caroling and a lantern lit procession to Moore's grave for a wreath laying and complimentary hot cocoa. FREE
MTA Nostalgia Trains – Queens and Manhattan
On Sundays through December 30, the MTA is running old-fashioned subways on the Sixth Avenue line. Take a retro ride with a swipe of your MetroCard!
Holiday Crafts – Pelham and Bay Terrace
Kids need to make last-minute presents for family members? You're in luck: The Urban Park Rangers are hosting holiday nature craft sessions at Queens' Fort Totten Park Visitors Center and the Bronx's Pelham Bay Park Ranger Station. FREE
Holiday Cookie Distribution – Flatiron
If you're in the area, stop by the plaza in front of the Flatiron Building to snag a complimentary treat courtesy of the area's business improvement district. FREE
Outside NYC
If you're New Jersey bound this weekend, check out the awesome Schaefer Farms Holiday Light Show in Flemington.
When I was a kid, my family would always take me to see the Ohman School of Ballet in The Nutcracker at Hofstra University. Well the tradition continues today! This production features guest artists from New York City Ballet and a cast of 80 children, semi-professional and professional dancers.
In Norwalk, board a Winter Creature Cruise with the Norwalk Maritime Aquarium to see seals and other creatures that call the Long Island Sound home this season.
Don't forget: We have additional options in our Event Calendar and our Holiday Fun Guide.
Tags: