Best Things to Do with NYC Kids: February GoList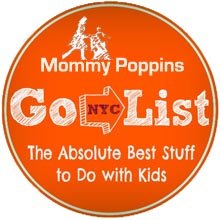 To quote the iconic song, New York City never sleeps, not even in the dead of winter. So even though February is the coldest and shortest month, there are still plenty of awesome things to do with kids in NYC. Our February GoList includes big annual favorites like Chinatown's huge Lunar New Year Parade, the Intrepid's activity-filled Kids Week during midwinter break, and two huge family film festivals: BAMkids Film Festival and the New York International Children's Film Festival.
As always, if an event piques your interest, be sure to click through to our listing for all the details, including address and time. And keep in mind: In NYC, really cool things to do with kids often get booked up quickly. So buy your tickets ASAP or, in the case of FREE events, arrive as early as possible to try to beat the crowds.
So get out your calendar: Here are the top 12 things to do with kids in New York City this February.
Winter Green Festival: A Tu B'Shvat Celebration – Lower East Side
Sunday, February 1
Celebrate the Jewish New Year of Trees (yes, it's a real holiday) at the Museum at Eldridge Street's annual fest. Enjoy traditional eats at a mini Tu B'Shvat seder, bake some challah, learn about genealogy and make a family tree, and enjoy a "green" concert by Bash the Trash, a troupe that makes all its instruments out of recycled materials. $12 for adults, $6 for children ages 3-17
Cambuyón – Midtown West
Friday, February 6-Sunday, February 22
Even everyday objects like crates, bottles and matchboxes can become melodious instruments once the members of this international ensemble get their hands on them. In the tradition of Stomp, this percussive production at the New Victory Theater fuses tap-dance, hip-hop and drumming for a fast-paced show that will get your toes tapping and your hands clapping. Want to see it for less? Join us for a special Mommy Poppins Night on Saturday, February 14 when you can save 20% on tickets and enjoy an exclusive cookie decorating session after the performance. $15-$38
From Here to There – Crown Heights
Friday, February 6-Sunday, May 10
Learn about the principles of motion including gravity and friction through 12 hands-on stations at the Brooklyn Children's Museum's new installation. The exhibit is divided into three areas where kids can discover how objects move across land, sea and through the air. The ball pit is sure to be a hit with tots while school-age children should enjoy experimenting with ropes and pulleys. Free with admission: $9
Laurie Berkner Solo Concert – East Village
Saturday, February 7
Cool local mom and kindie rock queen Berkner is only playing one NYC concert this winter, and it's in honor of the 120th anniversary of the beloved Third Street Music School Settlement. Preschoolers can groove to hits like "We Are the Dinosaurs," "Rocketship Run" and "Under a Shady Tree" at this special and intimate solo performance at the St. Mark's Church-in-the-Bowery. Proceeds benefit the veteran music school. $25
BAMkids Film Festival – Fort Greene
Saturday, February 7-Sunday, February 8
This 17th annual family film fest may not be as big, long or famous as the New York International Children's Film Festival, but that's a good thing. It means it's less overwhelming, though it does get more popular every year. First the first time, BAM is partnering with other movie fests like TIFF Kids International and Animation Block Party to showcase more than 70 exceptional shorts (and two features) from around the world, including the Oscar-nominated Dam Keeper. Screenings are organized by age and there will also be fun hands-on activities in the BAMcafe upstairs, like animation workshops, magic shows, face painting and balloon twisting. Note: Tickets are on sale now and tend to sell out so buying in advance is a must. $14 for adults, $10 for children under age 13 per screening
The Gustafer Yellowgold Show – Upper West Side
Saturday, February 14
Singer, songwriter, artist and dad, Morgan Taylor, and his little yellow animated alter ego from the sun, Gustafer, come to Symphony Space for a special Valentine's Day performance. We've been raving about his shows for years: They're equal parts concert and cartoon, as Gustafer's animated adventures are accompanied by groovy, Beatles-like tunes. $26 for adults, $16 for children
Washington's Birthday Ball – Upper East Side
Sunday, February 15
Celebrate the birthday of the original P.O.T.U.S. 19th-century style at the Mount Vernon Hotel Museum & Garden. It's a lovely little historic building and walking into it really gives you the sense that you've stepped back in time. In honor of George's big day, there will be period music and costumed dancers, and kids will be encouraged to learn new steps and join in. A kid-friendly tour and refreshments are included. Reservations recommended. $15 for adults, $10 for children under age 12
Kids Week at NYC Parks – Citywide
Monday, February 16-Friday, February 20
NYC public school kids are off for midwinter break this week and while there are plenty of fun things to do inside don't forget the great outdoors! Throughout the week, Urban Park Rangers will be leading enriching and educational programs at Nature Centers in all five boroughs at no cost. Locations and activities vary so check the Parks Department's website or call your local center for additional details. FREE
Kids Week at the Intrepid – Midtown West
Monday, February 16-Saturday, February 21
Another fabulous way to keep the kids occupied during midwinter break: the Intrepid Sea, Air & Space Museum's annual vacation celebration. Although the lineup looks a bit scaled back than in years past (no Broadway performances this time around), families can still enjoy special activities every day the kids are off from school. Highlights include geeky demos by Mad Science, the Franklin Institute and Science Bob; high-tech workshops and space talks; live birds of prey; author readings; and fun hands-on activities like making Rube Goldberg machines, paper planes and telescopes. Find the complete schedule on the website. Activities are free with admission: In advance: $22 for adults, $17 for children ages 7-17 and $10 for ages 3-6; at the door: $2 more per person but present this coupon at the box office to get two-for-one admission!
Chinatown Lunar New York Parade and Festival – Chinatown
Sunday, February 22
There are lots of Lunar New Year celebrations throughout the month all over the city, including parades in Flushing, Queens and Sunset Park, Brooklyn. But the biggest shindig of them all is Chinatown's colorful procession. More than half a million spectators are expected to line the streets for the pan-Asian parade, which includes Chinese, Korean, Japanese, Vietnamese, Taiwanese, Malaysian and even Hispanic floats and cultural performances. Arrive early—by noon at the latest—if you want to snag a good spot. It's a very festive and very loud affair that's way too crowded for strollers, so it's probably a bit much for the preschool set. After you've seen your fill, head to Sara D. Roosevelt Park at Canal and Forsyth Streets for an outdoor cultural festival. If you want to finish the day with dim sum, check out our roundup of family-friendly Chinatown restaurants, which, as you can imagine, will be pretty busy. Be prepared to wait. FREE
New York International Children's Film Festival – Manhattan
Friday, February 27-Sunday, March 22
Held at five Manhattan venues, this annual fest features kids' flicks from around the globe. Tickets go on sale to the general public this Wednesday, January 28. Screenings often sell out quickly so check the schedule and buy tickets right away. There are always options for all ages, including shorts programs, and many foreign films are dubbed. (Be careful when ordering though: Some flicks are subtitled.) There are often pre- or post-show Q&As with the filmmakers and other special events, and everyone gets voting ballots to help select the festival winners. $13-$16. Save $2 per ticket with the exclusive Mommy Poppins discount code MOPO15.
Blocks – Fort Greene
Saturday, February 28-Sunday, March 1
The best bet on this list for babies and toddlers! This whimsical and wordless physical comedy was created for very young theatergoers by Sweden's lauded troupe Teater Tre. Three clowns play with colorful blocks to build, break and rebuild structures and relationships. At just over half an hour, it's a perfect first-time show for tots. $12
 
Honorable Mentions
NYC always has so many incredible things going on that it's difficult to choose. So here are 10 more cool events that are worth considering for your February calendar. Be sure to sign up for our FREE newsletters so you can get our weekend picks delivered to your inbox every Thursday morning.
Grab a cup of exotic flavored hot cocoa at City Bakery's annual Hot Chocolate Festival, which takes place every day in February
Find a meaningful way to celebrate Black History Month in our multicultural city.
Rise with the sun to find out whether Staten Island Chuck predicts an early spring on Groundhog Day at the Staten Island Zoo on Monday, February 2. FREE
Catch a soulful concert by Shine & the Moonbeams at the central branch of the Brooklyn Public Library on Saturday, February 7. FREE
Ring in the Lunar New Year on the actual day at the 16th annual Firecracker Ceremony and Cultural Festival in Chinatown on Thursday, February 19. FREE
Kids too young for firecrackers and parades? Celebrate the Lunar New Year sans noise and crowds at Asia Society's Moon Over Manhattan Family Day on Sunday, February 21.
Run off and see the Ringling Bros. and Barnum & Bailey Circus spectacle Circus Xtreme at the Barclays Center from Thursday, February 19-Sunday, March 1.
Introduce your tweens to classic flicks like the Leslie Caron-Gene Kelly musical An American in Paris (February 15) and Buster Keaton's silent comedy Go West (February 22) at Film Forum Jr. Sunday matinees.
Explore Central Park's Belvedere Castle by lantern light with the Urban Park Rangers on Saturday, February 28. FREE but advance registration required.
Bring your aspiring foodies to the annual Kids Food Fest in Bryant Park on Saturday, February 28 and Sunday, March 1.
And remember to check our Event Calendar as we're always adding new listings.