This Week: Best Things to Do Christmas Eve, Christmas Day and Throughout Holiday Break in NYC, NJ, LI and CT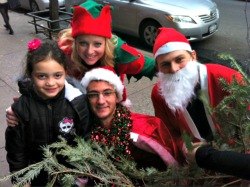 As excited as we are that Christmas Day is almost here, it's been a bittersweet holiday season for all of us. First Hurricane Sandy. Then the shootings at Sandy Hook Elementary School. We here at Mommy Poppins have been personally touched by both tragedies. One of our NYC contributors, Alison, lost pretty much everything in her Broad Channel, Queens home due to the storm. And last Friday, one of our Connecticut bloggers, Christine, lost a close family friend in Newtown.
It's been hard to stay positive during this trying time and yet, as Christine so eloquently wrote on the CT site, that's exactly what we need to do. As she explained, "As parents our hearts may be heavy but our children are counting down the days until Christmas arrives. One of the most important things we can do right now is to be fully present with our children and maintain a sense of routine and normalcy in their lives. This week, that includes moving forward with our holiday plans, traditions and family outings."
With that in mind, in addition to sharing advice about talking to kids about Sandy Hook and ways to help the victims, all of our sites have continued to post about holiday fun in our respective communities. In NYC, we added posts about things to do on Christmas Eve, Christmas Day and throughout holiday break to our Holiday Fun Guide. Connecticut rounded up festive train rides with Santa and Long Island has a slide show of spectacular holiday light displays.
You can find out about all of the best things to do over the holidays in the tri-state area in our Holiday Fun Guides for NYC, New Jersey, Long Island and Connecticut. From all of the moms here at Mommy Poppins, we wish you and your family a happy and healthy holiday season.
Here's what else we covered in NYC this week:
We kicked off the week with a list of holiday deals, including discounts on favorites like the New York Botanical Garden's Holiday Train Show and the new stage adaptation of The Velveteen Rabbit.
Looking for festive ways to spend Christmas Eve in NYC? From singing to skating to tracking Santa, we have lots of ideas.
Prefer to spend the night of December 24 in a church? We've found five that host family-friendly midnight mass.
Opening presents isn't your only option on Christmas Day. We shared a dozen other cool things to do in NYC on the holiday, including visiting the brand-new Museum of Mathematics, which is open on December 25.
And we've got you covered throughout holiday break, too, with more than 35 fun activities for families, many free or inexpensive.
We added a new post to our Special Needs Guide: a profile of Resources for Children with Special Needs, which provides one-on-one advice for families.
Got tickets to a Broadway show? Good, because we have a roundup of our favorite family-friendly restaurants in Times Square and not one is a suburban chain.
Our best bets for the weekend include the annual East Meets West Christmas Parade, Christmas caroling, and your last chance to see Santa and go gift shopping.
Tags: