25 Best Free Annual Family Festivals for NYC Kids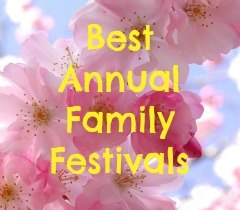 I'm one of those parents who likes to plan. You know the type: I buy a big wall calendar every December and take strange pleasure in filling it all up with birthdays, class schedules and my family's favorite annual events. There are certain New York City celebrations we love so much, my daughter and I try to go every year, like the interactive art-filled Figment on Governors Island, the massive Tribeca Family Festival Street Fair and Street Games, the Parks Department's tribute to old-school pastimes.
Since we've enjoyed such a great response to our NYC Go Lists, which highlight the absolute best things to do with kids every month, I know I'm not the only mom out there who likes to plan ahead. And with festival season kicking into high gear this month, we figured it was a great time to round up our top 25 annual festivals for families, so we could put them on your radar. Every single pick on our list is either an event my family or one of our bloggers has been to personally with kids, or an annual favorite endorsed by our friends and readers. In other words, they're really worth your time and money—in fact in most cases they don't cost a penny.
You can find additional kid-friendly celebrations in our NYC Festivals Guide, including our list of the city's best annual parades.
Spring Festivals
Children's Carnival – Glen Oaks
Queens County Farm Museum, 73-50 Little Neck Parkway
April. The 2015 dates are Saturday, April 11-Sunday, April 12 and Saturday, April 18-Sunday, April 19.
$$
The 47-acre Queens County Farm Museum is a real historic working farm with crops in the fields and all sorts of animals that kids can feed. While the agricultural spot hosts lots of great events throughout the year, this two-weekend long Children's Carnival is the best time to visit. It's a huge, old-time affair with an authentic midway complete with kiddie rides, games and family entertainment. The best part? All rides are included with admission.
Sakura Matsuri Cherry Blossom Festival – Crown Heights
Brooklyn Botanic Garden, 1000 Washington Avenue
Usually in late April or early May. The 2015 dates are Saturday, April 25-Sunday, April 26.
$$
This weekend-long celebration of traditional and contemporary Japanese culture is set in and around the Brooklyn Botanic Garden's beautiful blooming Cherry Esplanade. The lineup usually includes Taiko drumming performances, flower arranging workshops, martial art displays, Japanese pop bands, tea ceremonies, cooking demos and kids' workshops like manga drawing, origami, crafts and drumming. While the colorful flowers are certainly eye-catching, they're rivaled by the many revelers who come dressed in their best anime outfits. Tip: This fest seems to get more popular every year, so it's best to buy tickets in advance otherwise you'll end up waiting on a long line.
Tribeca Family Festival Street Fair – Tribeca
Late April. The 2015 date is Saturday, April 25.
Greenwich Street between Chambers and Hubert Streets
FREE
The biggest family affair of the annual Tribeca Film Festival, this event is really two fests in one. The Family Street Fair features contests, bouncy houses, giveaways, performances by Broadway musicals, kids' bands, vendors, food and a slew of other attractions. Along the route, you'll also find one block set aside for ESPN Sports Day, with games, demos, and appearances by pro athletes and sports teams. My daughter and I have been many times, and while it's crowded, there's so much to do you could spend the entire day if you have the energy.
Street Games – East Harlem
Thomas Jefferson Park, 114th Street and First Avenue
Late April. The 2015 date is Saturday, April 25.
FREE
My daughter and I love this event so much, I wrote an entire post about it. Leave your iPads and iPhones at home; this fest is dedicated to the kinds of analog amusements we grew up with back in the '60s and '70s. Encourage your kids to try out classics like pogo sticks, hula hoops, yo-yos, hippity hops and double Dutch (and see if you remember how to do them). Other fun includes cycling and skateboarding clinics, arts and crafts, a soap box derby race, a Radio Disney deejay and performances by local cultural institutions like the Dance Theatre of Harlem.
Great Howl! Out Loud Kids' Carnival – East Village
Tompkins Square Park, Avenue A at 10th Street
Early June. Howl! Fest is supposedly happening in 2015 but we're still waiting for details..
FREE
The annual Howl! Festival, an East Village arts fest named after Allen Ginsberg's famous poem, takes place throughout the neighborhood. While not all happenings are kid-friendly, there are always family performances and activities in Tompkins Square Park. The highlight is the annual Great Howl! Out Loud Kids' Carnival featuring games, mini golf, storytelling, mask making, face painting, sand art, wandering clowns, art projects and performances. It's a scrappy alternative affair that reminds me of what the area felt like back in the '80s. The family fun takes place on the North stage, not the main stage, which can get a little risque (that's how my kid inadvertently learned what burlesque was at age four), so go to the right place!
The Ultimate Science Street Fair – Greenwich Village
Washington Square Park
Late May or early June. The 2015 date is Sunday, May 31.
FREE
Every year the World Science Festival, a massive multiday celebration of science, culminates in this amazing family festival featuring tons of hands-on activities and experiments. There are also live animal demos, a carnival-style Math Midway and shows by the traveling scientists from the Franklin Institute—they're awesome and keep kids on the edge of their seats as they play with fire and homemade cannons. Warning: It's always super-crowded so you may need to wait at popular booths.
Figment NYC – Governors Island
Second weekend in June every year. The 2015 dates are Saturday, June 6-Sunday, June 7.
FREE
This über-creative, two-day festival invites all island visitors to make, participate or collaborate in various art projects. The members of the Figment arts collective (who also design Governors Island's annual mini-golf course and interactive sculpture garden) say that they offer "art and activities in every medium available," and they're not exaggerating. In years past, projects have included cookie making, splashing around in big buckets of colored water, fashioning fairy wings, playing limbo, frolicking in a tent filled with rose petals, plus traditional creative activities like mural painting and sculpture making. Check out our slide show from the 2011 Figment festival for a taste of what you'll find. This one my daughter and I never miss!
Celebrate Brooklyn! Ezra Jack Keats Family Concert – Prospect Park Bandshell
June. The 2015 date is Saturday, June 6.
FREE
One of the city's premier summer performance fests, Celebrate Brooklyn! always has an eclectic lineup of live acts and films mostly aimed at grown-ups. But every year, the series hosts Ezra Jack Keats Family Concert, which usually includes a well known family band plus fun activities like face painting and crafts.
Egg Rolls & Egg Creams Festival – Lower East Side
Museum at Eldridge Street, 12 Eldridge Street between Canal and Division Streets
June. The 2015 date is Sunday, June 7.
FREE
Every June, the Lower East Side celebrates its multicultural roots at this old-school fest. Visitors can tour the historic synagogue-turned-museum, learn words in Yiddish and Chinese, catch live Chinese opera and klezmer performances, and enjoy arts and crafts, and mahjong. Of course the title noshes will also be available. The egg rolls are kosher and the egg creams are made with Fox's U-bet chocolate & flavored syrups.
Museum Mile Festival – Upper East Side
82nd to 105th Streets on Fifth Avenue
Second Tuesday in June every year. The 2015 date is Tuesday, June 9.
FREE
Museum Mile is closed to traffic and turned into a massive art party. Everywhere you look, people are making art, plus Fifth Avenue cultural institutions like the Metropolitan Museum of Art, the Museum of the City of New York, the Guggenheim and El Museo del Barrio offer free admission. Get there early as the lines are always long. On the street, check out chalk drawings, live music, theater and dance performances, jugglers and art activities for kids. My daughter and I go every year, rain or shine.
Adventures NYC – Central Park
Late June. The 2015 date is Saturday, June 20.
FREE
Enjoy a day of athletic outdoor fun at this fest, which is co-presented by the NYC Parks Department and Backpacker Magazine. Families can give activities like rock climbing, kayaking, cycling and yoga a try. Plus there are usually bike helmet giveaways, live music and other entertainment.
 
Summer Festivals
Make Music New York – Citywide
June 21 every year
FREE
Celebrate the first day of spring by hearing (or making) beautiful music. From morning to night, hundreds of no-cost concerts take place in public spaces like parks and plazas throughout the five boroughs. Every genre is represented, even kids' bands, and some events encourage you to join in. You can check the schedule of performances on the website, or just wander the city with your ears open. If you enjoy it, take note: The smaller Make Music Winter takes place every December 21.
SummerStage Family Days – Citywide
Various locations and dates in June, July and August. Check our calendar for more info.
FREE
While the City Parks Foundation's annual summer concert series is primarily aimed at adults, there are always four free Family Days in Central Park, Harlem's Marcus Garvey Park, and green spaces in Brooklyn and Queens. The main stage lineup usually includes a few big-name kindie bands, deejays, and circus or puppet performances, plus there are roaming entertainers, interactive activity stations, face painting and tons of giveaways. My daughter and I have been to the Central Park edition many times and while it's a blast it's always insanely hot. We always bring parasols.
City of Water Day – Governors Island & Hoboken
July. The 2015 date is Saturday, July 18.
FREE
The Metropolitan Waterfront Alliance sponsors this fantastic celebration of our local waterfront. The festivities take place on Governors Island, in Hoboken's Maxwell Place Park and on the water in between. Enjoy kayaking and canoeing, historic boat tours and live entertainment. Kids can also get up close and personal with reptiles and aquatic creatures, take fishing lessons, and enjoy landlubber favorites like arts and crafts, and bouncy castles. Plus, there's a free ferry between the two locations, so you can hit the fun on both banks. Note: Some of the best activities require advance registration! In 2012, my daughter and her pal got to hoist the sails and take a ride on a sloop, but we had to reserve our free tickets weeks in advance. Be sure to check the website in June so you can sign up for some of the special offerings.
New Museum Block Party – Lower East Side
Sara D. Roosevelt Park, Chrystie Street between Delancey and Broome Streets
July. The New Museum's Block Party isn't happening in 2015, however it will return in 2016.
FREE
The cutting-edge Bowery institution hosts live performances and interactive art in the nearby park. After participating in all kinds of hands-on, avant-garde activities, you can visit the museum at no cost: All festival-goers snag free passes for the day.
Lincoln Center Out of Doors Family Day – Upper West Side
Lincoln Center
July. The 2015 date is Saturday, July 25.
FREE
Another genre-spanning fest that's geared toward adults. But in addition to more than 100 music, dance and other live performances, there's always a Family Day when kids can enjoy a variety of funky arts activities and performances. Last year we saw Chinese acrobats, circus performers and walked through a massive art installation.
Hong Kong Boat Festival – Corona
Meadow Lake in Flushing Meadows Corona Park
August. The 2015 dates are Saturday, August 8-Sunday, August 9.
FREE
Over two thrilling days, more than 100 Dragon Boat teams race across Meadow Lake. Other activities include a food court, Chinese music, folk arts and craft demos, and martial arts displays. My daughter and I went in 2011 and had a blast watching the boats, flying colorful kites and snacking on dumplings. Afterward, you can check out all the fun Flushing Meadows Corona Park has to offer, including a carousel, the New York Hall of Science and the Queens Zoo.
 
Fall Festivals
World Maker Faire New York – Corona
New York Hall of Science, 47-01 111th Street
September. The 2015 dates are Saturday, September 26-Sunday, September 27.
$$$
As you can probably tell from how often we write about it, Maker Faire is a true Mommy Poppins favorite. Founded in California, Maker Faire debuted in NYC in 2010, and my family and I have attended every year. The grounds of the New York Hall of Science explode with all kinds of inventions and creations, everything from knitting to robotics, circus to interactive sculptures, computers to crafts. The Young Makers area is particularly inspiring, with students from all over NYC showing off their cutting-edge projects. And of course everyone's awed by the life-size working replica of the Mouse Trap board game. Check out our highlight reel from the 2010 fest, and then be sure to buy tickets for this year's edition.
Dumbo Arts Festival – Dumbo
Sadly, the Dumbo Arts Fest was discontinued in 2014 after 18 years.
FREE
This massive, multiday festival takes over the funky neighborhood with visual arts, live performances and interactive activities. There's always fun to be found in the beautiful Brooklyn Bridge Park and grown-up spots like local galleries usually open their doors to all ages. In 2012, the Children's Museum of Arts hosted a slew of hands-on projects for families so we hope they'll be back. We have a dedicated post about the fest that we usually update annually.
Little Red Lighthouse Festival – Washington Heights
Little Red Lighthouse in Fort Washington Park
Late September or early October. The 2015 date is Saturday, September 26.
FREE
This annual shindig features food, fishing, hay rides, tours of the landmark and a reading of the famous children's book The Little Red Lighthouse and the Great Gray Bridge. Warning: If you want to take the lighthouse tour, arrive early! The free tickets are given out on a first-come, first-served basis and they go fast.
Atlantic Antic – Boerum Hill
Atlantic Avenue between Hicks Street and Fourth Avenue
Late September. The 2015 is Sunday, September 27.
FREE
The biggest street fair in Brooklyn boasts several stages of live music (R&B, jazz, rock, country, kids' bands, you name it) and literally hundreds of vendors. There's a whole block dedicated to kids' activities like pony rides, inflatables, face painting and balloon sculptures. Grown-ups will appreciate the eclectic selection of international eats, like grilled sardines, pulled pork, baklava and carnival favorites. Bonus: In conjunction with the fest, the nearby New York Transit Museum always holds its annual Bus Festival, where you can check out all kinds of retro rides.
Medieval Festival – Washington Heights
Fort Tryon Park
Late September or early October. The 2014 date is Sunday, October 4.
FREE
Party like it's 1399 at this fest along the Hudson River. Watch knights joust and other pageantry of the era, enjoy live strolling musicians, dramatic minstrels and juggling jesters, and browse old-school wares. Make sure you dress up! Velvet and corsets should be mandatory (my daughter and I always put on our best period garb). If you can't make it to the annual New York Renaissance Faire in Sterling Forest, this is the next best thing. You'll see some of the same booths and performers, plus it's FREE.
Blessing of the Animals – Morningside Heights
Cathedral Church of St. John the Divine, 1047 Amsterdam Avenue at 112th Street
First Sunday in October. The 2015 date is Sunday, October 4.
FREE
The Feast of St. Francis of Assisi is for animal lovers of all faiths. Families can bring their pets to be blessed. You need advance tickets for the 9am service, but in the afternoon, clergy bestows blessings on the grounds on a first-come, first-serve basis. My family and I bring our dogs every year and we always see all kinds of animals, cats, birds, hamsters, guinea pigs, even pet rocks. Don't have pets? You can still watch the procession of exotic creatures enter the Cathedral, including a hawk, a camel and bees, and hit the post-blessing fest for live performances, face painting and a petting zoo.
Open House NY – Citywide
Second weekend in October. The 2015 dates are Saturday, October 17-Sunday, October 18.
$ or FREE
Enjoy tours of iconic, historic and even some private buildings and institutions at this weekend-long fest. While there's always specific kids' programming like performances at Central Park's Swedish Cottage Marionette Theatre and Queens' King Manor Museum, a lot of the grown-up tours may be of interest to families, especially a peek at sculptor Tom Otterness' Brooklyn studio. Take note: Many tours sell out in advance so be sure to check the website in September so you can reserve spots online. There's usually a nominal reservation fee.
Winter Festivals
Winter Jam – Central Park
Late January. The 2015 date is Saturday, January 24
FREE
Whether or not Mother Nature cooperates, you can still have winter fun courtesy of the Parks Department. Enjoy fresh fake snow and try out cross-country skiing, snowshoeing and snowboarding—there's even a separate snow zone for off-leash dogs. Non-seasonal fun includes Quidditch demos, animal tracking and live entertainment.
Find even more family fun in our Event Calendar and Festivals Guide.
This post was originally published in April 2013.