News: Popular NYC Kid Spots Closed Due to Sandy, MTA Fare Hike Hearings, Sesame Street and Sandy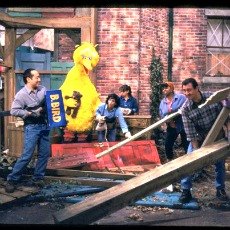 Even two weeks after it hit, Hurricane Sandy is still on all of our minds as local families and businesses continue to struggle. The sad fact is, it may take months for those affected to get back on their feet, and many popular family places, like the New York Aquarium and the New York City Police Museum, are closed indefinitely. We've got a list of our favorite kid spots that have yet to reopen post-storm, new tips on how to help with the recovery and a link to where you can watch that Sesame Street hurricane episode online.
NYC may no longer be completely shut down, but Sandy's impact is still palpable. Here's a list of local family faves that are closed until further notice due to the storm.
The New York Aquarium in Coney Island
The New York City Police Museum in the Financial District
Canal Park Playhouse, which regularly mounted family shows on weekends
Rockaway Beach, which had just unveiled a brand-new mile-long park this past August
The Coney Island Beach and Boardwalk, including the Abe Stark Ice-Skating Rink
The South Street Seaport Museum, which had just reopened earlier this year
Those are just a handful of the many businesses that were hard hit, and of course there are also tens of thousands of New York residents still in great need post-Sandy. Every day we hear about new donation drives, fundraisers and benefits, and we here at Mommy Poppins are even planning one of our own. But if you're looking for hands-on volunteering opportunities, check out the work that Occupy Sandy has been doing. Yes, these are many of the same folks behind Occupy Wall Street last year, and these days reps from the mayor's office to the NYPD to the Times are singing their praises. You can volunteer to help with their efforts by filling out this form and while it's not appropriate for young kids, teens can participate. There are also other projects to sign up for at nycservice.org, including helping to clean up parks and playgrounds, preparing and delivering meals to devastated communities, and sorting through donated goods. And if it's easier for you to give money than time, consider donating to the Mayor's Fund to Advance New York City, which is highly rated by Charity Navigator and keeps all the money local.
Speaking of local communities affected by the storm, did your family catch that hurricane-themed Sesame Street special last week, when Big Bird's nest got destroyed? Much of the footage was originally shot in 2001, and reedited into a timely episode. You can watch all of the original videos on the Sesame Street site.
As our region recovers from Sandy, the MTA has gone ahead with its hearings about the proposed fare hikes for next year. While Brooklyn's meeting took place last week (the night of the nor'easter, no less), you can share your thoughts in person in Manhattan, the Bronx, Queens and Staten Island this week.
And here's a closing that actually isn't storm related: Williamsburg discount store Peachfrog is shutting its doors for good come the end of the month. Drop by for 50% off already inexpensive items—they're even selling their lighting fixtures. We'd raved about the shop in our shopping with kids in Williamsburg post over the summer, so we're sorry to see it go.
Finally, we published our annual Macy's Thanksgiving Parade post last week, but we wanted to point out one last time that this year's route has significantly changed. Instead of heading south on Seventh Avenue from 59th Street, it will take over Sixth Avenue. Here's hoping we all find good spots this year!
Tags: