News: New Battery Park City Ice-Skating Rink, High School Admissions Deception, Popular Kid Spots Reopening Post-Sandy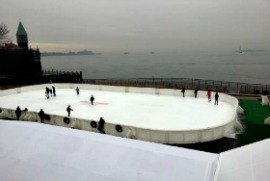 Some important school news this week as InsideSchools uncovers a big deception in the already complex and stressful high school application process. Plus an update on mandatory kindergarten, a brand-new Battery Park City ice-skating rink, the reopening of the South Street Seaport Museum and class warfare at the toy store.
Hot on the heels of the opening of the Van Cortlandt Park Rink comes a brand-new outdoor ice-skating rink in Battery Park City. The Liberty View Ice Rink, which is built on Wagner Park, opened quietly this past weekend and boasts incredible views of the Hudson River and the Statue of Liberty, and an illuminated Christmas tree. Pretty amazing for a spot that was underwater just a few weeks back during the hurricane. Rates are $10 per person and $5 for skate rental.
Got a kid in the process of applying to high school? Then you'll want to read InsideSchool's recent article about competitive high schools that claim they won't even consider prospective students unless their school is ranked as the teen's first choice. Problem is, according to the Department of Education, this isn't true. In fact, high schools don't even have access to the applicants' school rankings. Have the school reps been misleading parents or are they just confused? Be sure to read the comments. There are some interesting conversations about the entire high school application process going on in there.
An update on the mandatory kindergarten law we posted about over the summer: Yes, it's still on track to go into effect for September 2013, but for families that don't want to send their five-year-olds to school there are a few exceptions. Parents can enroll their child in first grade at age six and skip kindergarten altogether. Also, children who are being homeschooled or plan to attend private school are exempt. So it looks like no more redshirting in public school.
Toys—both what you buy and where you buy them—say a lot about a family, like where you live and how much you make. The Times explains how the great class divide is really dominating the aisles this holiday shopping season in NYC.
One of our favorite food trucks for families, the Big Gay Ice Cream Truck, has opened its second brick-and-mortar store in the city on Grove Street in the West Village. It's never too cold for great ice cream.
High-end kids' clothing boutique Aminah et les Amis, which moved to Tribeca from the World Financial Center just last year, is shutting its doors on Wednesday, December 19. The shop is hosting a five-day trunk sale from December 14-19. All items will be 25% to 75% off with additional discounts for cash sales. The owners are planning to launch an online store called Bella and Friends in January.
Finally, some good news about popular kid spots that have been closed due to damage sustained during the hurricane: Coney Island's Abe Stark Rink has reopened, the South Street Seaport Museum reopens on Friday and the Canal Park Playhouse reopens with the kid-friendly clown show The Piccolini Trio on January 5, 2013. Sadly, the New York Aquarium and the New York City Police Museum remain closed indefinitely.
Tags: