News: Met Museum to Be Open on Mondays, Free Interactive Shakespeare, UWS Rec Center Reopens, a Beloved Bronx Zoo Resident Dies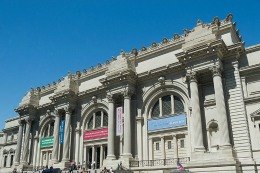 Lots of cool family arts and culture news this week, including new open hours for the Metropolitan Museum of Art, a call for kids' drawings to be used in the set of an Off-Broadway show and an offbeat exhibition of work by lauded children's book author/illustrator Oliver Jeffers. Plus, an Upper West Side rec center reopens after a revamp, a political action committee dedicated to NYC public school reform and a sad goodbye to a longtime Bronx Zoo resident.
Did you know that there's a political action committee dedicated to improving the public school system? We didn't either until we came across NYC Kids Political Action Committee, which counts Leonie Haimson from Class Size Matters among its founders. Right now, NYC Kids PAC is focused on the upcoming election, especially who will become our next mayor. While the group has yet to endorse anyone, its members are currently preparing candidate questionnaires and scorecards, and plan to hold forums and info events. We'll be keeping an eye on their work and you can, too, on their website.
The second annual New York Children's Theater Festival kicks off on April 19 at the Marjorie S. Deane Little Theater on the Upper West Side, but your kids can get involved before the curtain rises by helping with the set design for one of the featured shows. The musical Cheater, Cheater, Pumpkin Eater!, which runs from April 26 to 28, wants to include elementary schoolers' artwork onstage. All drawings should be done in crayon with no text. If your kids want to submit their work, scan it and email it to PennydogPuppets@gmail.com with the subject line "CCPE Drawing Submission" by Thursday, April 12. Include your child's name and age as well as your contact name and phone number. Every child who submits a drawing and attends the show will snag a no-cost poster signed by the cast.
Got an adolescent into theater? A new free Shakespeare marathon offers teens and grown-ups the opportunity to perform the Bard's words alongside professional actors at the 4th Street Theatre. From 8pm on April 16 through 10am on April 20, Facing Page Productions invites wannabe actors to read Shakespeare's entire cannon with special guests (as yet to be determined). Interested in participating in this unique experience? Sign up for a time slot in advance online.
Upper West Siders are finally getting their local rec center back after four years. The 59th Street Rec Center, now renamed the Gertrude Ederle Recreation Center, is set to reopen this spring with $15 million of improvements, including a refurbished gym, pool, fitness center and an outdoor soccer field.
Local jewelry designer Aaron Ruff and his friend, acclaimed children's book author and illustrator Oliver Jeffers, have teamed up for an offbeat art exhibition at Brooklyn's Invisible Dog. The Exploded Mind of Mulholland Hwang chronicles a fictitious boy's obsession with the natural competition among animals and features drawings, paintings, dioramas and other works that explore the theme. While not aimed at children, the display is kid-friendly, imaginative and thought-provoking, plus it's FREE and on view through May 18.
One less reason to dislike Mondays. As of July 1, the Metropolitan Museum of Art will be open seven days a week, including Mondays, a day it has traditionally been closed. It will also adjust its daily opening time from 9:30am to 10am.
Finally, some sad news: The Bronx Zoo's Pattycake, the first gorilla ever to be born in NYC, has died at age 40. She had 10 babies while residing in our city, all of whom survive her and live at zoos across the country.