New York Transit Museum: An Amazing Underground Museum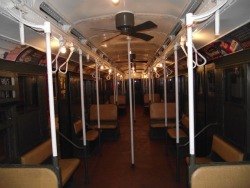 City kids have been riding the subway since, well, before birth. So none of them really get to experience that "Wow! This is cool!" moment that young tourists do the first time they ride the rails.
But a visit to the New York Transit Museum gave my kid that "oh wow!" feeling. The Brooklyn Heights institution, which is housed in an old subway station, was opened in 1976 as part of the U.S. Bicentennial celebration. We'd been meaning to check it out for years, so one Friday morning we finally made our way there.
The New York Transit Museum is the country's largest museum devoted to urban transportation. It gives visitors—especially jaded little straphangers—amazing insight into the intricacies of the subways and buses we use every day.
The museum is literally underground, so you enter it like a subway station. Yup, we schlepped our stroller down the stairs, NYC-parent style.
We really enjoyed the lowest level, which houses On The Streets, a permanent interactive exhibit offering an in-depth look at NYC's trolleys and buses. Part of a gallery devoted to surface transportation in our city from the early 19th-century to the present, highlights included a traffic intersection with working walk-don't walk signs, a 12-seat bus, '60s "Fishbowl" bus cab and a kid-sized trolley.
We also loved the many lovely antique trains on the platform level, which are part of the Moving the Millions: New York City's Subways from its Origins to the Present exhibit. Admittedly, I was more interested in the historical photographs, period maps and old newspaper articles than my kid was, but she enjoyed boarding the old-school subway and elevated trains. (They'll certainly bring back memories for parents and grandparents who were raised in the Big Apple.) This was our favorite family area, as there was plenty of room to relax and play.
As you can imagine, there are many photo ops at the Transit Museum. The old buses are cool, and kids can sit right in the driver's seat. My daughter was thrilled to do that.
For art lovers, there's a gallery with transit-themed paintings. Currently, it contains a portion of the exhibit Inspiring Spaces: 25 years of MTA Arts for Transit, which is on view through August.
The museum regularly hosts kid-friendly events, including special programming every Saturday and Sunday at 1:30pm, which is free with admission. It's best to check the online calendar to see what's happening on the day you plan to visit. When we visited, we saw a cute children's show about reducing our carbon footprint called Sharing a Ride. This was definitely my daughter's favorite part of our day. When I asked her what she liked best, she exclaimed, "The big foot!"
The Transit Museum is a real gem for tourists and natives alike. Admission is quite inexpensive (as are the spot's birthday packages, which start at $350 for 12 kids and four adults), and you can spend an entire afternoon without getting bored. If you're driving, parking is tough. Yes, I recognize the irony of using a car to get to this particular museum! Thankfully, it's also easily accessible via the MTA.
The New York Transit Museum is located at the corner of Boerum Place and Schermerhorn Street, 718-694-1600. Open Tuesday-Friday 10am-4pm, Saturday and Sunday 11am-5pm. Admission is $7 for adults, $5 for children ages 2-17, free for kids under 2.