Memorial Day Weekend Getaways: 5 Fun Day Trips for NYC Families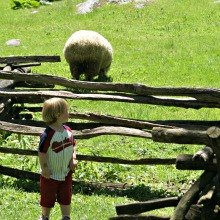 Memorial Day weekend marks the unofficial start of summer. And while there are plenty of fun things to do in NYC—beaches, Governors Island and Victorian Gardens amusement park all open for the season—the three-day vacation is a great time to skip town and enjoy a quick getaway. After all, you have three more months to experience all the summer fun the city has to offer.
We've rounded up five cool family destinations that are all two hours or less by car from midtown Manhattan. From farm fun to creative festivals to The Crayola Experience, here are five great day trips for NYC families this Memorial Day weekend. You can find more travel inspiration in our NYC Day Trips Guide and on our Travel site.
The Crayola Experience – Easton, Pennsylvania
30 Center Square near Northampton Street
Approximately 1 hour and 30 minutes by car from midtown Manhattan
$17.99, free for children under age 2, save $2 if you buy your tickets online in advance
As much as my son and I liked visiting the old Crayola Factory, we loved the revamped incarnation, which opened in 2013, even more. The center was redesigned by the same folks behind the fantastic Lego Discovery Center and rechristened the Crayola Experience. There are four floors of interactive fun, a theater and the world's largest Crayola store. Want to turn your visit into a weekend trip? There's lots of other family fun in the area including the Lehigh Valley Zoo, Dorney Park & Wildwater Kingdom and the Da Vinci Science Center.
Community Mosaic Street Painting Festival – Riverhead, Long Island
East Main Street between Roanoke Avenue and East Street
Sunday, May 25 noon-5pm
Approximately 1 hour and 30 minutes by car from midtown Manhattan
FREE
If your kids enjoy covering Fifth Avenue with chalk during Manhattan's annual Museum Mile Festival, they'll love this interactive art fest on Long Island. Local community organization East End Arts clears the town's main drag to give pros and wannabes the chance to transform a square of asphalt into an ancient Italian street-art-style masterpiece. There will also be live performances, face painting, food trucks and vendors. You can make a weekend out of it by hitting up other Riverhead family attractions including two of my son's favorites: Splish Splash water park and the Long Island Aquarium.
Farm Animal Frolic – Stroudsburg, Pennyslvania
Quiet Valley Living Historical Farm, 347 Quiet Valley Road near Turkey Hill Road
Saturday, May 24 10am-4pm and Sunday, May 25 noon-4pm
Approximately 2 hours by car from midtown Manhattan
$8 for adults, $5 for children ages 3-12; save $1 with this coupon
Quiet Valley Living Historical Farm's Farm Animal Frolic was my family's must-do Memorial Day getaway for years until my son outgrew it. It's an awesome experience for young animal lovers: They get to explore the 18th-century farm's livestock, feed baby animals and even watch baby chicks hatch from their eggs! There's also old-fashioned fun like hay jumping, horse-drawn wagon rides and country games, plus home-brewed root beer and cookies baked in a wood stove. Just over the Delaware Water Gap, the farm is close enough for a day trip however you can stay and enjoy the Pocono Mountains, where you can visit the Claws N Paws animal preserve, Camelbeach Mountain Waterpark or Bushkill Falls.
Robin Hood Springtime Festival – Guilford, Connecticut
Guilford Fairgrounds, 111 Lovers Lane between Boston Street and Stone House Lane
Saturdays and Sundays: May 24- 25, May 31-June 1, June 7-8 and Monday, May 26 11am-7pm
Approximately 1 hour and 45 minutes by car from midtown Manhattan
$16, $10 for children ages 7-15; free for children under 7
Come face to face with Robin Hood, Maid Marian and the Sheriff of Nottingham at this lively Renaissance Fair featuring period music, theater and dance performances; jousting; and woodworkers, blacksmiths and glassblowers demonstrating their crafts. Kids can get in on the action with archery, fencing and games, or they can just taunt the poor fool locked in the stocks. Guilford is one of Connecticut's oldest settlements with a quaint walkable downtown, a historic village green and plenty to do, so you can always extend your stay.
Kelder's Farm & Homegrown Mini-Golf – Kerhonkson, New York
5755 U.S. 209
Approximately 2 hours by car from midtown Manhattan
Free admission to farm; mini-golf is $3.75 per game
At this popular Ulster County farm, kids can explore the barnyard petting zoo, go wild on an awesome bouncy pillow and maybe even pick some early strawberries off the vine. (The farm's pick-your-own season usually starts in June.) The main attraction here is the mini-golf course featuring vintage farm equipment as obstacles and an edible landscape! In between holes, kids can sample the grains, herbs, fruits and veggies growing on the course. Homegrown Mini-Golf is also home to Chomsky, one of the biggest gnomes in the world. After you're done, stop for a bite in nearby New Paltz before driving back to the city. Or stay for the weekend and cross the Hudson River on the Walkway over the Hudson, browse the fun and funky shops in New Paltz and Woodstock, or try rail-to-trail cycling routes or hiking in the Shawangunk Mountains.
Find more travel inspiration in our Family Day Trips and Weekend Getaways Guide.
This post was originally published in May 2013.