This Week: March Go List, Easter Portrait Deal, St. Patrick's Day Celebrations, New Giveaways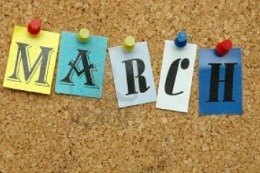 Am I the only one who can't believe it's March? But it must be true: Temperatures are rising, days are getting longer, daffodil shoots are peeking through and our March Go NYC List is up! For those of you who love to plan ahead, our brand-new Go List highlights the absolute best things to do all month, and a bunch of our picks take place this weekend including the kickoff of the New York International Children's Film Festival and the debut of Topsy-Turvy, Madison Square Park's new interactive public art display.
March also brings St. Patrick's Day, summer camp registration, Easter and spring break. Our Travel site has a bunch of spring break getaway deals and we're furiously at work updating our annual Easter egg hunt post. In the meantime, how about posing for an adorable portrait with live baby chicks in honor of the season? Mommy Poppins has partnered with Big Apple Portraits for a fun, one-day-only event, where families can sit for a photo shoot with the chicks, make cool crafts and enjoy other perks.
Read on for details about how to book your session, as well as info on our new Giveaway page and links to all of the other things we covered on the NYC site this week.
We kicked off the week with a profile of Advocates for Children of New York, which provides free guidance to all NYC students so they can navigate the educational system.
In addition to giving away 10 books by Carole P. Roman, we chatted with the Long Island-based children's author about her work, her family and her favorite local outings.
Our month-long focus on Fort Greene Clinton Hill, Brooklyn wrapped up with a roundup of our favorite family-friendly restaurants in the area.
Do your kids dream of scaling walls and jumping off roofs? They can do all that and more at Bklyn Beast, a brand-new parkour gym.
Even though St. Patrick's Day is officially on Sunday, March 17, the celebrations start this weekend with a pair of Queens parades.
Disney's upcoming movie Oz: The Great and Powerful inspired us to spotlight ways to celebrate the magical world of The Wizard of Oz in NYC.
Our March Go NYC List is packed with cool things to do, including annual favorites like the New York International Children's Film Festival, the Easter Parade and Macy's Flower Show.
Best bets for the weekend include the second annual Kids Food Festival in Bryant Park, Brooklyn Kids Rock and the JCC in Manhattan's Purim carnival
And if you're already planning out your activities for next weekend, be sure to book a Live Baby Chicks Portrait Session at Big Apple Portraits on Saturday, March 9. For just $50, every family walks away with a priceless photo, plus there will be ScrapKins craft projects, SeaSnax treats and a Noa Lily sample sale.
We love giving things away almost as much as our readers love winning them. That's why we've created a dedicated Giveaway page where we list all of the cool giveaways we have going on. This week we have two: Enter to win a family four-pack to Jersey City's Liberty Science Center and vie for Carole P. Roman's brand-new pirate picture book.
Tags: