Little Lions: Best Kids' Science Books from The New York Public Library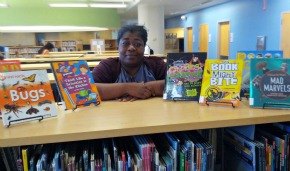 With so much emphasis on reading, writing and arithmetic in elementary school, it's easy to gloss over other academic subjects. Science especially seems to get short shrift these days, a shame since children are naturally inquisitive about things like nature, space technology.
Luckily all that focus on reading comes in handy here. since there's a slew of wonderful science books aimed at school-age kids. For this month's Little Lions post, Deborah D. Allman, Head of Children's Services at the Bronx Library Center, picked out eight of her favorites, and they're all way more engaging than your average text book.
1. The Real Scientist Investigates Sound by Peter Riley
Ages 8 to 12
Kids can find out how sounds get loud in this rudimentary science book, which explores the subject via everyday objects. Simple experiments are also included for readers to try, like making and playing your own musical instruments. Find it at NYPL or buy it on amazon.
2. This Book Might Bite by Megan Cooley Peterson
Ages 7 to 9
Subtitled "A Collection of Wacky Animal Trivia," this book is a cornucopia of crazy facts, like which frog has hair and which bug hears with its knee. Can you guess which baby animals eat their mothers poop? Do you want to find out which insect lays its eggs on dead animals? Get the answer to these questions and many more. Find it at NYPL or buy it on amazon.
3. Weird Science: Mad Marvels from the Way-out World by Matt Lake and Randy Fairbanks
Ages 8 to 12
In the vein of  Ripley's Believe It or Not comes this wild science book about funky phenomena. Kids can read about two-headed cows, fish with legs, crop circles and frogs falling from the sky, to name a few. Find it at NYPL or buy it on amazon.
4. Discover Science: Planet Earth by Deborah Chancellor
Ages 6 to 10
Science is made accessible in this detailed examination of our planet. The language is age-appropriate and children learn about earth's many biomes and creatures. Young readers can explore the Earth's coldest, hottest, driest and wettest places, and learn about volcanoes, weather, rainfall and what makes our planet truly unique. Fun and easy projects are also included. Find it at NYPL or buy it on amazon.
5. First Facts: Bugs by Penelope Arlon
Ages 5 to 7
Young children can get their insect fix in this exciting book. Find out how bees use honey, or which insect flies in groups of a thousand million and can eat a whole field of plants in a few hours. It's the perfect introduction to the bug world, and will give kids newfound respect for how important they are to our planet. Find it at NYPL or buy it on amazon.
6. Crackling Chemistry by Steve Parker
Ages 8 to 12
Children are given accurate and entertaining introductions to several science topics. Fantastic hands-on activities are provided. Experiments include building towers with paper tubes to show the strength of the structure, and removing salt from sand, baking soda and vinegar. Parker addresses what happens when the matter changes form by freezing, melting or boiling, and there's a section on chemical reactions. Find it at NYPL or buy it on amazon.
7. Think like a Scientist in the Kitchen by Matt Mullins
Ages 6 to 10
Complete a variety of fun science experiments using common kitchen items. What happens when ice melts? Does everything float? Children are given step-by-step instructions on how to think like a scientist. Find it at NYPL or buy it on amazon.
8. Life Cycles: Ocean by Sean Callery
Ages 7 to 10
Through appealing photographs, clear text and engaging design, this book examines one lifecycle in each of three oceans: The Indo-Pacific, the Pacific and the Atlantic-Indian. At the end, the three cycles are woven together into one food web, demonstrating that all life in the ocean is linked. A wonderful book that gives children an introduction to an environmental topic that is critical to our planet. Find it at NYPL or buy it on amazon.
Read about some of our other favorite children's books.
Thanks to The New York Public Library for providing this book list. You can find all of these titles at the library.