Little Lions: Best Kids' Books About Love from The New York Public Library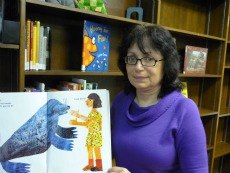 Valentine's Day has come and gone, but showing your kids how much you care is something you do every day. Just think of all the times you've missed watching Modern Family so you could read your children a bedtime story. Now that's love.
So for our February Little Lions post, we decided to focus on books about the unbreakable bond between parents and children. NYPL senior librarian Auria Morales, who recommends books in Staten Island's Todt Hill-Westerleigh Library's Children's Room, shares nine of her favorite love stories.
1. I Love My Pirate Papa by Laura Leuck, illustrated by Kyle M. Stone
Ages 4-7
A little pirate boy idolizes his swashbuckling daddy: He wears an earring, walks the plank and even "eats" dinner just like his dad, chomping, slurping and burping. This sweet and colorful tale of a father and son ends with Pirate Papa declaring that his dear boy is the best treasure of all. Find it at NYPL or buy it on amazon.
2. The Kissing Hand by Audrey Penn, illustrated by Ruth E. Harper and Nancy M. Leak
Ages 3-8
Chester the Raccoon is afraid to go to kindergarten. To reassure him, his mother kisses the palm of his paw and says whenever he feels lonely, sad or afraid, he can put his hand to his face to feel her love. It's a great message for children, who can use this technique to keep mom close when they're apart. Find it at NYPL or buy it on amazon.
3. The Kiss Box by Bonnie Verburg, illustrated by Henry Cole
Ages 3-5
Like The Kissing Hand, this book deals with separation anxiety but in this case mother's the one who's going away. Mama Bear assures her Little Bear that she'll leave 100 kisses in a jar so he can have one whenever he misses her. But what if he loses the jar? Or what if something else goes wrong? Mama Bear reassures Little Bear as he offers a thousand what ifs until he finally understands that they can send kisses back and forth no matter where they are. Find it at NYPL or buy it on amazon.
4. Papa, Do You Love Me? by Barbara M. Joosse, illustrated by Barbara Lavallee
Ages 4-7
This sweet lesson about unconditional parental love features a Massai herd boy tending cattle with his father. He asks that familiar question: "Would you still love me if...?" In this case, the boy wonders if his father would still love him if "I fell asleep and … hyenas killed a cow… and it was my birthright cow." There's a glossary in the back that explains specific Massai terms. Find it at NYPL or buy it on amazon.
5. We Wanted You by Liz Rosenberg, illustrated by Peter Catalanotto
Ages 5-9
Illustrated as a family album full of snapshots, the story of an adopted boy unspools backward, as parents reminisce about their son's milestones now that he is a young adult. At the end, the parents share how an eagerly-awaited telephone call brought their little boy to them. This is a lovely story for families who want to explain adoption to their children. Find it at NYPL or buy it on amazon.
6. When Papa Comes Home Tonight by Eileen Spinelli, illustrated by David McPhail
Ages 3-6
A boy waits for his father to come home, imagining all of the things they'll do together. At the end of the day, papa will read him a story and kiss him on the nose, and the boy will fall asleep happy. But even as the boy sleeps, papa is still thinking of him, and what they'll do tomorrow. This wonderful story shows how a parent's love never tires, and highlights the love between fathers and sons. Find it at NYPL or buy it on amazon.
7. Wherever You Are, My Love Will Find You by Nancy Tillman
Ages 4-7
"Make a big splash! Go out on a limb! My love will find you. My love can swim!" A parent's love crosses all boundaries in this rhyming storybook. Children will love the illustrations, which include lots of different animals. Find it at NYPL or buy it on amazon.
8. A Day with Dad by Bo R. Holmberg, illustrated by Eva Eriksson
Ages 5-8
In this book, children learn that divorce doesn't mean your parents stop loving you. Tim spends the whole day with his dad, a special treat since his father lives a train ride away. They go all over town, including the library, where they cuddle together reading. A bittersweet tale that nonetheless reassures little ones of their parents' love. Find it at NYPL or buy it on amazon.
9. Pirate Boy by Eve Bunting, illustrated by Julie Fortenberry
Ages 4-7
After reading a book about pirates with his mom, Danny wonders what would happen if he joined a crew and ran into trouble. Fun what-if scenarios follow, and mom saves the day every time (including using a big sprayer to get rid of sea monsters). A great reminder for kids that mom will do whatever it takes to love and protect her children. Find it at NYPL or buy it on amazon.
 
Read about some of our other favorite children's books.
Thanks to The New York Public Library for providing this book list. You can find all of these titles at the library.

Top photo by Jonathan Blanc