Halloween Costume Parties, Carnivals and other Fun Events in Hartford County, CT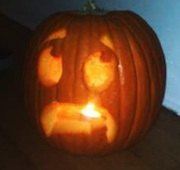 Hopefully Frankenstorm Sandy passes through without a re-enactment of last year's Halloween power outages and trick-or-treating cancelations. There are so many fun Halloween festivities going on that we have our fingers crossed the weather doesn't interrupt our plans this holiday. If you haven't checked out any of the local Haunted Houses be sure to celebrate this year with one of these kid-friendly Halloween events in Hartford County.
The Family Wellness Center in New Britain is having a Halloween costume party Wednesday, October 31 from 10 am-12 pm. There will be Halloween themed games, activities and treats.
Saturday October 27, Blue Back Square in West Hartford will be hosting a Pumpkin Carnival & Halloween Stroll. Head over to the Whole Foods from 9:30-10:30 am for live music, giveaways, photo ops, games, and meet costumed characters. Then from 10:30-11:30 there will be a parade through Blue Back Square and West Hartford Center with trick-or-treating at participating merchants, opportunity to climb aboard a fire truck and more!
Monday October 29, Whole Foods in West Hartford is having a Halloween event where kids can come to enjoy a special spooky themed story and snack.
The Barnes and Nobles at the Buckland Hills Mall in Manchester is having some fun story time events. On both Saturday October 27 and Wednesday October 31 at 11 am they will be hosting a Halloween themed story time. Don't forget to dress in costume.
New Britain's Park and Recreation is hosting a free Spooktacular event at Walnut Hill Park Saturday October 27 from 1-4 pm. The event will include Halloween attractions, a clown, inflatables, trick-or-treating, games, arts & crafts, a costume parade and much more!