Indoor Play for NYC Kids: Places to Burn Off Energy Inside this Winter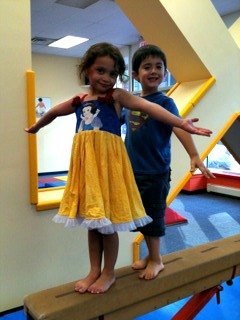 Every winter, New York City families are faced with the same problem: How to keep the kids active when it's too cold to play outside. While your kids would probably be happy to turn your bed into a trampoline and your shelves into a jungle gym, you're desperate for better ideas. Our Indoor Activity Guide is filled with mellow inside spots like public atriums, children's bookshops and fun-filled megastores. But when your kids really want to burn off energy, you need a more active indoor destination where they can play, run around and test their limits, not your patience.
That's why we came up with this list of indoor play places in NYC where kids can get their ya-yas out. We even found spots that cater to tweens and teens. Plus, all of these places offer drop-in sessions so you don't have to commit to a class or pricey membership. From ball pits to drop-in play gyms, ice-skating to swimming to NYC's only inside skatepark, here are great ways to keep kids of all ages moving indoors in New York City.
Romp at a play space In Manhattan, there are 10 awesome play spots with drop-in hours. As a toddler, my son loved going to Chelsea Piers' Little Athletes Exploration Center (I cried when he outgrew it) and the Heimbold Family Children's Playing and Learning Center at Scandinavia House. Brooklyn also has a slew of sweet spaces like Play Days & Parties in Bay Ridge, Gym Park and Play in Greenpoint, and Williamsburg's Klub4Kidz, which is even fun for school-age kids with its rock climbing wall and zip line. Queens has play spaces, too, including Astoria's Kids Play House.
Jump around a bouncy house While you'll need to wait until street fair season to hit a bouncy house in Manhattan, national chain BounceU offers open play sessions at its locations in Brooklyn and Queens. In fact, they even have family nights so mom and dad can jump around, too. And if you're up for a day trip, there are plenty of bouncy spots in New Jersey.
Dive into a ball pit Ball pits aren't just for toddlers. My seven-year-old son still loves them! And they're not just in the 'burbs, either. We found six ball pits right here in New York City, including the pit at Ikea's Småland and the giant ball pond in the Children's Museum of the Arts.
Glide around the ice While going ice-skating outdoors is one of the great joys of winter, sometimes it's just too cold to manage. Luckily, NYC boasts six indoor ice rinks that are open year-round. These rinks are larger than their outdoor counterparts and the consistent indoor temperature keeps the ice from melting and refreezing, resulting in a very smooth glide.
Go for a swim Although outdoor pools won't open until summer, there are private indoor pools that offer day passes. Or you could opt to purchase an annual membership to one of NYC's Recreation Centers, just $150 for adults and free for children under 18.
Climb the walls Instead of bouncing off the walls, kids and parents can scale them during family rock climbing sessions at Brooklyn Boulders, Chelsea Piers or another indoor climbing facility.
Hit Staten Island's 5050 Skatepark New York City's only indoor skatepark is a great option for teens. 5050 primarily attracts BMX bikers but you can scooter and skateboard here, too. Hit an open session or opt for a one-on-one lessons. There are even beginner sessions for newbies.
Get moving in your living room You don't need to live in a building with a gym or a huge loft to get active at home. We put together a list of 25 exercise games that can be done in small apartments or hallways like freeze dance, tickle tag and animal races. It's DIY fitness at its best: It's free and you don't even need to step outside.
For more indoor fun this winter check out our Indoor Activity Guide.