Hurricane Sandy: How to Have Fun With NYC Kids When You're Stuck at Home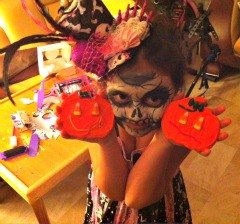 Talk about déjà boo! Remember that freak snowstorm we had the weekend before Halloween last year? Well, Mother Nature is playing another cruel trick on us as we all brace for Hurricane Sandy. Due to the approaching wild weather, the NYC Department of Transportation has decided to suspend subway and bus service beginning at 7pm on Sunday, and the NYC Department of Education has canceled school on Monday, October 29 and Tuesday, October 30! (Follow NYC Public Schools on Twitter for the most up-to-date info.) All New Yorkers are being urged to stay indoors from Sunday night until the storm passes.
While we hope this turns out to be much ado about nothing, chances are your family is going to be spending a lot of time at home over the next few days. If you're wondering how best to prepare (hopefully you've already shopped for necessities like food and filled the bathtub with water), just turn on your local news or visit the official website of your town, city or state. New Yorkers can find info on potential flooding zones, emergency shelters, evacuation notices, public transportation updates and more at nyc.gov.
So what are you going to do to keep your kids (and you) from going stir crazy during the hurricane? After all, you can only watch TV for so long (especially if the power goes out). We've got the scoop on some fun crafts, kid-friendly recipes, cool analog games and even Halloween fun you can do at home. Here are creative ways to keep busy during Hurricane Sandy.
For inspiration, peruse our roundup of 50 Indoor Activities for a Rainy (or Hurricane-y) Day. Our suggestions are short and sweet—throw a party, for example—but they remind you how easy it is to have fun, even when Mother Nature is pounding at your door.
Check out our Halloween Fun Guide. Not all of our posts involve going to events. We have two articles about do-it-yourself Halloween costumes, most of which can be made from things you probably have lying around the house. Or you can try some do-it-yourself Halloween crafts and accessories. We have a bunch of tasty Halloween recipes, including witch's fingers and spider's nest dip and pretzel bones. And if you tackle all of this, why not throw an at-home Halloween party and invite your fellow homebound neighbors? Our post has lots of great ideas for Halloween-themed games and activities, most of which don't require much preparation.
If you have any activity books, dig them out. We've shared many of our favorites in the past, including the jam-packed 365 Things to Make and Do. If you don't have that one, order it for the next time a hurricane hits!
Since you can't camp outside, do it in your living room. This was one of my favorite things to do as a child, regardless of the weather. We give detailed, step-by-step instructions, including how to make s'mores in the oven. Just don't try a campfire.
Try a few projects on one of our favorite crafts sites. You don't necessarily need a well-stocked crafts corner. Many of the activities utilize common household items, and there are options for all skill levels.
Sensory activities aren't just for kids with sensory issues. They help boost your energy and many are totally fun (pillow fight, anyone?). We've got 99 sensory activities, most of which you can do at home. We also have a roundup of fun at-home exercise games to get kids moving, all of which can be done in a cramped NYC apartment.
While we're certainly not a cooking site, we enjoy making dishes with our kids. We've got a delicious and easy pasta recipe and there are many cookbooks that are aimed at families.
For additional ideas, peruse all of our crafts posts.
And if you still want more, we asked our Facebook fans, i.e. your neighbors, how they plan to spend their time indoors during the storm. So far, top picks include puzzles, Play-Doh, baking and board games. And here's a great suggestion we got the last time a hurricane came our way: Throwing a "hurricane party with bubbles to ease the minds of our little ones." We still love that idea.
Whatever you do over the next few days, stay safe and enjoy each other's company. You're in for some quality time with the family.