Holiday Deals: NYBG Holiday Train Show, Live Theater, Music Lessons and More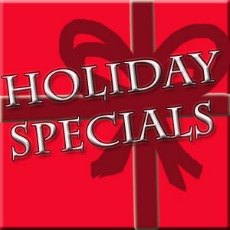 Although we sent out our holiday deals email a few weeks back, we realize not everyone subscribes to our free newsletters (gasp!). And since these deals are so timely and great, we wanted to make sure all of our readers got a chance to check them out.
We reached out to some of our favorite organizations to secure discounts and bargains on awesome NYC experiences including the annual Holiday Train Show at the New York Botanical Garden, the charming new stage adaptation of The Velveteen Rabbit, private music lessons on all kinds of instruments from Hey Joe Guitar and more. So while you're running around town this season enjoying all of the holiday fun NYC has to offer, see if any of these deals can help you keep a little more money in your pocket.
Don't miss the New York Botanical Garden's annual Holiday Train Show, a winter wonderland of twinkling lights, G-scale model trains, and a half mile of tracks in and around 140 landmark buildings. Use Code 9075 online and save on select dates. Valid for All-Garden Pass Weekday visits December 6-14 and January 2-11. Offer subject to availability. Orders are limited to six tickets. Discount cannot be combined with any other promotional offer or applied to previously purchased tickets. Discount may be modified or withdrawn without prior notice. Tickets are not refundable or exchangeable.
Give the gift of music lessons! Stuff your holiday stockings with a gift certificate for all instruments taught at Hey Joe Guitar—now 25% off for Mommy Poppins readers. Expires December 31, 2012. Call 646-320-3131 or click here. Use code HOLYMP25.
Get $10 off tickets to The Velveteen Rabbit, the show The New York Times says, "comes thrillingly alive!" We here at Mommy Poppins loved it too. For $29 tickets (regularly $39), use code VTRUSQ1 at BroadwayOffers.com or 212-947-8844. Restrictions apply. Expires January 27, 2013.. Offer may be revoked at anytime.
There are so many great deals in our "Stocking Stuffer" collection at Open Road that you're sure to find something for any reader on your list to savor. From classic to edgy—all ebooks under $5. Check back often, new deals all month! Expires January 1, 2013.
Buy one get one free at Chess NYC Holiday Mini Camp, limited time only! Camp dates December 24, 26, 27, 28, 31 and January 1, 2013. Deal extended to December 20, 2012 for Mommy Poppins' readers. Offer good for 12 months. Use code Mommy Poppins to redeem.
Save 35% on tickets to what PBS Kids calls "an awesome and hilarious live magic show." The Amazing Max and the Box of Interesting Things is perfect for the whole family. To redeem, click here or call 866-811-4111 and use code AMMOMPOP. Valid for performances through January 13, 2013, code expires December 21, 2012.
Tags: