Haunted Houses in New Jersey, Harmless to Horror-Filled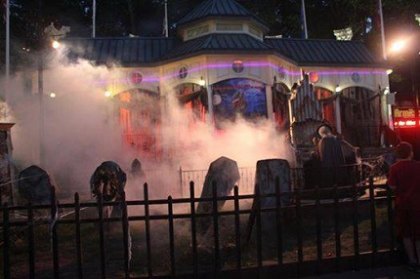 For those who like a good fright, check out some of NJ's best haunted establishments. There are plenty of night-time haunts to please the older kids, some creepy walking tours to see a (possibly) haunted town, a scaredy-cat amusement park and even a few scare-free zones where kids can just trick or treat.  For more creepy/fun choices, check out our NJ Halloween Guide. and sign up for our emails to get more Halloween and family activity ideas each week!
Bane (Livingston, NJ)
Bane is the (now haunted) house of the Bane family, full of zombies and flesh-eating relatives. Not recommended for kids under 13. Check website for current pricing and coupons. I hear from a co-worker that this was genuinely scary!
Ghost Tour of Ocean City (Ocean City, NJ)
This candlelight walking of Ocean City includes deep and spooky secrets and ghost stories for the area.  Fun in the sun turns into fear in the dark after hearing these haunting tales! Tickets are sold on a first-come first-served basis and it's recommended to purchase your ticket by 6pm. Tours begin at 8pm on Thursday, Friday and Saturday nights (including Halloween) and take approximately 90 minutes.  Recommended for ages 4 and up.
The Red Mill Haunted Village (Clinton, NJ)
Celebrate 25 years of scares of the Red Mill Museum with 10 acres of fright!  Be warned: this haunted house is NOT for small children.  Get spooked on October 9,10, 16, 17, 23 and 24  beginning at dark. For the younger ones, visit Happy Hauntings, a one-time spookless version of the haunt on October 17 at noon. Check website for current pricing.
  
Six Flags Annual Fright Fest (Jackson, NJ)
As always, Six Flags is ready for Halloween!  There are ghosts and ghouls in costume, spooky music and entertainment, trick or treating, and there are plenty of scare-free zones for little kids. Dare to climb aboard the spine chilling rides. See website for ticket information.
C. Casola Farms, (Colts Neck, NJ)
Casola Farms offers The Haunted Hayride of Terror, 3D Haunted Barn, and 3 other scary attractions in the fields of Colts Neck in Monmouth County. Recommended for ages 12 and up, join the horror shows at these times and dates.
Field of Terror (East Windsor, NJ)
In its 12th fright-filled year, K and S Farms puts on a series of scary attractions including "Killer Kornfield", "Unknown Barn", "Zombie Attack", "Dementia 3-D" and "Zombie Hunt Paintball Hayride". For the younger set, there is a family-friendly flashlight maze nightly. The fun begins September 25, Thursdays and Sundays from 7pm to 10pm and Fridays and Saturdays from 7pm to 11pm. There is a DJ, concessions, and a bonfire nightly as well as fireworks on certain occasions. In addition, enjoy the annual Zombie Mud Run on October 31.
Haunted Scarehouse (Wharton, NJ)
Rated "Best Indoor Haunt in NJ" by Haunt Hunters 2014, the two giant floors of scary movie sets were built by professional set builders. Scarehouse is open Friday and Saturdays nights from 7pm to 11pm and Sundays 7pm to 10pm through November 1. See website for tickets and pricing.
Don't forget, for more Halloween fun, check out our Halloween Guide.
Photo: Fright Fest
Originally published 2012