Hanami Photo Contest Slideshow and Winner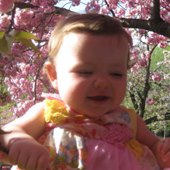 The cherry blossoms have faded, but we're still enjoying their beauty thanks to the all the wonderful entries we got to the Kids of Hanami Photo Contest we ran with the Brooklyn Botanic Garden. It took us a little longer than expected to get all the entries together and pick a winner, but we finally have it done and are happy to share them with you.
Even if you didn't enter, you're going to want to watch the slideshow. The photos are beautiful (both the flowers and the adorable kids). Click through to see the slideshow and our winning picture.
It was really hard to pick a winner, but we had to do it! The winner is...

Congrats to "aidaninbotanicgarden" for their winning entry. They're getting lunch at the Brooklyn Botanic garden, plus a great gift package and garden passes. Yeah!

Thank you to all who entered your wonderful photos. They are all beautiful and the slideshow is being featured on the Brooklyn Botanic Garden site! We hope you had a great time visiting the Botanic Gardens and enjoying the cherry blossoms.