This Week: Halloween Weekend is Here, Outdoor Ice Skating Rinks Open, Veterans Day and Election Day Camps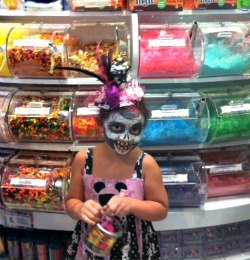 I don't know about your home, but ours is already filled with candy thanks to all of the pre-Halloween parties we've been attending. (I figure I can give some of our loot away on October 31.) This weekend is jam-packed with ways to celebrate All Hallows' Eve in NYC, New Jersey, Connecticut and on Long Island. Our Travel site even has a roundup of Halloween weekend getaways and deals in case you want to treat your family to an out-of-town celebration.
If you're thinking about throwing a Halloween shindig at home, we also have some cool holiday crafts and tasty recipes for you to try.
Believe it or not, Halloween isn't the only thing on our minds. This week also marks the opening of many outdoor ice skating rinks in NYC and we're looking ahead to Election Day with a roundup of one-day holiday camps for kids since public schools are closed that day. Here's what else we covered on our NYC this week:
Ice, ice baby! The Ice Rink at Rockefeller Center, Wollman Rink, Lasker Rink and Citi Pond at Bryant Park are all open for ice skating season.
Learn the ancient Asian art of batik (kind of like tie-dye, only with wax instead of rubber bands) at brand-new Park Slope craft spot Hiho Batik.
Public school students are off on Election Day and Veterans Day but what do you do if you need to work? Send them to one of these cool one-day holiday camps.
We updated our list of the best NYC neighborhoods for door-to-door trick-or-treating—it seems to get bigger every year!
With the academic year in full swing, many schools are thinking about fundraising. One of our contributors, Stephanie, is a former marketing executive who's now on the PTA board of her son's school and she shared creative ways to make some money.
It's your last chance to catch all of the haunted Halloween happenings at Ascarium at the New York Aquarium. We went last weekend and had a blast.
We finished up our month-long focus on Greenpoint, Brooklyn with a roundup of our favorite places to eat in the area, including five fabulous sweet spots.
Our special needs writer, Alison, and her family went to the opening of the Brooklyn Children's Museum new Sensory Room and were very impressed.
In addition to a slew of Halloween parades, parties and festivals, best bets for the weekend include Pickle Day and Day of the Dead celebrations. Or if you're interested in meeting some of the moms of Mommy Poppins in person, our New Jersey team will have a table at Metro Moms' Healthy and Green Halloween Bash in Hoboken on Saturday. Drop by and say hello.
Tags: