Halloween Haunted Houses in Westchester County: New Location for Scared By the Sound & Other Fearsome Fun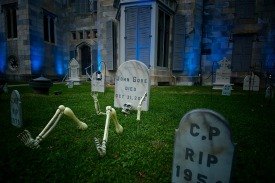 Last month, we wrote about all of the must-see Halloween happenings in Historic Hudson Valley, including the legendary Great Jack O Lantern Blaze (which is selling out super fast!). But there are some other frighteningly fun haunted Halloween attractions for families in Westchester County that are worth putting on your radar.
After being forced to move last year due to Hurricane Sandy damage, annual teen favorite Scared by the Sound returns to its original Rye Playland location. Plus, we've got the scoop on some milder suburban boos, like an all-ages Halloween model train show and a massive installation of individualized scarecrows.
Since this is the time of year when many families go pumpkin picking, adding one of these Halloween haunts to your outing makes for a great seasonal day trip.
Scared by the Sound – Rye
Playland Amusement Park, 1 Playland Parkway
Fridays, Saturdays and Sundays: October 4-November 1. Times vary. Visit the website for the complete schedule.
$16, download a $1 discount coupon
Just in time for its 15th spine-tingling season, Scared by the Sound returns home to Rye Playland with a fully refurbished site. See if you can survive the Crypt Walk, the Haunted Wine Cellar, the Creepy Morgue, the Tunnels of Doom and the all-new outdoor Black Out Maze. As you can probably tell from the description, Scared by the Sound is not little-kid-friendly. In fact, parents are advised to leave children under age 8 at home. If you're wondering whether your tween is up for it, you can check out this video montage from past editions. (Unfortunately, the tot-friendly matinees that were done in years past aren't happening in 2014.) Tickets can be purchased in advance online or at the box office.
The Haunt at Rocky Ledge – North White Plains
Rocky Ledge Swimming Association, 1402 Old Orchard Street
Friday through Sunday: October 10-26. Times vary. Visit the website for the complete schedule.
$18, download a $1 discount coupon on the Haunt's Facebook page
Brave two creepy haunted houses, winding wooded trails and the only haunted cornfield in Westchester. The Haunt boasts classic scare tactics by real actors, with less emphasis on animatronics and other technology. Like Scared by the Sound, this attraction is not for little kids: The recommended age is 10 and up. Again, watch the video montage with your tweens to make sure they're ready for it.
Jay Ghoul's House of Curiosities – Tarrytown
Lyndhurst, 635 South Broadway
Friday through Sunday: October 17-November 2. Times vary. Visit the website for the complete schedule.
$25 for adults, $20 for children under age 13
Explore the creepy nooks and crannies of this gorgeous Gothic Revival mansion, made famous in the old '70s Dark Shadows movies. This classic movie-themed haunted tour is led by iconic characters like the Mummy, the Phantom of the Opera, Frankenstein and his Bride. While billed for all ages, families with sensitive tots may want to exit before heading down to the lower level where the scariest elements of the experience are located. Lyndhurst also offers $18 historic tours with a Halloween twist for children ages 6 and up.
Scarecrow Invasion – Tarrytown
Lyndhurst, 635 South Broadway
Open daily through Sunday, November 2 10am-5pm
Free Monday-Friday, $5 per person grounds fee Saturday-Sunday, which can be applied toward house tour admission or gift shop merchandise.
Though not posted on its website yet, we did confirm that this annual installation is indeed up this year. The one-of-a-kind display is set up by local schools and businesses. Walk, play and picnic amongst hundreds of homemade scarecrows representing a wide range of characters, both real and fictional, from the past, present and future. After closing weekend, all scarecrow clothing is donated to those in need. Totally kid-friendly!
Lasdon Park Halloween Haunted House & Train Show – Somers
Lasdon Park and Arboretum, 2610 Amawalk Road
Saturday and Sunday: October 11-31 plus Columbus Day 11am-3:30pm; and on Halloween 3-6pm
$5 for adults, $2 for children under age 12
Best bet for preschoolers! The arboretum's huge Colonial-style mansion is transformed into a not-too-scary, outer space-themed haunted house with an elaborate model train display. In the main room, a variety of Lionel trains wind their way through "Area 51" featuring aliens and kooky deserts. A second layout in the dining room gives youngsters a chance to play conductor and control the trains. There's also a haystack maze on the grounds.
For more seasonal fun, check out our Halloween Guides in NYC and Westchester.