Gluten-Free Family-Friendly Restaurants in NYC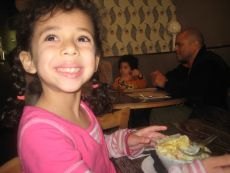 My oldest son was four-years-old before we figured out that his constant coughs, colds and bronchial infections were being caused by food allergies. Once we removed the offending items from his diet, he became a different child (though the hearing loss he suffered as a result of us not catching his condition sooner remains to this day).
Because of my own experience, I always urge parents whose kids suffer from mysterious maladies to get them tested, and then follow the prescribed dietary guidelines to the letter. Whether your child has a major issue like Celiac disease or a minor sensitivity, you'll want to be vigilant about what they put into their mouths—but that doesn't mean you'll have to cook every meal from scratch yourself. In New York City, many restaurants are able to accommodate guests with a variety of food allergies. Today, we've rounded up our favorite NYC eateries that offer a wide range of gluten-free dishes and are also kid-friendly, so affected members of your family can eat their cake (and pasta and pizza) and digest it, too.
Pappardella – Upper West Side
316 Columbus Avenue at 75th Street
The biggest problem with trying to stick to a gluten-free diet is that gluten makes up the bulk of a child's four favorite food groups: pasta, pizza, sandwiches and desserts. Happily, this Upper West Side favorite offers a gluten-free menu, with lunch specials like noodles, panini, garlic bread and pizza, while dinner brings more of the same plus gluten-free ciabatta and flourless cake.
Bloom's Delicatessen – Murray Hill
350 Lexington Avenue at 40th Street
What's almost as hard as finding a gluten-free Italian restaurant? Locating a gluten-free Jewish deli. However, this NYC staple has kept up with the times by instituting a dedicated gluten-free menu featuring pancakes, French toast, sandwiches, burgers and chicken soup.
S'Mac – Murray Hill
157 East 33rd Street between Lexington and Third Avenues
Here's something kids will love: A restaurant that serves all macaroni and cheese, all the time. There's classic as well as exotic combos like Mediterranean, Alpine and Cajun, and those with dietary restrictions aren't left out. Not only is every option available gluten-free, S'Mac also makes vegan or reduced-lactose versions. The Murray Hill location is a sit-down restaurant, but there is take-out and delivery in the East Village and a kiosk on the corner of First Avenue and Houston.
Lilli and Loo – Upper East Side
792 Lexington Avenue between 61st and 62nd Streets
This Asian eatery offers a gluten-free menu with delicacies like tofu spinach egg drop soup, spicy tangerine beef, crispy shrimp with honey walnuts, pad Thai with rice noodles and chef's special rolls plus an assortment of raw fish and vegetables.
Sambuca – Upper West Side
20 West 72nd Street between Columbus Avenue and Central Park West
Looking for something a bit more upscale but still kid-friendly? This family-style Italian restaurant and wine bar boasts a gluten-free dinner menu full of ravioli and various pastas made exclusively from Tinkyada Elbow brown rice, plus homemade chocolate brownies and Truffle cake for dessert. You can even buy some gluten-ree frozen ravioli to take home with you.
Sun in Bloom – Park Slope
460 Bergen Street between Fifth and Flatbush Avenues
Everything at this Park Slope eatery is gluten-free (and vegan and kosher). Try the huevos rancheros burrito with butternut squash hash, or a BLT with Shiitake bacon in a collard green wrap. Too complicated for the kids? You'll find cranberry cornbread muffins and banana bread with chocolate chips here, too. The weekly brunch even has its own designated newsletter so no new special treat passes you by.
Joe's of Avenue U – Staten Island
145 Greaves Lane
Formerly home to a designated, gluten-free restaurant, Joe's of Avenue U now only offers an allergy-free menu Tuesday through Saturday. Lasagna is available, as are various pastas, risotto and even a children's menu with old favorites like chicken fingers. Alhough the restaurant is certified by the Gluten Intolerance Group, management stresses that customers must make servers aware of their particular needs when ordering.
For more gluten-free options in NYC (including grocery stores and even bars), check out this map on glutenfreeglobetrotter.com or search for gluten-free restaurants by zip code on the Gluten Intolerance Group's website.
Know of a great kid-friendly gluten-free restaurant we missed? Let us know in the comments below.
Still hungry? See all of our posts about eating with kids in NYC.