Free & Fun Things to Do this Weekend with NYC Kids: Miyazaki Film Fest, Story Pirates, Pillow Fight Day, Tartan Parade April 6-7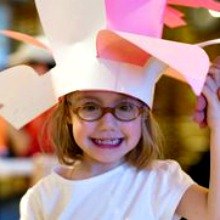 Spring break may be over but spring is just getting underway. With the new season comes a slew of festivals and fairs, starting with this Saturday's free Scotland Festival in Central Park. Other outdoor fun this weekend includes Wave Hill's no-cost Drawn to Nature weekend, the annual free Pillow Fight Day in Washington Square Park, Little League opening day and opening weekend at the Queens Botanical Garden.
There's also some great culture on tap for families. The New Victory Theater debuts The Intergalactic Nemesis, the Little Orchestra Society fuses cartoons and classical music at the Magical Musical Pencil concert, the awesome Story Pirates mount an interactive show at Symphony Space and BAM kicks off its two-weekend Hayao Miyazaki animated film festival.
All of our best bets for the weekend are below. There are lots of other options in our Event Calendar. And if you're looking to plan out your entire month, be sure to check out the latest edition of our NYC Go List, which highlights the absolute best things to do with kids throughout April.
All Weekend
BAMcinématek: Miyazaki – Fort Greene
Head to BAM for this film fest celebrating anime legend Hayao Miyazaki. This weekend you can catch screenings of My Neighbor Totoro, Nausicaä of the Valley of the Wind and Princess Mononoke. For families with younger kids, the best bet is the G-rated Totoro, which is dubbed in English. Find out more info about this fest in our April NYC Go List. $13 for adults, $9 for students and children under 13
The Intergalactic Nemesis: Book One-Target Earth – Midtown West
My son and I are really excited to see this nerdy new show at the New Victory Theater. The tale of unlikely heroes who travel to Planet Robot to save the Earth from the Zygonians, Nemesis is performed like an old-fashioned radio play, with actors, musicians and a sound effects wiz performing the script while thousands of comic book panels are projected in the background. Wondering how it will play on stage? Be sure to read our review, which will go up next week. $14-$38
Drawn to Nature Weekend – Riverdale
The Bronx's beautiful Wave Hill celebrates its new exhibit, Drawn to Nature, with free activities all weekend. Enjoy guided tours of the display, collaborative art projects and art-themed storytimes. FREE
The Magical Musical Pencil – Upper East Side
Award-winning children's author and illustrator Peter H. Reynolds creates whimsical cartoons during the Little Orchestra Society's latest classical concert for kids, as the Lolli-Pops gang looks for inspiration in the music of Handel, Brahms and Bizet. $15-$45
Opening Weekend Celebrations – Flushing
The Queens Botanical Garden opens for the season with tours of the grounds, arts and crafts, and a visit from Flora, the green space's lovable mascot. Free with admission: $4 for adults, $2 for children ages 3 and up
Piggy Nation: The Musical – Midtown West
Mommy Poppins contributor Alina and two of her children caught this new Off Broadway family musical a few weekends back. They enjoyed the fun and fast-moving show, which follows Sammy and his police officer dad on their adventures during a regular day on the job. The kids particularly liked the catchy tunes, rollicking dance numbers and colorful costumes. $30-$60
Macy's Flower Show – Midtown West
It's your last chance to see Macy's annual Flower Show, which closes on Sunday. The display evokes the lavish formal gardens of India with thousands of jewel-toned and spice-hued flowers displayed alongside iconic cultural images, like the centerpiece: a 10-foot elephant festooned with beautiful buds. FREE
Forces! The Movical – Williamsburg
Catch Streb at S.L.A.M.'s latest circus-influenced show featuring the acrobatic members of choreographer Elizabeth Streb's Extreme Action Company leaping, jumping, tumble and flying through the air. $25 for adults, $15 for children under 13
UniverSoul Circus – Jamaica
The circus troupe continues its NYC run in Queens' Roy Wilkins Park. Marvel at tiger tamer John Jairo Sanchez, the Zhukau Acrobatic Troupe, Caribbean dancers, the Soul Circus Divas and more. Find out about other circus spectacles playing NYC this season. $20-$40
 
Saturday, April 6
Tartan Day – Manhattan
Celebrate Scottish culture at three New York Tartan Week events today. First, cheer on thousands of Scotland Run participants as they make their way through Central Park decked out in kilts and other cultural finery. Then stick around for the annual Scottish Festival featuring live music, céilidh dancers and more. Finally, at 2pm, the annual Tartan Day Parade kicks off at Sixth Avenue and 45th Street. FREE
NYC's Annual Pillow Fight Day – Greenwich Village
Get ready for a fight—a pillow fight that is. NYC's eighth annual Pillow Fight Day invites everyone to get into it with soft, feather-free pillows at Washington Square Park. While there are rules to keep participants safe, take note: This is mainly an adult event though kids are welcome. BYOP (bring your own pillow) and drop it into a donation box when you're done so it can go to a NYC homeless shelter. FREE
Little League Opening Day – Citywide
Most NYC teams have their season openers today. In celebration, there are a bunch of neighborhood parades throughout the five boroughs, with the biggest one in Brooklyn's Prospect Park. FREE
Sci-Tech Workshop: Bot Building – Midtown East
Children ages 8 and up can head to the Sony Wonder Technology Lab to fashion working robots out of screws, motors and recycled materials. Advance reservations recommended. $10
MoMA Family Films: Birds! – Midtown West
Head to the Museum of Modern Art to see bird-themed shorts including Russian Rooster, For the Birds and Jungle Beat. Afterward, stay and explore the museum at no additional cost. FREE but tickets are distributed on first come, first served.
Archery Lesson – Bayside
Make like Katniss Everdeen with the Urban Park Rangers at Fort Totten Park. Learn how to load an arrow and shoot at a target along with important safety procedures. All equipment provided. FREE
Blown Away by Poetry – Battery Park City
Raven and her daughter saw this charming interactive puppet musical by Urban Stages last year about a poet who forgets how to pen verses. Catch the show today at Poets House. It's great fun for young elementary schoolers. FREE
Green Songs from Vlada's Garden – Upper West Side
Head to Lincoln Center's David Rubenstein Atrium for a no-cost kids' concert by singer/songwriter Vlada Tomova. Hear her regale kids with tunes and stories about her bountiful garden in this spring-themed performance. FREE
Elska in Concert – Upper West Side
Symphony Space welcomes zany kid rocker Elska, who'll perform catchy pop tunes from her debut album Middle of Nowhere. $20 for adults, $13 for children
K-12 Education Expo – Greenwich Village
Looking to enhance your kids' education? Then head to NYU's Kimmel Center for this annual expo. Enjoy educational workshops for parents and kids, lots of kid-friendly activities, free books and meet reps from more than 40 educational programs. FREE
SandSational Riverside – Upper West Side
Are you and your family fans of Riverside Park? Then help the Riverside Park Conservancy get ready for spring by loading up the playgrounds' sand boxes with fresh sand for the season. RSVP suggested. FREE
Sunday, April 7
The Story Pirates Present: Pseudonymous Bosch's Write This Book – Upper West Side
At this special interactive performance, the always awesome Story Pirates use best-selling kids' mystery author Pseudonymous Bosch's latest title as a template for a brand-new interactive show that will only go on with audience participation. Come prepared to be creative! $15
Birding for Families – Harlem
Spring is a great time to go birding in NYC thanks to our location on the Atlantic Flyway. Today, families can take a walk through Central Park with NYC Audubon experts and learn how to spot our feathered friends. FREE
Open Studio: Collaboration-Building Big – Long Island City
Stop by the serene Noguchi Museum to explore its sculpture galleries and work on large-scale collaborative art projects with educators. $10 per family.
Outside of NYC
Head to Hartford, Connecticut to go way back in time at the Bushnell Family Fun Day, which features an interactive performance by ERTH's Dinosaur Petting Zoo.
Out on Long Island, become a farmer for the day at the Suffolk County Farm and Education Center.
Or cross the Hudson River to Englewood's Bergen Performing Arts Center to see Casey Carle's wondrous Bubblemania.
Don't forget there's a lot more fun to be found in the Event Calendar.
Tags: