Free & Fun Things to Do this Weekend with NYC Kids: Easter Egg Hunts, Coney Island Rides Opens, Macy's Flower Show March 23-24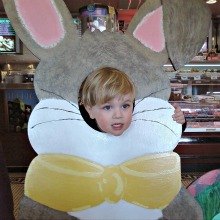 Spring has supposedly started but regardless of the weather, spring break kicks off for NYC public school kids this weekend. So it's time to book a camp or, if you're lucky enough to have the time off, too, begin planning your NYC spring break adventures.
This weekend, you can celebrate the season with the debut of Macy's annual Flower Show and a slew of early Easter egg hunts. Plus Whales: Giants of the Deep opens at the American Museum of Natural History, the Brooklyn Children's Museum unveils the interactive Big Adventure installation, Coney Island's Luna Park and Deno's Wonder Wheel open for the season, and the carousels in Prospect Park, Forest Park and Flushing Meadows Corona Park start spinning.
These are just a few of the great things going on this weekend. All of our best bets are below. You can find additional options in our Event Calendar and make sure you check out our awesome roundup of things to do over spring break in NYC.
All Weekend
Easter Egg Hunts – Citywide
There are plenty of places to search for eggs this weekend. On Saturday, you can hunt at the Bronx's Bartow-Pell Mansion, Inwood's Fort Tryon Park, Carl Schurz Park on the Upper East Side and Brooklyn's Marine Park. On Sunday, bring your baskets to the Brooklyn Children's Museum, the Billie Jean King National Tennis Center in Flushing Meadows Corona Park or dine with the Easter Bunny and then hunt at Brooklyn's Aviator Sports and Events Center. Prices and activities vary so check the specific event listing for info.
Whales: Giants of the Deep – Upper West Side
My whale-obsessed son is really excited about this exhibit. There will be dozens of whale skulls and skeletons on view (one is 58-feet long!), and a life-size model of a whale heart that kids can crawl through. Other attractions include footage of New Zealand's whale riders and a log book from a New Bedford whaling ship circa 1830. Free with General Admission Plus One: $25 for adults, $14.50 for children ages 2-12
The Big Adventure – Crown Heights
This brand-new interactive exhibit at the Brooklyn Children's Museum was one of our March NYC Go List picks. The Big Adventure is set up like a giant game board so kids do different activities at each station, like ride a scooter, scale a wall, walk a balance beam, navigate tunnels and more, all while pretending they're on an amazing journey. Free with admission: $9
The Stinky Cheese Man and Other Fairly Stupid Tales – Chelsea
One of our favorite children's theater troupes, Atlantic for Kids, debuts its musical adaption of Jon Scieszka's beloved picture book of fractured fairy tales. $20 for adults, $10 for children
Carousels Open – Queens and Brooklyn
Take a ride on a painted pony! The merry-go-rounds in Brooklyn's Prospect Park, and Queens' Flushing Meadows Corona Park and Forest Park all start spinning for the season this weekend.
Trusty Sidekick Theater Company: Shadow Play – Lower East Side
It's your last chance to see this interactive show. Mommy Poppins' contributor Kelly took her kids and said it was great fun for the preschool set. Be sure to arrive a early to make a related pre-show craft. $15 for adults and $5 for kids.
UniverSoul Circus – the Bronx
The troupe began its NYC run this week in the Bronx and will play in Brooklyn and Queens later this spring. Marvel at tiger tamer John Jairo Sanchez, the Zhukau Acrobatic Troupe, Caribbean Dancers, the Soul Circus Divas and more. Find out about other circus spectacles playing NYC this season. $20-$40.
 
Saturday, March 23
Gustafer Yellowgold – Midtown East
Another March NYC Go List pick! Singer, songwriter, artist and dad, Morgan Taylor, and his little yellow animated alter ego hit the Children's Center at 42nd Street for a rare no-cost performance. We've been raving about his shows for years: They're equal parts concert and cartoon, as Gustafer's animated adventures are accompanied by groovy, Beatles-like tunes. Arrive early as seating is first come, first served. FREE
Family Feature Film: Babe – Midtown West
Introduce the kids to this new classic at the Museum of Modern Art. The enchanting 1995 film tells the story of Babe, a piglet who wants to be a sheep dog and his adventures on a magical farm. After the screening, stay and enjoy the museum at no additional cost. FREE but tickets are distributed on a first-come, first-served basis beginning at 10am.
Morgan's Journey – Upper West Side
Head to Symphony Space to catch this solo clown show, which happens to be the longest touring theater production in Canadian history. Audiences are treated to Morgan's life story, from birth to old age, and help him make discoveries along the way. $25 for adults, $15 for children
Easter Eggs: A Family Extravaganza – Morningside Heights
Hit the Cathedral Church of St. John the Divine for its annual holiday workshop. Kids can create colorful patterns on their eggs with tissue paper, glitter, glue and paint, and then fashion a nest out of twigs, feathers and clay. Bring your own hard-boiled eggs. Pre-registration suggested. $8 per adult-child pair
Historical Fashion Tea Party – Harlem
Bring your favorite doll or teddy to the Morris-Jumel Mansion for an old-fashioned fete. Kids can take tea, try on Colonial fashions and craft a mob cap. Reservations suggested. $10 per adult, $20 per child
BAMFamily Kindur – Fort Greene
BAM's family series continues with this interactive performance. Dancers playing kindur, which means sheep in Icelandic, lead the audience on a journey through light and color as fantastic landscapes appear onstage triggered by their movements. $12
Kids Day – Pelham Gardens
The Bronx House community and fitness center is throwing a party with pizza, a giant Zumba-fest, a bounce house, cotton candy, face painting and other amusements for children. FREE

Sunday, March 24
Macy's Flower Show – Midtown West
The iconic store debuts its annual spring Flower Show today. This year's theme is India so expect lavish formal gardens featuring thousands of jewel-toned and spice-hued flowers displayed alongside iconic cultural images, like the show's centerpiece: a 10-foot elephant fashioned entirely from beautiful buds. In honor of opening day there will be lots of kid-friendly activities, including readings, live music, terrarium making, balloon twisters, cookie decorating, glitter tattoos and a visit from the Very Hungry Caterpillar. FREE
Coney Island Amusement Parks Opening Day – Coney Island
While you have to wait until Memorial Day to enjoy the sand and surf, you can hit the rides at Luna Park and Deno's Wonder Wheel Amusement Park, which both open for the season today. Deno's is even offering FREE opening day rides on its signature Ferris wheel. Other ride prices vary.
Bay Ridge St. Patrick's Day Parade – Bay Ridge
Enjoy NYC's final St. Patrick's Day procession in Brooklyn. FREE
The Poppy Seed Players: Young Moses – Upper West Side
Celebrate Passover with a show that puts a new spin on the old Bible story, recasting Moses as a troubled teenager and Miriam as a kooky musician. $20.

Outside NYC
Hunt for Easter Eggs in Paramus, New Jersey at the Bergen County Zoo's SpEGGtacular. Crafts, refreshments and the Easter Bunny will also be on tap.
More Easter fun can also be found at Long Island's 98.3 KJOY Eggstravaganza in Bellmore. Kids can hunt for eggs, get their faces painted and hit the bouncy houses.
Or how about taking a train ride with the big bunny himself? You can do that at Connecticut's Danbury Railway Museum on a vintage locomotive.
Don't forget: There are lots of other options in our Event Calendar.
Tags: