Free NYC Halloween Parades for Kids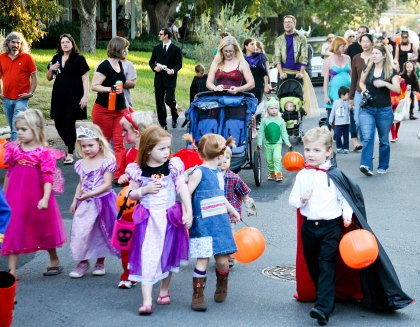 Editor's Note: We are still in the process of updating this post for 2015 as we learn of new, fun events and are able to confirm details on some old favorites, so keep checking back as the holiday approaches. Everyone loves a parade, which means we're all absolutely smitten with Halloween parades. While we think every family should take the kids to the big Village Halloween Parade at least once, it can be pretty scary. It's always insanely crowded, loud and many of the costumes are risqué, gory or in poor taste (which we happen to love, but we realize not every parent feels that way).
The 42nd annual Village Halloween Parade kicks off at 7pm on Saturday, October 31 and winds its way up Sixth Avenue from Spring Street to 16th Street. (Plan to arrive much earlier if you want to snag a good viewing spot.) If your family isn't up for that big Hallow-baloo, there are plenty of smaller, kid-friendly NYC neighborhood parades, and many are part of larger fun-filled Halloween festivals.
We've rounded up community-driven Halloween processions for families to watch or march in, and most are FREE. If you don't live in a great trick-or-treating area, these parades are also a wonderful way to hunt for candy in another neighborhood. Remember, you can find even more seasonal happenings in our Halloween Fun Guide.
Sign up for our FREE newsletters to get posts like this delivered to your inbox.
Click through to our listings for all the details, including address, time and recommended ages.
Saturday, October 24 & Sunday, October 25
Children's Halloween Parade – Coney Island
Saturday, October 24
FREE
Costumed marchers will gather at MCU Park for music, food and a costume contest before trekking down the boardwalk to Luna Park and collecting treats along the way. Stick around for rides (for a fee) and free entertainment.
Halloween Family Disco & Costume Parade – Harlem
Saturday, October 24
Parade is FREE; $20 per family for the party
Nonprofit organizations Harlem4Kids and Mocha Moms of Manhattan are throwing their 10th annual Halloween bash at the Harlem PAL building. Buying advance tickets is a must since it always sells out. At 1pm, the party winds down and costumed tots march through the nabe. The parade is free and open to everyone, regardless of whether you attend the party.
Children's Halloween Parade & Party – Greenpoint
Saturday, October 24
Parade is FREE, $15 for party
Hosted by community org Town Square Inc., this 12th annual procession will assemble in front of the Polish and Slavic Center for a parade around the neighborhood and head right back there for the after party. Parade is free, though an online RSVP is appreciated. Advance tickets can be purchased for a discount online.
Halloween Costume Parade & Party – Tribeca
Sunday, October 25
FREE
Washington Market Park's popular annual party kicks off with a costume parade from CitiGroup Plaza to the park. Once inside, a dozen free activities await including penny-in-a-haystack, a bone dig in the sandbox, a hay circle on the lawn and other classics.
Bleecker Park Halloween Festival – Greenwich Village
Sunday, October 25
FREE
Although the details are still being finalized for this annual celebration, as always, the fest will begin with a toddler-friendly costume parade around the nabe to the Bleecker Street Playground, where there will be live entertainment.
Halloween: Parade & Pumpkin Flotilla – Harlem
Sunday, October 25
FREE
Bring your jack-o'-lantern to the Dana Discovery Center and then watch it sail away at dusk on the Harlem Meer. Other activities include arts and crafts, spooky stories, live music and a costume parade around the northeastern edge of the park. This event gets more crowded every year so arrive early!
Saturday, October 31
Brookfield Place Halloween Party and Parade – Battery Park City
Saturday, October 31
FREE
Hit the lovely Winter Garden glass atrium for a host of high-end Halloween Fun. Enjoy a costume catwalk, a Freaky Photo Op Mosaic Wall, geeky tricks by Carmelo the Science Fellow, storytelling, live music and trick-or-treating. A neighborhood costume parade closes out the festivities.
Fort Greene Park Halloween Festival – Fort Greene
Saturday, October 31
FREE
The park-wide costume parade is one of the highlights of the popular annual fest. Other attractions include a pumpkin patch, hayrides, games, face painting and a costume contest for dogs (and their owners).
Children's Halloween Parade – Greenwich Village
Saturday, October 31
FREE
At this G-rated version of the Village Halloween Parade (organized by New York University and Community Board 2), costumed children ages 3-12 and their parents march around Washington Square Park. Afterward, stay for treats, rides and face painting.
Lincoln Center Kids Trick-or-Treat – Upper West Side
Saturday, October 31
FREE
Don your costume for this fun celebration where wee ones can trick-or-treat throughout the plazas and parks of Lincoln Center. There will be a parade complete with live music.
Jackson Heights Halloween Parade – Jackson Heights
Saturday, October 31
FREE
Did you know this procession is the second-largest Halloween parade in New York City? Unlike the Village Halloween Parade, the Jackson Heights Halloween Parade is all about the kids—approximately 3,000 of them show up every year. The procession winds along 37th Avenue from 89th Street to 76th Street, ending at P.S. 69.
Halloween Parade – the Bronx
Saturday, October 31
FREE
Residents gather on the picturesque City Island to march down its main street in costume. Stick around after the festivities to trick-or-treat. Many families sit on their front porches to dole out the sweets.
Halloween Parade – Roosevelt Island
Saturday, October 31
FREE
Tram over to the isle for its annual Halloween fete. The parade begins at Blackwell House and winds down Main Street before a big celebration at Capobianco Field. Stick around and explore the picturesque isle once the festivities wrap up. In the event of inclement weather, the party moves indoors to P.S./I.S. 217.
Children's Halloween Parade – Park Slope
Saturday, October 31
FREE
One of our favorite Halloween events for families, this annual procession in Park Slope ends at the Old Stone House, where the party continues with live music, dancing and romping in the adjacent J.J. Byrne Playground.
Witches Walk – Greenpoint
Saturday, October 31
FREE
Second-hand baby and kids' shop the Flying Squirrel relocated to Greenpoint in 2013 and brought its popular parade along to the new hood. This year the fete will be bigger and better with a block-long street fest, costume fashion show and the usual hot chocolate, coffee, snacks, crafts, trick-or-treating and goodies.
FiDi Families Halloween Festival – South Street Seaport
Saturday, October 31
FREE
Head to the South Street Seaport for pumpkin decorating, a photo booth and party. Afterward, watch costumed kiddos prance through the streets collecting treats along the way. Event is free, but please RSVP.
Carroll Park Halloween Parade – Carroll Gardens
Saturday, October 31
FREE
This procession heads up Smith Street toward Douglass Street and then back to the park via Court Street. Expect treats and photo-ops as in years past.
Halloween Walk – Forest Hills
Saturday, October 31
FREE
Local Queens bank Maspeth Federal Savings sponsors this Halloween stroll through the neighborhood, which begins and ends at its Forest Hills branch. Tots can trick-or-treat in the parking lot and raffle prizes will be handed out.
Hippo Halloween Parade – Upper West Side
Saturday, October 31
FREE
Little revelers can follow bagpipers from the Soldiers & Sailors Monument down the steep slope to Riverside Park's beloved Hippo Playground, where they'll get into the spirit with complimentary cider and doughnuts.
Maspeth Ragamuffiin Parade – Maspeth
Saturday, October 31
FREE
Sponsored by the Maspeth Lions Club, this procession kicks off appropriately enough at the Mt. Olivet Cemetery and ends at the Maspeth Federal Savings Bank, where participants enjoy sweets and a costume contest.
Halloween Parade – Ridgewood
Saturday, October 31
FREE
Sponsored by the nonprofit Kiwanis Club of Glendale, this annual procession includes floats, a costume contest and lots of families wearing their Halloween best.
There are also Halloween parades at many local family spots. The Bronx Zoo's Boo at the Zoo and Ghouls & Gourds at the Brooklyn Botanic Garden both offer families a chance to show off their costumes for the price of admission.
Did we miss a parade? Submit it to our Event Calendar or leave the info in the comments.
For more seasonal fun, check out our Halloween Guide.
Photo credit: Flikr, Cherrywood 78722.
This post was originally published in October 2010.