Free & Fun Things to Do this Weekend for NYC Kids: Museum of Math Opening, Christmas and Hanukkah Festivities December 15-16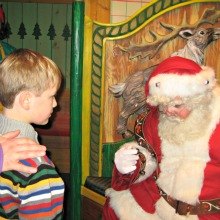 With the holidays taking over all of our lives these days we were shocked to see that chain stores are already displaying Valentine's Day items! But it was a reminder that the holiday season isn't here to stay, so we need to get out there and enjoy this particularly magical time in New York City while we still can. In addition to gawking at holiday windows and outrageous Christmas displays, lighting the menorah and spending time with Santa, there are lots of one-off special events this weekend. Share a meal with Santa and his animal pals at the Staten Island Zoo, rock out with the big red guy and Princess Katie & Racer Steve on a kids' cruise, or enjoy offbeat holiday festivities like the annual Unsilent Night musical procession or the Posadas y Pastorelas Mexican Family Celebration at the Museum of the City of New York.
There are also cool non-holiday activities like the highly anticipated debut of the brand-new Museum of Mathematics, skating at the recently opened Battery Park City ice-skating rink and a new show from awesome Swiss performance art troupe Mummenschanz.
Those are just a few of the great things going on this weekend. All of our picks are below. Remember, you can find additional options in our jam-packed Event Calendar and our Holiday Fun Guide.
All Weekend
Museum of Mathematics Grand Opening Weekend – Flatiron
As long-time fans of the Math Midway, we've been counting down the days until the opening of this museum, our nation's only cultural institution dedicated to mathematics. This weekend, the interactive spot opens to the public. Look for our in-depth review next week. $20 for adults, $14 for children ages 2 to 12.
No Longer Bored: Imagination Play Project – Long Island City
No Longer Empty—the artistic folks who take over vacant NYC spaces and transform them into temporary art installations—are set to debut their latest project. The money-themed How Much Do I Owe You? is set in Long Island City's long empty Bank of Manhattan Building, including its vaults and clock tower. For the opening weekend, the group is setting up an all-ages art studio where kids can experiment with a variety of textiles and organic goods. Reservations suggested. FREE
Liberty View Ice Rink – Battery Park City
Show off your skating skills and enjoy incredible views of the Hudson River and the Statue of Liberty at NYC's newest outdoor rink in Battery Park City's Wagner Park. $10, $5 for skate rental.
Brooklyn Lyceum Holiday Marketplace – Park Slope
There's a lot more to do at this indie bazaar than just shop! In addition to browsing wares by more than 70 local vendors, families can take photos with Santa, enjoy kids' activities and catch two heartwarming holiday stage shows: A Charlie Brown Christmas and the Puppet People's marionette production of A Christmas Carol. Free admission for market; $11 for each show, $33 for family four-pack.
Mummenschanz – Greenwich Village
I've been obsessed with the antics of this Swiss mask/mime theater troupe ever since I saw them on The Muppet Show as a child. (Remember the creatures with the toilet paper faces? Classic.) You can catch that act and many more during Mummenschanz's New York City engagement at the Skirball Center in celebration of their 40th anniversary. $48-$85 but you can save 25% by using BroadwayBox's discount code.
Presents to the Animals – Corona and Prospect Park
Watch the animal residents at the Queens and Prospect Park Zoos open and eat their holiday gifts! If you arrive early enough, the zookeepers at the Queens Zoo will even let you help assemble the goodies. Free with admission: $8 for adults, $5 for children ages 3 to 12.
Lolli-Pops Concert: Peter and The Wolf – Upper East Side
The Little Orchestra Society presents its interactive take on Prokofiev's classic coming-of-age orchestral tale for tots. $15-$45.
 
Saturday, December 15
Super Sabado: Super Holidays – East Harlem
Celebrate the season at El Museo del Barrio's family party. Enjoy crown-making for Three Kings Day, a lively parranda sing-along, a Three Kings photo booth, Kwaanza dance workshops, kid-friendly tours of the galleries and a concert by the El Sistema music group. FREE
Santa Cruise with Princess Katie & Racer Steve – Midtown West
Put on your holiday best and head out on the Hudson for a lively concert by Princess Katie & Racer Steve, a photo op with Santa, and complimentary milk and cookies. $20 for adults, $15 for children ages 2 to 12.
Beastly Breakfast with Santa – Staten Island
Indulge in a hot breakfast buffet with Santa and his animal pals, followed by a special tour of the Staten Island Zoo and photo ops with the big red guy. Preregistration required. $24, free for children under age 3.
Elizabeth Mitchell – Upper West Side
The super-popular kids' crooner and newly minted Grammy nominee brings her sweet tunes to Symphony Space. $25 for adults, $15 for children.
Family Holiday Decoration Workshop – Harlem
Head to Manhattan's oldest house, the Morris-Jumel Mansion, to make cool colonial Christmas tree decorations. Advance registration required. FREE
Coca-Cola Winter Wonderland – Harlem
Catch performances by some of NYC's best choirs, pose for photos with Santa or enjoy other seasonal festivities under the Apollo Theater's famous marquis. FREE
Unsilent Night – Greenwich Village and East Village
If you're looking for a nontraditional caroling experience, this is it. A musical mob parades from Washington Square Park to Tompkins Square Park carrying boom boxes to create a "sound sculpture." Grab the music online, download the app or show up early to snag a free CD. FREE
SantaCon – Citywide
More of an FYI than a family must-do: If you come across hundreds of mostly young people in cheap Santa suits marauding around the city singing naughty carols, hitting bars and spreading holiday mayhem today, then you're experiencing SantaCon. They're mostly harmless (unless they're drunk) but be wary of asking for a photo op. If you're with kids, they're probably best admired from afar. FREE
Sunday, December 16
Posadas y Pastorelas Mexican Family Celebration – East Harlem
Mano a Mano, the organization behind the Day of the Dead festivities at St. Mark's Church, cohosts this tenth annual Mexican family celebration. A posada is a traditional singing procession and a pastorela is a classic shepherds' play. Other fun on tap includes crafts, music and food. Free with suggested admission: $20 for families, $10 for adults, free for children under age 13.
Kooky's Return – Upper East Side
Kids who are old enough to read subtitles should enjoy this offbeat family flick at the Czech Center which combines puppets, stop-motion animation and live action. A six-year-old asthmatic boy is forced to throw away his favorite toy, an old teddy bear named Kooky. But then Kooky comes to life in the landfill and escapes into a mysterious forest. FREE
Kwanzaa Celebration: Universal African Dance and Drum Ensemble – Flushing
The performance group mounts an interactive show about the seven principles of Kwanzaa at Flushing Town Hall. Arrive early for a pre-show Kwanzaa storytelling workshop. $16 for adults, $12 for children for the show; $5 for workshop.
Chanukah Fever! with the Mama Doni Band – Midtown East
The singer/songwriter and her band rock the Sutton Place Synagogue with funky dance songs like Oy Vey and Bagel Time in honor of the holiday. $30 per family.
Winter Solstice Celebration & Holiday Market Place – Flushing
At the Queens Botanical Garden, families can take a guided wintertime walk, shop the artisan marketplace, enjoy storytelling and make nature crafts. FREE
Outside NYC
If you're Jersey bound this weekend, head to the 4-H Festival of Trees in Bridgewater to pose with Santa and admire a slew of decorated Christmas trees.
Drive through Long Island's longest Christmas display: Bayport's Girl Scout Camp Edey's Holiday Light Show.
See the story of Christmas come to life at St. John's Episcopal Church's Living Nativity in North Guilford, Connecticut.
Are you a member of Kids Club Thirteen? It certainly has its privileges, including free admission to 13 tri-state area events throughout the year. This Saturday, members can head to Greenwich, Connecticut to meet Clifford the Big Red Dog at the Bruce Museum. Kids can explore the kid-lit exhibit Let it Snow and other seasonal fun. Read our post about Kids Club Thirteen for details on member benefits and how to join.
 
Don't forget: We have additional options in our Event Calendar and our Holiday Fun Guide.
Tags: