This Week: February Go NYC List, Chinese New Year Celebrations, Best Winter Exhibits for Kids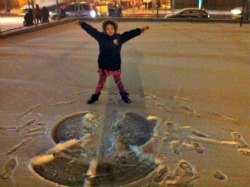 We admit we jumped the gun when we posted our list of the best sledding hills in NYC earlier this week. We were just so excited about the snow (that's my daughter in the photo, gleefully making snow angels in her schoolyard) and we had hoped there would be more of it.
Of course we don't need a blizzard to enjoy winter sports. Many nearby ski and snow tubing resorts blow their own, and our New Jersey and Connecticut sites have plenty of great seasonal activity suggestions, in case you're thinking about taking a trip over the upcoming four-day midwinter break. Looking for additional getaway suggestions? Our Travel site also has a post about five mini-vacation spots for families in the Northeast, including the popular CoCo Key Water Resorts in New Jersey and Connecticut.
Back here in NYC, we launched our February Go NYC List featuring the absolute best things to do with kids throughout the month so you can plan ahead. We're particularly excited about the Citi Pond Winter Film Festival, which kicks off this coming Monday, February 4 with an outdoor screening of the classic animated Disney flick Peter Pan in Bryant Park. The Mommy Poppins team will be there with a table so come say hello. We'll even be handing out vouchers for free hot chocolate to our readers while supplies last. Watch the movie as you glide around the ice or pull up a rink-side chair.
Here's what else we covered on the NYC site this week:
Even though last week's snowfall was a bust we hope our post about NYC's top sledding hills will come in handy later this season.
Another winter activity we enjoy? Getting out on the Hudson and trying to spot migrating seals and birds on a NYC Audubon EcoCruise.
Our winter culture coverage continued with a roundup of the best museum exhibits for kids, including lots of interactive displays. And while there's nothing hands-on about No Longer Empty's How Much Do I Owe You? installation, we still loved getting a chance to explore Long Island City's long-abandoned Bank of Manhattan Tower.
The Year of the Snake is almost upon us and there are Lunar and Chinese New Year celebrations throughout the month all over NYC, including a few big ones this weekend.
Tweens love to sing? Then they'd probably love a family karaoke outing at a kid-friendly NYC lounge.
Our month-long focus on Tribeca ended with a post about our favorite family-friendly restaurants in the neighborhood, including one where kids eat free.
Do you have a will? NYC attorney Laura Fischer specializes in helping families create wills. She shared a few tips and is also giving away a free Family Estate Planning Package to one of our readers.
Best bets for the weekend include the annual BAMkids Film Festival in Fort Greene, the Children's Museum of the Arts' Lunar New Year Festival and Groundhog Day festivities at the Staten Island Zoo.
If you're looking to plan ahead, make sure you check out our February NYC Go List which highlights the absolute best things to do with kids all month long.
Tags: