24 NYC Harvest Festivals with Pumpkin Patches, Hayrides and Fall Crafts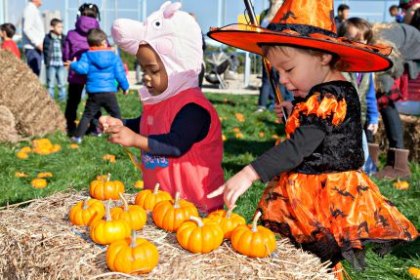 Think you need to head out of town to Westchester, Long Island or Jersey for an authentic fall harvest experience? Not so. You can pick the perfect pumpkin, go on a hayride, enjoy face time with farm animals and even get lost in a massive corn maze right here in NYC! So skip the car rental and take the MTA to these fall harvest festivals and pumpkin patches, all located within the five boroughs.
Click through to our listings for all the details, including time, location and price.
NYC Corn Maze
Sure, your little city slickers know their way around the streets, but can they navigate their way out of the Amazing Maize Maze?
The Amazing Maize Maze – Glen Oaks
Weekends Saturday, September 19-Saturday, October 25 plus Columbus Day
You need a lot of room for a good corn maze so it's no surprise that the biggest one in NYC is located on the grounds of the Queens County Farm Museum. Since the maze changes every year, tackling it has become an annual tradition for me and my family. Before you embark on your adventure, staff members explain how to find hidden clues and solve puzzles that will help you successfully navigate to the exit. If you've got older kids who enjoy a challenge, try doing it by flashlight: the corn maze will stay open until 9pm on October 3 and 17. Note: If you visit the weekend of September 19-September 20, you can also enjoy the Queens County Fair, and on Sunday, October 25, you can hit the farm's Children's Fall Festival; both require additional fees.
NYC Pumpkin Patches
Decker Farm Pumpkin Picking Weekends – Staten Island
Weekends October 3-November 1 plus Columbus Day (closed Saturday, October 10)
This 19th-century farm is part of the Historic Richmond Town living history museum. Pumpkins are set out in a field for kids to "pick," and there's also a hayride, a small cornstalk maze and face painting. The farm is located off the main grounds but a free shuttle bus is provided. If you visit during The Great American Harvest Fest on Sunday, October 18, you can also see costumed craftspeople doing old-school trades like stone carving and tinsmithing.

Pick the perfect pumpkin at the Queens County Farm Museum.
Pumpkin Patch – Glen Oaks
Weekends October 3-25 plus Columbus Day
Admission to the Queens County Farm Museum is always FREE (unless there's a special event going on like the aforementioned Children's Fall Festival on Sunday, October 25). Like Decker Farm, children are "picking" pumpkins lying on a lawn but it's a fun experience for little kids and there are lots of other farm attractions. Free admission; pumpkin prices vary.
RELATED: Fall Fun Guide for Families
NYC Fall Harvest Festivals
Harvest Festival – the Bronx
Saturday, September 12-Tuesday, September 15, Saturday, September 19-Sunday, September 20
The Bronx Zoo shares the bounty of its gardens at this six-day fest featuring apple tasting, composting and gardening demos, salsa and jam making, seasonal crafts, live bluegrass bands and, of course, lots of close-ups with animals.
Autumn Moon Festival – Staten Island
Saturday, September 19
Enjoy a multicultural take on the season at this Asian harvest festival in Snug Harbor's serene New York Chinese Scholar's Garden. Ethnic music and dance performances, martial arts demos and calligraphy lessons are all on tap.
Autumn Moon Cultural Festival – Brooklyn Heights
Saturday, September 26
Better Chinatown Society's annual Chinese harvest celebration moves to Brooklyn Bridge Park's Pier 1 this year. Enjoy cultural performances, arts and crafts, sports activities and food vendors. FREE
Breukelen Country Fair – Canarsie
Saturday, September 26
Hit the historic Wyckoff Farmhouse Museum for PuppetMobile's presentation of The Tales of Brier Rabbit, pony rides, games, face painting, arts and crafts, a pop-up farmer's market, cider pressing and farm fresh foods. Note: Some activities require no-cost tickets so RSVP. FREE
Harvest Day – Prospect Lefferts Gardens
Sunday, September 27
Head to Lefferts Historic House in Prospect Park to help dig up potatoes in the garden. Afterward, cook and sample the harvest, and participate in potato sack races and other retro games.
Oktoberfest & Pumpkin Patch – Sunnyside
Canceled due to predicted rain
The members-only Sunnyside Gardens Park opens its gates to the public for this annual festival. Enjoy games, live music, a wide variety of crafts for kids, pumpkin picking and decorating, an artisan market and classic German-style food and beverages served in the park's woodlands. Free admission, but there are fees for activities.
Pickle Day – Lower East Side
Sunday, October 4
Over pumpkins already? Well at this fest you can pick the perfect pickle instead of an orange fruit. Taste a wide selection of the LES' signature eat both sweet and dill, from old-school vendors like Guss' or newcomers like Sour Puss. Fun for kids includes face painting, dancing and games. FREE
Greenbelt Pumpkin Festival – Staten Island
Saturday, October 10
Head to Willowbrook Park in Staten Island's Greenbelt for a festive day of face painting, pumpkin picking, rides on the Carousel for All Children, puppet shows and seasonal crafts. Free admission but there are fees for activities.
Jefferson Market Garden Children's Harvest Festival – Greenwich Village
Saturday, October 10
Not only can little kids decorate a mini pumpkin at Jefferson Market Garden's annual autumn fest, they can also frolic in colorful leaves and roll off big bales of straw. FREE
RELATED: Apple and Pumpkin Picking Near NYC

Pumpkin Day in McCarren Park is a beloved fall favorite. Photo courtesy of Town Square Inc.
Pumpkin Day – Williamsburg
Sunday, October 11
Rescheduled from Saturday, October 3 due to predicted rain. Hit McCarren Park to pick the perfect pumpkin from the patch, and enjoy arts and crafts, face painting, kids' activities sponsored by local businesses and live entertainment. Buying advance tickets is recommended.
King Manor Museum Fall Festival – Jamaica
Saturday, October 17
Celebrate harvest season by sampling some culinary delights from NYC's days of yore like Dutch eats cooked over a fire pit. Apple cider pressing, butter churning and fall-themed crafts will also be on tap. FREE
Kids Fest: Stages in the Square – Flatiron
Saturday, October 17
Madison Square Park's annual fest gets a complete makeover this year. Instead of just one there will be three stages of live family entertainment with some big names in little-kid entertainment, like family rockers Joanie Leeds & The Nightlights, sketch comedy stalwarts the Story Pirates, comedic magician The Amazing Max and singing storyteller Story Laurie. All of the performances are interactive and aimed at a wide variety of ages—there are sets to please both tots and tweens. Plus the whole shebang lasts five hours as opposed to the former three. We can't wait to check this one out! FREE
Fall Harvest Festival – Forest Hills
Saturday, October 17
Hit Forest Park for this annual shindig featuring pumpkins to pick, kiddie games, live entertainment and other seasonal fun. FREE
Rockaway Fall Festival – Rockaway
Sunday, October 18
Celebrate autumn in Bayswater Park with a pumpkin patch, pony and hayrides, and live entertainment. FREE

Get up close and personal with the farm animals at the Queens Botanical Garden's Harvest Fest. Photo courtesy of the QBG.
Harvest Fest & Pumpkin Patch – Flushing
Sunday, October 18
Hit the Queens Botanical Garden for live tunes, retro games, garden walks, composting demos, a petting zoo and pony rides, plus a pumpkin patch. Most activities are free with admission.
Autumn Moon Cultural Festival and Lantern Parade – Sunset Park
Sunday, October 18
The second half of Better Chinatown's annual Chinese harvest season celebration, this fete in Leif Ericson Park includes cultural performances, traditional crafts and a holiday children's lantern parade, which marches down Eighth Avenue from 65th Street to 51st Street.
The Great American Harvest Fest – Staten Island
Sunday, October 18
Watch costumed craftspeople pressing cider, making candles and lace, embroidering and quilting, stone carving and tinsmithing at Historic Richmond Town. Afterward, hit Decker Farm's pumpkin patch to pick out your jack-'o-lantern, try the corn maze and hitch a hayride.
Pumpkin Patch – Staten Island
Sunday, October 18
Hit the Joe Holzka Community Garden to pick and carve a pumpkin, and enjoy seasonal crafts and live music. FREE
Harvest Festival at Brooklyn Bridge Park – Brooklyn Heights
Saturday, October 24
Head to Pier 6 in Brooklyn Bridge Park to pick a pumpkin and enjoy arts and crafts, storytelling, games, a photo booth, face painting and live tunes. FREE
Harvest Festival – Upper East Side
Saturday, October 24
Head to the lovely Carl Schurz Park for a small pumpkin patch, hayrides and a rocking concert by a local family band. FREE
Harvest Festival – Randall's Island
Saturday, October 24
(Rescheduled from Saturday, October 3 due to rain.) Hit the isle's Urban Farm for seasonal fun like pumpkin hunting, face painting, fresh apple cider tasting and tours of the crops. Afterward, stick around and explore the attraction-packed isle. FREE
Giant Pumpkin Display – the Bronx
Saturday, October 24-Sunday, November 1
Although the New York Botanical Garden isn't hosting its Haunted Pumpkin Garden this year, you can still gawk at plenty of impressive gourds in this seasonal exhibit. Bonus: During the kickoff weekend, October 24-25, watch master carver Ray Villafane transform some great pumpkins into a vibrant Day of the Dead display.
Children's Fall Festival – Glen Oaks
Sunday, October 25
One of my family's personal favorites, this massive bash at the Queens County Farm Museum features traditional games like sack races and trinkets-in-the-haystack, live music, bouncy houses, a haunted house, pony rides and a petting zoo. Families are encouraged to attend in costume, and this is the perfect day to hit the farm's Amazing Maize Maze and pumpkin patch.
Top image of the annual Brooklyn Bridge Park Harvest Festival by Etienne Frossard.
This post, originally published in September 2010, is updated annually.