Fall Harvest Festivals, Pumpkin Patches, Corn Mazes and Hayrides Right Here in New York City 2014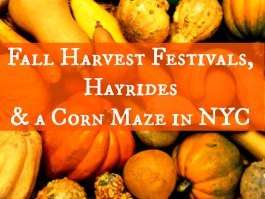 Last week we told you about a bunch of fabulous September festivals like the New York Hall of Science's Maker Faire and the Medieval Festival in Fort Tryon Park. Today we're focusing specifically on harvest celebrations and other seasonal fun like pumpkin patches, corn mazes and hayrides.
While there are plenty of wonderful festivals outside the city on Long Island and in New Jersey, you can enjoy an authentic harvest experience right here in New York City, too. So skip the car rental and hit these harvest spots and fall fetes in the five boroughs, all accessible via the MTA.
Click through to our event listings for exact locations and times.
Corn Maze in NYC
The Amazing Maize Maze – Floral Park
Weekends Saturday, September 20-Sunday, October 26 plus Columbus Day
$9 for adults, $5 for children ages 4-11
You need a lot of room for a good corn maze so it's no surprise that the only one in NYC is located on the grounds of the Queens County Farm Museum. The first time I did this maze with my son, he was just four-years-old. I kept waiting to hear him whine, "Carry me!" But we had so much fun that complaint never came. Since the maze changes every year, tackling it has become an annual family tradition. Before you embark on your adventure, staff explain how to find hidden clues and solve puzzles that will help you successfully navigate to the exit. If you've got older kids who enjoy a challenge, try doing it by flashlight: On Saturdays, October 4 and 18, the corn maze stays open until 9pm. Note: If you visit the weekend of September 20-September 21, you can also enjoy the Queens County Fair, and on Sunday, October 26, you can hit the farm's Children's Fall Festival; both require an additional fee.
 
Pumpkin Patches in NYC
Historic Richmond Town Pumpkin Patch – Staten Island
Every weekend in October plus Columbus Day
$5 per person plus cost of pumpkins; prices are based on weight.
This 19th-century farm stand is part of the Historic Richmond Town living history museum. Pumpkins are set out in a field for kids to "pick," and there's also a hayride, a small cornstalk maze and face painting. We've heard mixed reviews about the experience with complaints about the admission fee and an unreliable shuttle bus from the parking lot. So call ahead to confirm times! If you visit on Old Home Day on Sunday, October 19, you can also see blacksmiths and tinsmiths, a chair-caner, Colonial cooks, expert quilters, beekeepers and spinners at work.
Pumpkin Patch – Floral Park
Every weekend in October plus Columbus Day
Pumpkin prices are based on weight
Admission to the Queens County Farm Museum is always free (unless there's a special event going on like the aforementioned Children's Fall Festival on Sunday, October 26). Like Decker Farm, children are "picking" pumpkins lying on a lawn but it's a fun experience for little kids and there are lots of other farm attractions.
Brooklyn Plantology – Canarsie
Daily Saturday, September 20-Friday October 31
Free admission; pumpkin prices vary
The garden shop's small pumpkin patch hosts special activities and entertainment on weekend afternoons like live music, face painting and a goat petting zoo. Check the schedule for details.
NYC Harvest Festivals & Fall Fairs
Breukelen Country Fair – Canarsie
Saturday, September 27
FREE
Try all kinds of old-fashioned fun at the Wyckoff Farmhouse Museum. Enjoy Colonial carnival games, a children's improv comedy class, yoga, storytelling, cider pressing, composting, vegan cooking demos, an embroidery circle, face painting, a photo booth, a performance by women's drum and dance collective Sistah's Laying Down Hands, and classic treats like hot dogs, popcorn and cotton candy.
Harvest Day – Prospect Lefferts Gardens
Sunday, September 28
Suggested donation of $3 per person
Head to Lefferts Historic House in Prospect Park to help dig up potatoes in the garden. Afterward, cook and sample the harvest, and participate in potato sack races and other retro games.
Greenbelt Pumpkin Festival – Staten Island
Saturday, October 11
Free admission but there are fees for certain activities
Head to Willowbrook Park in Staten Island's Greenbelt for a festive day of face painting, pumpkin picking, rides on the Carousel for All Children, puppet shows, live music and seasonal crafts.
Children's Harvest Festival – Greenwich Village
Saturday, October 11
FREE
Not only can little kids decorate a mini pumpkin at Jefferson Market Garden's annual autumn fest, they can also frolic in colorful leaves and roll off big bales of straw.
Oktoberfest – Sunnyside
Saturday, October 11
Free admission but there are fees for certain activities
Sunnyside Gardens Park, normally closed to non-members, opens its gates to the public for this annual festival. Enjoy kiddie rides, an inflatable obstacle course, live entertainment like a magic show and local bands, classic German-style food served in the park's woodlands, pumpkin picking and decorating, seasonal craft projects, an artisan market and a raffle. Rain date: Sunday, October 12.
Pumpkin Day – Williamsburg
Sunday, October 12
$10
Hit McCarren Park to pick the perfect pumpkin from the patch, and enjoy arts and crafts, face painting, kids' activities sponsored by local businesses and live entertainment. The admission fee includes one pumpkin, a trick-or-treat bag and crafts.
Rockaway Fall Festival – Rockaway
Sunday, October 12
FREE
Head to Bayswater Park for this eighth annual celebration featuring a pumpkin patch, pony and hayrides, and live seasonal entertainment.
Fall Kids Fest – Flatiron
Saturday, October 18
FREE
Details are still being worked out for this year's annual autumn fest in Madison Square Park. But past editions featured arts and crafts, games, live performances, free snacks, face painting, a pumpkin patch and a costume parade led by Big Apple Circus performers.
Fall Harvest Festival – Forest Hills
Saturday, October 18
FREE
Hit Forest Park for this annual shindig featuring pumpkins to pick, kiddie games, live entertainment and other seasonal fun.
King Manor Museum Fall Festival – Jamaica
Saturday, October 18
FREE
Celebrate harvest season by sampling some culinary delights from NYC's days of yore like Dutch eats cooked over a fire pit. Apple cider pressing, butter churning and fall-themed crafts will also be on tap.
Harvest Fest and Pumpkin Patch – Flushing
Sunday, October 19
Free with admission: $4 for adults, $2 for children ages 3-12; pumpkins cost $5 each and there are additional fees for certain activities
Details for the Queens Botanical Garden's annual celebration are still being finalized but past editions featured birding walks, spinning and cider-pressing demos, a pumpkin patch, games, pony rides and face painting.
Harvest Festival at Brooklyn Bridge Park – Brooklyn Heights
Saturday, October 25
FREE
Head to Pier 6 in Brooklyn Bridge Park to pick a pumpkin and enjoy arts and crafts, storytelling, face painting and live tunes.
Children's Fall Festival – Floral Park
Sunday, October 26
$5 admission but there are additional fees for certain activities
One of my family's personal favorites, this massive bash at the Queens County Farm Museum features traditional games like sack races and trinkets-in-the-haystack, live music, bouncy houses, a haunted house, pony rides and a petting zoo. Families are encouraged to attend in costume, and this is the perfect day to hit the farm's Amazing Maize Maze and pumpkin patch.
And if you were wondering about the super-popular annual Central Park Pumpkin Festival, sadly we've confirmed that the Parks Department isn't hosting it this year.
Looking to pick apples and pumpkins right off the trees and vines? Check out our Pick Your Own Guide for the best tri-state area farms.