Easter Weekend for NYC Kids: Free Egg Hunts, Easter Parade, New Museum Exhibits April 4-5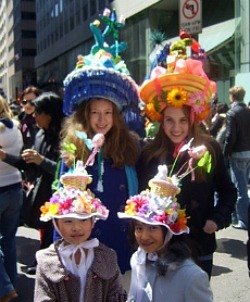 Happy Easter, Passover and spring! There are Easter festivities in every borough this weekend, including classic egg hunts and Fifth Avenue's spectacular Easter Bonnet Parade. Spring break for NYC public school students starts on Friday and continues through the end of next week, and there is plenty of entertainment on tap like the New York International Auto Show, and the new exhibits Hip-Hop Revolution at the Museum of the City of New York and Life at the Limits at the American Museum of Natural History.
These are just a few of the great activities happening this Easter weekend. Our best bets are below. You can find additional options in our Event Calendar and our Spring Fun Guide. If you like to plan ahead, you'll find our top picks for the whole month in our brand-new April GoList.
Have a happy holiday, whatever you're celebrating!
All Weekend
Egg Hunts – Citywide
Kids can search for brightly colored eggs in every borough this weekend. While there are dozens of egg hunts listed in our Event Calendar, the eggs-tra special ones include:
New York International Auto Show – Midtown West
Head to the Javits Center to check out the latest cars, trucks and cutting-edge concept vehicles at the annual auto show, which kicks off its 10-day run on Friday. While not specifically aimed at kids, there are definitely lots of things young car lovers will enjoy like interactive experiences, off-roading simulators and countless photo ops. 
Catch Me – Midtown West
From our April GoList: The New Victory Theater's eye-popping circus spectacle, featuring Canadian troupe Flip FabriQue as they engage in a slew of amazing feats, including awesome aerial acts and a trampowall where the performers seem to defy gravity. 
Hip-Hop Revolution – East Harlem
More from the April GoList: Learn about the history of hip-hop at the Museum of the City of New York's new exhibit featuring more than 80 photographs from the scene's early NYC days. Check out kinetic pics of deejays, emcees, rappers and break-dancers in action in the '70s and '80s. Free with museum admission
Life at the Limits – Upper West Side
Another April GoList pick: AMNH debut's its latest exhibit, Life at the Limits. Get up close and personal with creatures that survive in truly extreme situations (i.e. temperatures above 300° and below -458˚ Fahrenheit). The exhibit also features hands-on education stations and some of the exotic animal specimens in the flesh. Free with General Admission Plus One
Easter Fun at the Children's Museum of Manhattan – Upper West Side
Head to CMOM for an indoor Easter egg hunt with a twist, instead of looking for candy-filled plastic eggs, participants go on a scavenger hunt for egg icons hidden throughout the galleries. Families can also hit the Hello from Japan! spring break celebration to soak up Japanese cultural arts, including Bunraku puppetry, storytelling and woodblock printing. Free with paid admission
Easter Weekend at the Bronx Zoo  – the Bronx
Celebrate spring at the Bronx Zoo by crafting a wildlife-themed hat or mask of your favorite critter to wear in the festive zoo parade. Then take part in the self-guided egg scavenger hunt where kids can explore the various egg laying species that reside at the zoo and win a prize for completed hunts. Free with general admission.
Spring Eggstravaganza – Corona
More zoo fun! Celebrate Easter at the Queens Zoo in Flushing Meadows Corona Park with egg hunts, visits from the Easter Bunny and face time with some of the zoo's animal residents. Free with paid admission
 
Saturday, April 4
NYC's Annual Pillow Fight Day – Greenwich Village
Get ready for some good old-fashioned pillow-fighting fun with soft, feather-free pillows at Washington Square Park. While there are rules to keep participants safe, take note: this is mainly an adult event, though kids are welcome. BYOP (bring your own pillow) and drop it into a donation box. FREE
Sing Back Brooklyn with Lloyd H. Miller – Brooklyn Heights
Deedle Deedle Dee's front man Lloyd H. Miller celebrates "Sing Along History," his new, Civil War-themed album at the Brooklyn Historical Society's monthly family sing along.  Enjoy new tunes performed by Miller and a full band then join in a reading of the Gettysburg Address. 
Goldilocks & the 3 Bears – Park Slope
Catch this production of the classic fairy tale featuring hand puppets in place of Puppetworks' traditional marionettes. Advance reservations required.
Sunday, April 5
Easter Parade and Easter Bonnet Festival – Midtown East
This April Go List pick is one of our favorite celebrations of the whole year! Fifth Avenue between 49th and 57th streets is closed to traffic and opened to beautiful bonnets, snappy hats and jaw-dropping headdresses. Show off your craziest hat, or just come and take photos. Check out the slide show we did a few years back. Truly a must-do event—in fact, it's No. 27 on our list of 100 things to do with your kids in NYC. FREE
Don't forget: there are lots of other options in our Event Calendar.